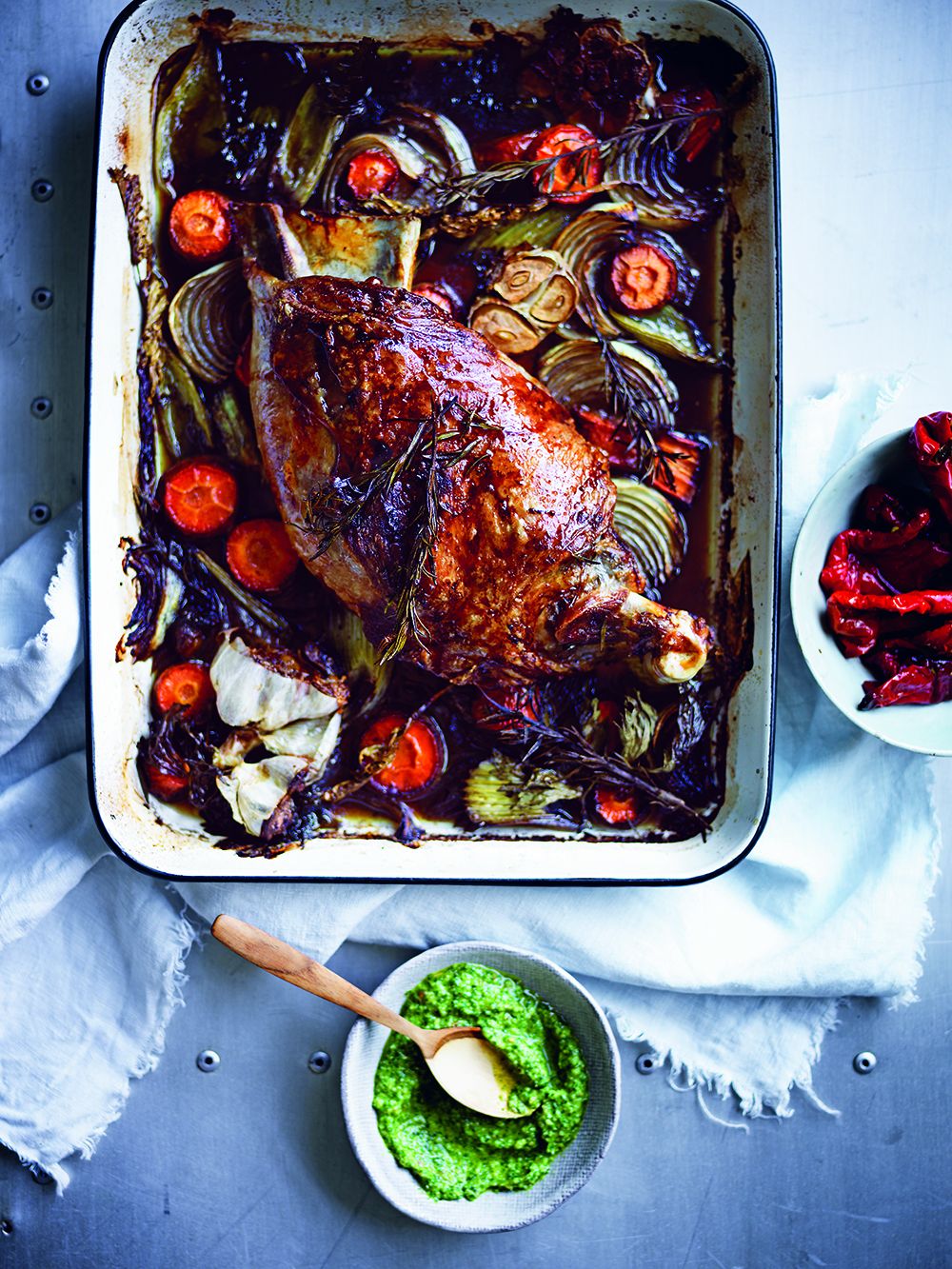 I don't say this of many books, but there's not a recipe in Simmone Logue's In The Kitchen that I wouldn't cook. Published by Murdoch Books, it's a lovely collection of recipes that have a special place in the heart of this talented Sydney baker, caterer and businesswoman.
I remember going to functions catered for by Logue in the early days of her career and being super-impressed by the tasty morsels she delivered. In those days, she was the 'fairy pudding godmother' who hand-delivered cakes to local cafes.
Starting out in the kitchen of her small flat in Neutral Bay 25 years ago, in time she rented an old butcher's shop in East Balmain and began selling wholesale to restaurants and cafés. From there, a whole catering division was born, cooking for lunches, dinners, parties and picnics, footy games and airlines.
Logue now has 80 employees working from a 1000 square metre facility and each week she and her team bake tens of thousands of pies, braise 1000 kilos of beef bourguignon and ice many hundreds of cupcakes.
Inevitably, such a big operation is only a success if it remains true to its roots, and if the enticing dishes, pies and pastries, cakes and picnic fare included in this book are anything to go by, there's a definite homespun appeal to her food, in the nicest possible way.
Fresh and fragrant salads
I love the fresh and fragrant salads such as the Poached Coconut Chicken Salad with Roasted Hokkien Noodles; Pearl Barley, Roasted Cauliflower & Cranberry Salad; and Easy Barbecued Chicken Salad with Thai Dressing.
As far as finger foods go, how do Little Red Thai Duck Pies or Dainty Smoked Salmon & Cream Cheese Finger Sandwiches sound? Or indeed Coconut Prawns with Sweet Chilli & Ginger Dipping Sauce? ("When I tried to take them off our catering menu, there was an outcry!")
There are fabulous cakes such as Lemon & Yoghurt Cake with Glacé Icing and Fresh Thyme, the classic Middle Eastern Orange Cake and a luscious-looking Layered Chocolate & Sour Cherry Cake.
I love the sound of the Rustic Farmhouse Paté with Blood Orange Marmalade and who could resist a Sunday roast like the tender and flavoursome Slow-Roasted Lamb Shoulder here. Don't let the long baking time put you off, says Logue. The beauty of this dish is that you can do most of the roasting a day or two beforehand if you like, then finish it off in the oven just before you serve it.
You can also turn any leftover lamb, vegies and cooking liquid into a lovely soup by adding pearl barley and more stock.
**Buy In The Kitchen from Book Depository.
** Buy In the Kitchen from Amazon.
Food Wine Travel gets a small commission on purchases through this link but it doesn't cost you any extra.
SIX-HOUR SLOW-ROASTED LAMB SHOULDER WITH ROSEMARY JUS
Serves 4
Preparation 40 Minutes + Overnight Marinating
Cooking 6 Hours
1 large carrot, roughly chopped
3 celery stalks, roughly chopped
2 brown onions, roughly chopped
1 garlic bulb, cut in half horizontally
5 fresh bay leaves
3 thyme sprigs
2 rosemary sprigs
1 tablespoon black peppercorns
2 tablespoons balsamic vinegar
1 tablespoon sugar
1 lamb shoulder, about 1.6 kg (3 lb 8 oz), on the bone
500 ml (17 fl oz/2 cups) red wine
2 teaspoons sea salt
1 litre (35 fl oz/4 cups) chicken stock
250 ml (9 fl oz/1 cup) Veal jus (Toolbox, page 31), optional
1⁄2 quantity Mint pesto (see below)
CHARRED CAPSICUMS
2 red capsicums (peppers)
4 tablespoons olive oil
1 garlic clove, sliced
1 rosemary sprig, leaves picked
Place the chopped vegetables in a large baking dish. Add the garlic, herbs, peppercorns, vinegar and sugar and mix together. Rest the lamb on top. Pour the wine over the lamb, then season it with the salt. Cover and marinate in the fridge overnight, turning it after a few hours.
The next day, preheat the oven to 140°C (275°F). Pour the stock into the dish and turn the lamb again. Cover the lamb with baking paper, then a tight layer of foil. Place in the oven and cook for 5½ hours.
Remove the lamb from the oven. Turn the oven up to 200°C (400°F). Remove the foil and baking paper, then bake the lamb, skin side up, for a further 30 minutes.
Meanwhile, preheat the grill (broiler) to high. Line a baking tray with foil, add the whole capsicums and grill, turning now and then, for about 15 minutes, until the skins have blackened and blistered. Place the capsicums in a plastic bag and leave to sweat for 10 minutes. Slip the skins off the flesh and remove the seeds. Place the capsicum flesh in a bowl with the olive oil, garlic and rosemary and gently mix together.
When the lamb is done, remove it from the oven. Strain 1 litre (35 fl oz/ 4 cups) of the cooking juices from the baking dish, into a clean saucepan. Skim off the oil from the top, place over high heat and cook for about 20 minutes, or until the liquid has reduced by two-thirds and you have a lovely gravy. Stir in the veal jus, if using.
Pull the shoulder blade from the bone; it should just slip out. Serve the lamb with the capsicum and mint pesto, with the gravy on the side..
MINT PESTO
Makes 500g (1 lb 2 oz)
2 bunches (160 g/5½ oz) common garden mint (the one with the rounded leaves)
150 g (5½ oz) peanuts (see Note), toasted
80 g (2¾ oz) parmesan cheese, grated
1 garlic clove, chopped
zest and juice of 1 lemon
2 teaspoons sea salt
½ teaspoon freshly ground black pepper
250 ml (9 fl oz/1 cup) olive oil, plus extra for covering the pesto
Submerge the mint in cold water and give it a good wash. Drain the water and pick off the leaves, discarding the woody stalks.
Place the mint leaves in a food processor, along with the peanuts, parmesan, garlic, lemon zest, lemon juice, salt and pepper. Start the processor and slowly pour in the olive oil, blending until the pesto comes together, but is still a bit chunky and not too smooth; this should only take a couple of minutes. Check the seasoning and adjust to taste.
Using a spatula, scrape down the bowl, then spoon the pesto into a sterilised jar. Pour a little more olive oil over the top of the pesto to help preserve it.
If you keep the jar in the fridge, and always top it up with fresh olive oil after each use, this delightful pesto should last for 1 month.
Note: If there are peanut allergies in the family, use another nut instead, such as macadamias or cashews.
VEAL JUS
Makes 1.5 LITRES (52 fl oz/6 cups)
6 kg (13 lb) veal bones
200 g (7 oz) tomato paste (concentrated purée)
3 brown onions, skins left on, roughly chopped
2 carrots, roughly chopped
2 leeks, washed well and roughly chopped (including the darker green bits)
2 tomatoes, quartered
1 garlic bulb, skin left on, cut in half
6 thyme sprigs
½ bunch (75 g/2½ oz) flat-leaf (Italian) parsley, including the stalks
5 fresh bay leaves
1 tablespoon black peppercorns
Preheat the oven to 180°C (350°F). Line four large baking trays with baking paper. Place the bones on the baking trays and dot with the tomato paste. Working in batches if necessary, roast the bones for 20 minutes, or until nice and golden. Be careful not to burn the bones or your jus will be bitter.
Transfer the roasted bones to a very large stockpot, or two large saucepans if need be. Add the vegetables, garlic and aromatics. Turn the heat to medium, pour in enough cold water to cover the bones, then slowly bring to the boil. Now reduce the heat to a simmer and cook for 8 hours, skimming the scum from the top and adding more water as needed to keep the bones submerged at all times.
Strain the bones and vegetables from the liquid. Leave the stock to cool, then refrigerate overnight.
The next day, discard the fat that has congealed on top of the stock. Pour the stock into a clean heavy-based saucepan. Bring to a simmer and cook for 1–2 hours, or until reduced to one-quarter. Cool, then freeze in ice-cube trays or small plastic containers for future use.
The jus can be frozen for up to 1 year.
Recipe and images from In The Kitchen, by Simmone Logue, published by Murdoch Books and reproduced with permission of Murdoch Books.
This post was originally published in PS News online.