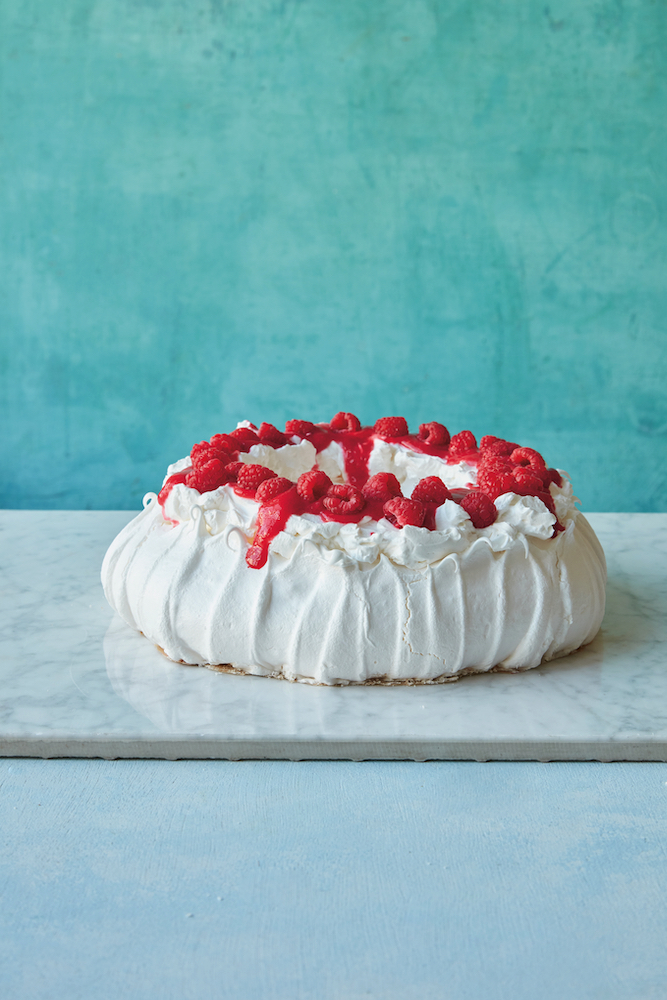 Vegan baking doesn't have to be difficult. Just ask Freya Cox, the impressive young cook who wowed viewers in the 2021 Great British Bake Off. The 20-year-old psychology student, who took a year off from her studies to pursue her love of baking, is passionate about showing people how easy it is.
The first vegan baker to appear on the show, she uses accessible supermarket ingredients and makes it her mission to prove that vegan baking can be just as delicious, if not more so, than 'regular' baking. Her book, Simply Vegan Baking (Murdoch Books, $39.99) is filled with a delicious assortment of recipes for cakes, traybakes, cookies, breads, pastry and desserts.
Among the treats on offer are Salted Caramel Cupcakes, Triple Chocolate Cookies, Cinnamon Rolls, Banoffee Pie Slices, Lemon Meringue Pie and an impressive Black Forest Gateau. As we get closer to Christmas, you'll appreciate some of the more festive options, such as Gingerbread biscuits, Stollen, and the Raspberry Pavlova recipe reproduced here.
According to Roy Morgan research, 2.5 million Australians now follow a plant-based diet, and the trend is definitely growing, with the major supermarket chains all adding an increasing number of vegans options to their shelves.
Making pavlova with aquafaba
If you are looking for a dessert to impress your guests, particularly those who aren't quite convinced by vegan food, this pavlova is the perfect choice. It takes little effort as most of the time is spent baking the meringue and leaving it to cool.
Like this pavlova recipe, a few of the recipes in the book use aquafaba, the liquid from a can of chickpeas. There are a few key tips to working with aquafaba, one being that the bowl and whisk must be completely clean and grease-free for it to whip up properly. To ensure this, Freya suggests getting a little apple cider vinegar on a piece of kitchen paper and wiping it round the bowl and the whisk first.
Secondly, she says, some aquafaba is thicker than others. The ideal liquid is a thick, light brown colour, so if you have access to a slightly fancier brand, she recommends you try that. If you do find your aquafaba is too liquid, you can place it in a pan over a medium heat and reduce it down a little to remove some of the excess liquid, she says. Just make sure you let it cool again before using.
Finally, cream of tartar really helps the aquafaba to whip to stiff peaks and is generally available in all supermarkets.
---
Buy your copy of Simply Vegan Baking from Book Depository (free delivery worldwide).
Buy your copy of Simply Vegan Baking from Australian-owned Booktopia.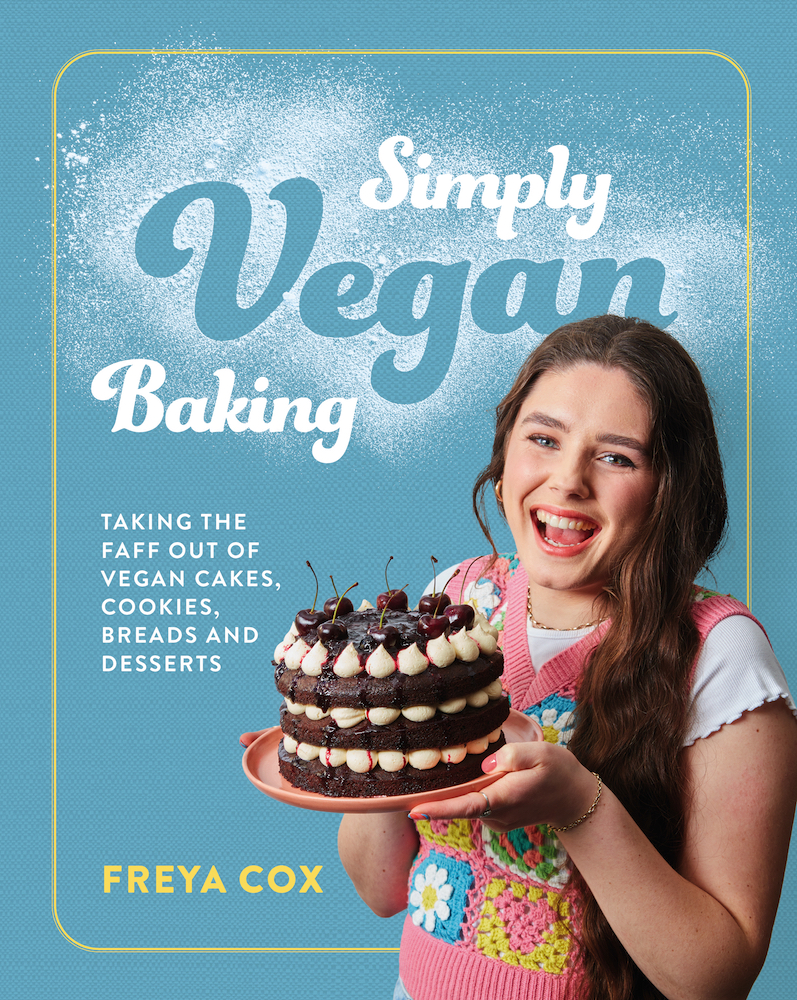 ---
Raspberry Pavlova
Serves 10 to 12
For the meringue:
Apple cider vinegar or lemon juice, for degreasing
150ml (5fl oz) aquafaba
½ tsp cream of tartar
150g (5½oz) caster (superfine) sugar
½ tsp xanthan gum
For the raspberry coulis:
150g (5½oz) fresh raspberries
1 to 2 heaped tbsp icing (confectioners') sugar
To assemble:
100ml (3½oz) vegan double (heavy) cream
25g (1oz) icing (confectioners') sugar
A handful of fresh raspberries
1. Preheat the oven to 100ºC (200ºF) fan. Line a large baking tray with baking parchment. Draw around a medium-sized dinner plate on the parchment (or something similar) to create a circle roughly 23cm (9 inches) in diameter. Use a glass to draw a smaller circle in the centre of the larger one to create a wreath-like shape.
2. Use a piece of kitchen paper dampened with a small amount of apple cider vinegar or lemon juice to wipe around the bowl of a stand mixer, if you have one – or a large mixing bowl if you are using an electric hand whisk – to remove any grease.
3. Add the aquafaba and cream of tartar to the bowl and whisk, with a balloon attachment, on medium speed at first so it doesn't splash around, then on high speed until it reaches stiff peaks. This means you could turn the bowl upside down and the aquafaba wouldn't move. Once it reaches this stage, turn the mixer down to medium speed and add the sugar, one spoonful at a time, making sure each spoonful is fully incorporated before adding another. Once all of the sugar is incorporated, add the xanthan gum and whisk on high speed until the mixture looks glossy and sticky.
4. Spoon the meringue onto the baking parchment, keeping it within the lines you have drawn, and spread out to create the wreath shape. Use an angled spatula or the back of a spoon to create smooth strokes of meringue up the sides. Bake for 2 hours 30 minutes, then leave the oven door shut but turn the oven off. Leave the pavlova inside for several hours until it is completely cool.
5. For the coulis, put the raspberries and icing sugar into a food processor and blitz until very smooth. Sieve the mixture into a jug, removing all of the seeds. If you don't have a food processor you can mash the raspberries with a potato masher until smooth, then stir in the icing sugar before sieving until smooth.
6. Once the meringue is cool and you are ready to serve it, whip the cream and icing sugar together until it reaches soft peaks. Place dollops of it over the top of the meringue. Drizzle spoonfuls of the coulis over the cream, then arrange the fresh raspberries on top to finish. Add the toppings just before you are serving the pavlova as the cream will make the meringue soften over time. Enjoy!
Tip: If you are preparing ahead, bake the meringue the night before you want to serve it and leave it in the oven switched off overnight to allow it to cool fully.
Recipe and image from Simply Vegan Baking by Freya Cox, photography by Clare Winfield. Published by Murdoch Books and reproduced with the publisher's permission.
**Enjoy many more delicious recipes from our Food Wine Travel files here.**