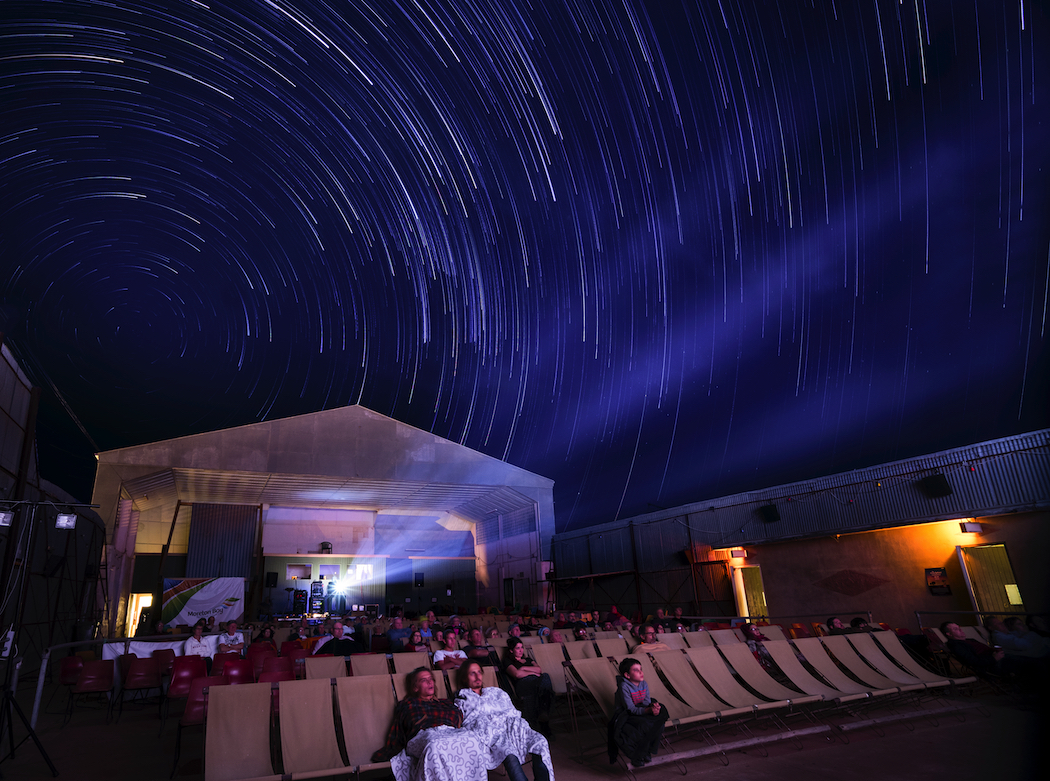 Because of Covid-19, only one large-scale event will be held in Outback Queensland this year, but it promises to be a good one! The Vision Splendid Outback Film Festival, to be held in Winton from September 18 to 26, is a wonderful celebration of Australian cinematic talent. Now in its 7th year, this exciting event offers something for everyone – families, movie buffs, grey nomads, film makers … It's the perfect reason to hop in the car and go pump some money into regional economies that are doing it tough.
Originally scheduled to be held in June, the event has been reviewed and will be held in line with the industry framework for COVID Safe Events in Queensland. Screenings are held under the stars in Winton's 102-year-old Royal Open Air Cinema and other venues. In addition, there are educational masterclasses and workshops, live entertainment, kid's club and appearances by special guests such as renowned producer Chris Brown.
Ironically, the Festival's 2020 theme is Planes, Trains and Automobiles, celebrating Australia's pioneering spirit and love affair with travel, adventure and blue skies. Travel – and certainly plane travel – has been severely restricted in this, the Year of Outback Tourism. The festival has been given financial support from the Queensland Government as part of the Year of Outback Tourism program.
Drawing on the legacy of Sundance and other independent film festivals, Vision Splendid is the world's largest film festival dedicated to Australian cinema. It opens on September 18 with a screening under the stars of Slim & I, a feature documentary that tells the story of country music legend Slim Dusty and his wife Joy McKean, who for more than 50 years trail-blazed their way across Australia performing, writing and collecting songs of the bush and its people.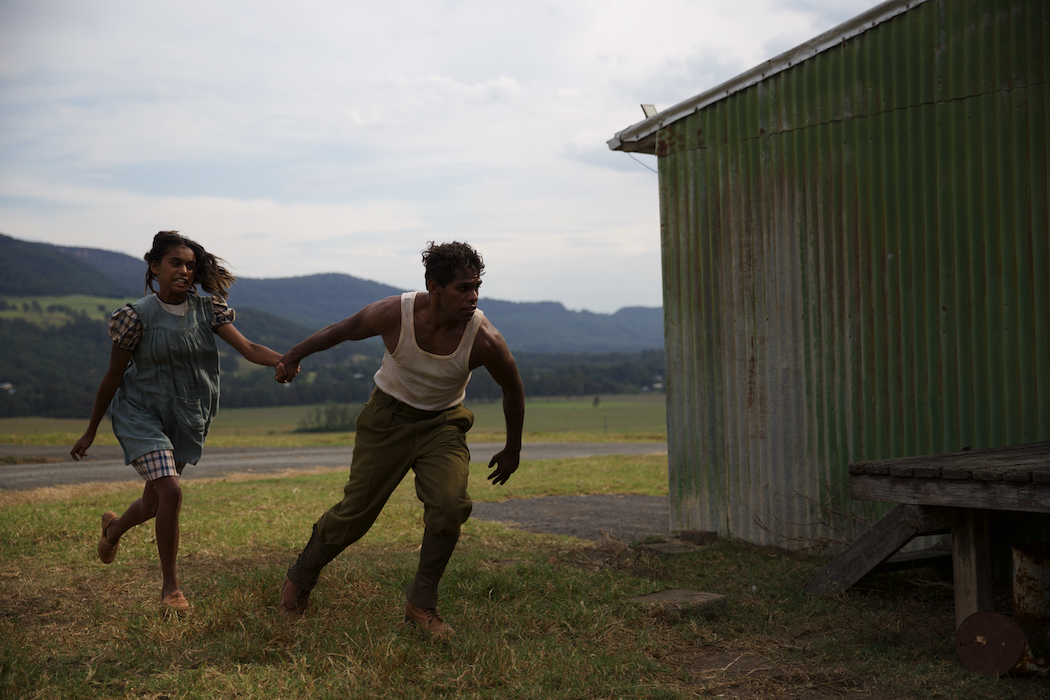 Another highlight is the highly anticipated world premiere of Victoria Wharfe McIntyre's sumptuously filmed The Flood, set during World War 2 and described as an "explosive blend of Tarantino and The Chant of Jimmy Blacksmith". It will be joined on the program by family-friendly films such as Koko: A Red Dog Story and Rachel Griffith's Ride Like a Girl.
On September 19, a thrilling, seat-of-your-pants documentary, Brock: Over the Top, chronicles the life of the late, great racing car driver, Peter Brock, using a treasure trove of rare archival material.
Festival Director Mark Melrose says the festival will bring life, colour and the best of the Australian film industry to Winton. "(The Festival) supports incredible homegrown talent and feature films made in Australia, often providing the first run for some films that have struggled with commercial distributors," he said.
Creative Director and Curator Greg Dolgopolov says the program will feature some of the industry's brightest stars and up-and-coming talent. "(The Festival) looks to showcase and inspire people across the entire breadth of the film industry from cinematography and production to sound and lighting," he said.
Information and tickets: www.visionsplendidfilmfest.com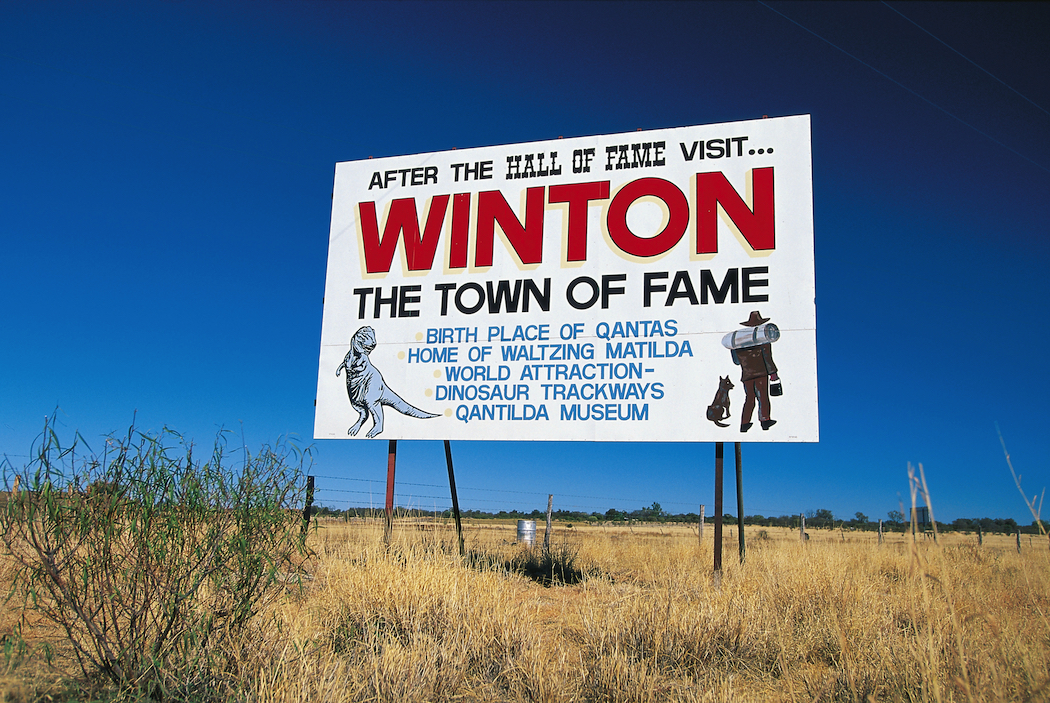 How to get to Winton:
Fly to Longreach from Brisbane or Townsville with QantasLink. Winton is around 180 km north-west of Longreach.
Bus Queensland operates a coach service between Brisbane and Mount Isa, stopping in Winton enroute. www.busqld.com.au or 1300 287 537
Travel by train on the Spirit of the Outback from Brisbane to Longreach, then continue by bus to Winton. Read our account of this iconic rail journey.
Drive to Winton via the Landsborough Highway. Winton is 470 km south-east of Mt Isa and about 1500 km from Brisbane.
Choose from a variety of accommodation options including motels, hotels, and caravan and camping sites.
Winton has oodles to see and do including the Waltzing Matilda Centre and the Australian Age of Dinosaurs Museum. Journey through striking mesa country to Lark Quarry Conservation Park, site of the world's only known record of a dinosaur stampede. As well as the Vision Splendid Outback Film Festival, there's plenty to make your trip to Outback Queensland worthwhile!
Photos supplied by Vision Splendid Outback Film Festival and used with permission.