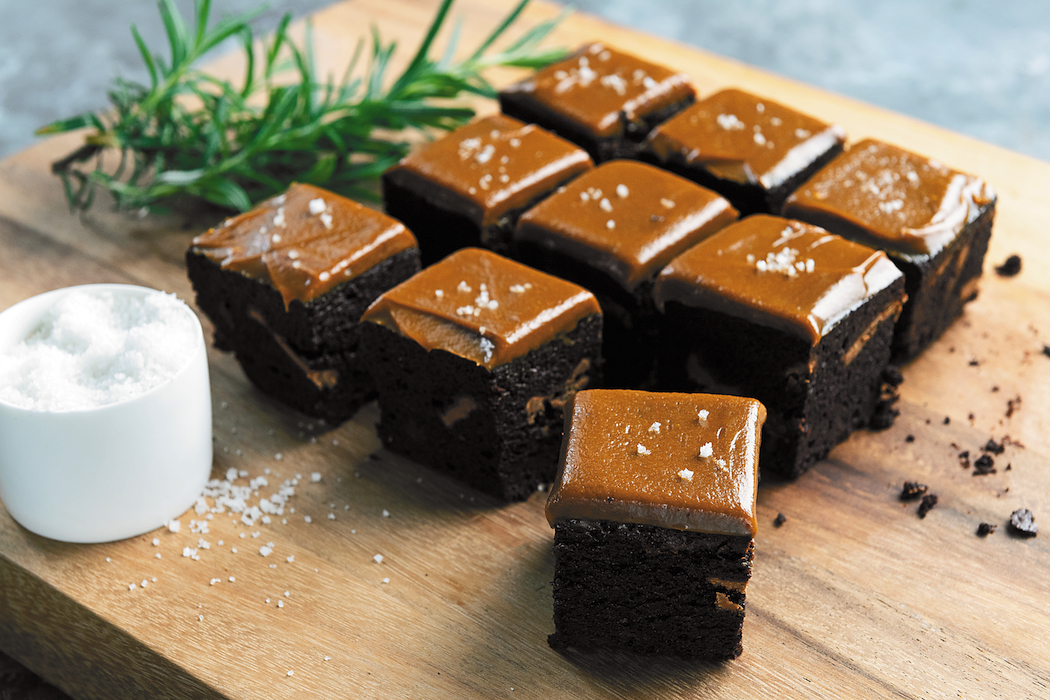 Baking is both an art and a science. Unlike other cooking where you can play around with ingredients and quantities, with baking you need to be a lot more precise. It can sometimes be daunting but armed with a copy of Dominique Ansel's gorgeous book, Everyone Can Bake, published by Murdoch Books, you are absolutely guaranteed to get it right.
Ansel, the chef and owner of eponymous bakeries in New York, London and Los Angeles, has done a splendid job of demystifying how to make everything from Salted Caramel Chocolate Tart and Tiramisu to Cookies, Meringue, Pastries, Cakes, Desserts and the deliciously simple Chocolate Brownies featured here.
The photography is sumptuous, the instructions concise and easy to follow, and the recipes utterly divine. Ansel, an award-winning pastry chef, was responsible for creating the Cronut (named one of TIME Magazine's "25 Best inventions of 2013"), The Cookie Shot, Frozen S'more, Blossoming Hot Chocolate, and other creations known more widely in North America than they are here.
Nevertheless, there's a universal appeal to the book, with recipes that will inspire beginners and experienced home cooks alike. Ansel shows how to master the building-blocks of baking – bases, fillings and finishings – so that the components can be mixed in a variety of ways. His vanilla tart shell, for example, can be rolled out and stamped into cookies, shaped and filled with lemon curd, or even crumbled into a topping for ice cream.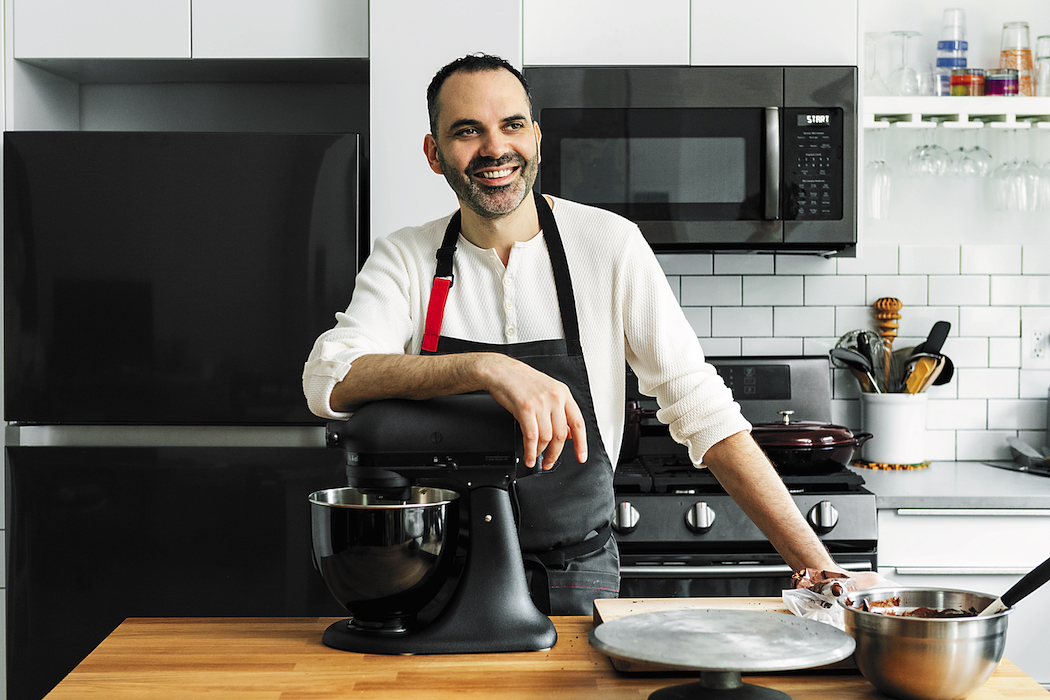 Originally hailing from France, Ansel was named World's Best Pastry Chef in the 2017 World's 50 Best Restaurant awards. The New York Post has called him the "Willy Wonka of New York". He fell in love with brownies when he moved to the United States.
"My favourite pieces are the corner edges – I love how the top crunches at the first bite, yielding to a chewy middle. You don't often find this combination in French pastries," he says. "Like a chocolate chip cookie, people have preferences when it comes to brownies – they'll either seek the soft, gooey centre pieces or the chewy edges. This recipe gives you the best of both."
---
Buy your copy of Everyone Can Bake from Book Depository now (free delivery worldwide).
Buy your copy of Everyone Can Bake from Australian-owned Booktopia.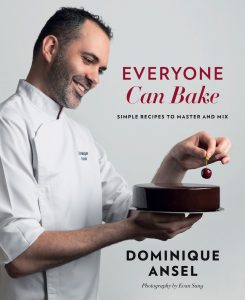 ---
Recipe For My Go-To Chocolate Brownies
Makes 16 x 5 cm brownies
150 grams unsalted butter, at room temperature
300 grams caster (granulated) sugar
3 large eggs
70 grams cocoa powder, plus more for the tin
3 grams salt
4 grams baking powder
115 grams plain flour
225 grams chocolate chips (see note below)
Equipment
20 cm square cake tin or 20 cm round cake ring
1. Preheat the oven: Preheat the oven to 175°C (350°F). Butter the bottom, sides and edges of a 20 cm square or round cake ring. Pour in some cocoa powder and shake it around until the tin or ring is evenly coated, then tap out any excess cocoa powder. *
* Using cocoa powder instead of flour to dust your baking tin means there won't be any spots of white flour on the brownies when you remove them from the tin.
2. Make the sugar mixture: Combine the butter and 100 grams of the sugar in a medium saucepan. Heat over medium heat, stirring slowly, until the sugar has dissolved and the butter has melted completely, 1 to 2 minutes.
3. Make the egg mixture: Whisk together the eggs and remaining 200 grams sugar until smooth.
4. Make the batter: Pour the sugar mixture into the egg mixture and whisk to combine. Add the cocoa powder, salt, baking powder and flour and whisk to combine.* Add the chocolate chips and fold them in with a spatula until evenly incorporated. Pour the batter into the prepared tin until it reaches halfway up the sides. If you are making a cake base, pour it into the cake ring set on a baking paper–lined baking sheet. If you are making individual brownies, pour it into a square baking tin. Level the surface with a spatula if needed.
* Here's an easy way to sift dry ingredients: Combine them in a bowl and use a whisk to break up any lumps before adding them to a batter.
5. Bake the brownie: Bake for 30 to 35 minutes. Because of their dark colour, it's harder to tell when brownies are ready to come out of the oven. Look for the top of the brownies to set, with a few cracks in the surface.
6. Unmould the brownie: If you baked the brownie in a cake ring, let it cool completely in the ring on the baking sheet, then unmould it by pulling up the cake ring. If you are making individual brownies, let them cool for 15 to 20 minutes until they are warm and set, then cut them into squares and serve. Remove the corner square first to make the other squares easier to get out.
Note: Ansel uses milk chocolate chips for this recipe, but you could use dark chocolate instead, or a combination of the two.
Images and recipe from Everyone Can Bake by Dominique Ansel, photography by Evan Sung. Published by Murdoch Books and reproduced with the publisher's permission.
This story originally appeared in PS News.