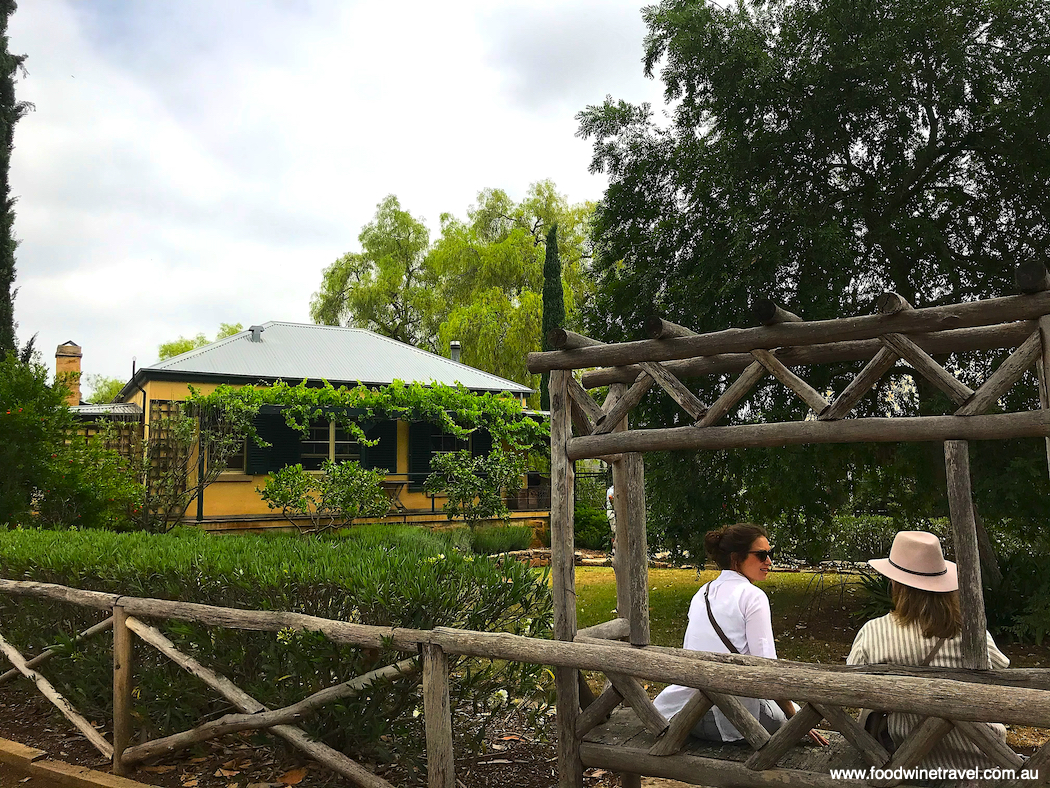 History, gardens, good food and a strong community spirit … there's much to love about Camden. An hour's drive south-west of the Sydney CBD, it's the perfect day trip. Better still, stay for a few days and discover all the charm and interest of one of Australia's earliest colonial settlements.
---
Camden Park Estate: A Window To The Past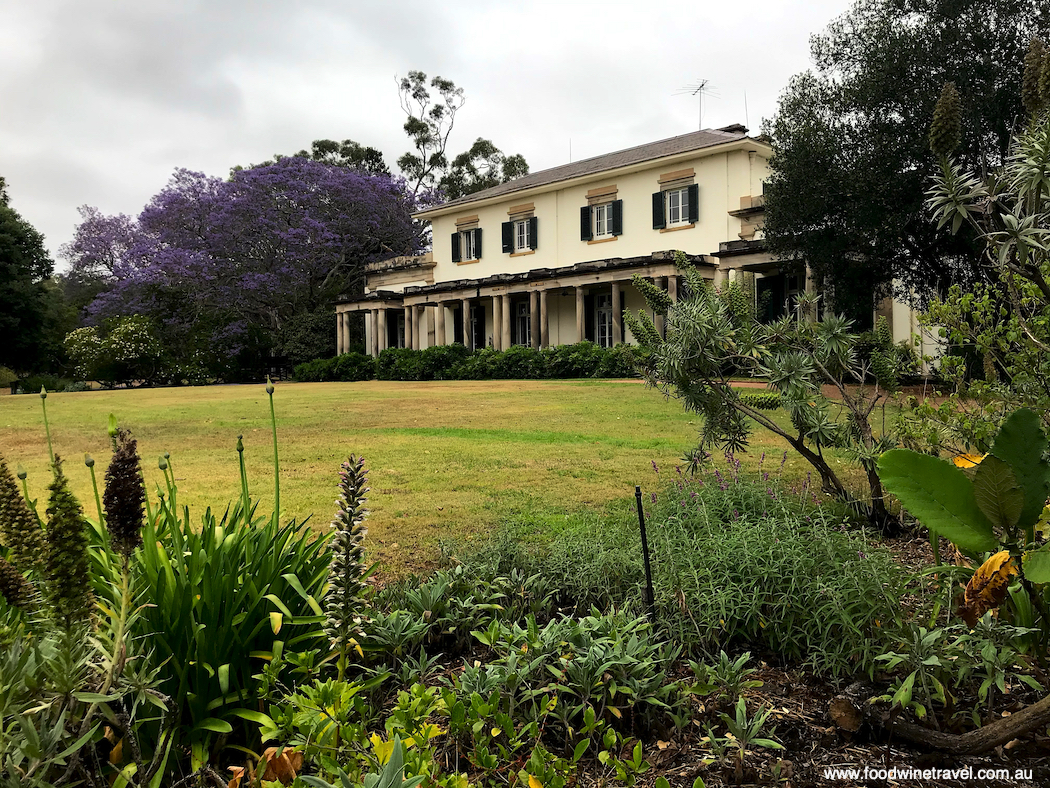 Pioneer pastoralist John Macarthur died in 1834, a year before the magnificent house on his Camden Park Estate was completed. It was actually his son, William, a great horticulturalist and botanist, who got to live in the house and develop the beautiful gardens around it. Descendant John Macarthur-Stanham and his wife Edwina live in the home and open it to the public once a year, offering a special glimpse into Australia's early colonial history. Tours are available at other times for groups by arrangement.
"The house was designed by John Verge, a colonial architect and took about 4 or 5 years to build," said Edwina. "It's an amazing house, a very fine example of Georgian architecture, and the house is special for the fact that it's still lived in by the original family and it is believed to be the oldest continuously occupied house in Australia by the one family."
Not only did the property play an instrumental role in the Australian wool industry, it was also where our wine industry was born. The 405-hectare estate that remains of the original landholding is still a working property with an operating dairy.
The garden contains numerous rare plants and trees including several Dracaena trees from the Canary Islands (there are only about 8 in the whole of Australia), the country's oldest surviving camellia (dating to around 1820), a bauhinia tree planted by explorer Ludwig Leichhardt, and the endangered Jubaea chilensis, or Chilean wine palm, cuttings of which have been taken to establish a forest of palms at the National Arboretum in Canberra.
Edwina Macarthur-Stanham had story after story about this beautiful garden during my visit late last year when the jacarandas were in bloom. "The fantastic thing about the house is that it's still in its setting," she said. "Often with these old houses you have development right up to it." If you loved My Brilliant Career you'll enjoy spotting settings you recognize, as the movie was filmed here.
---
Do A Walking Tour Of Camden's Historic Streets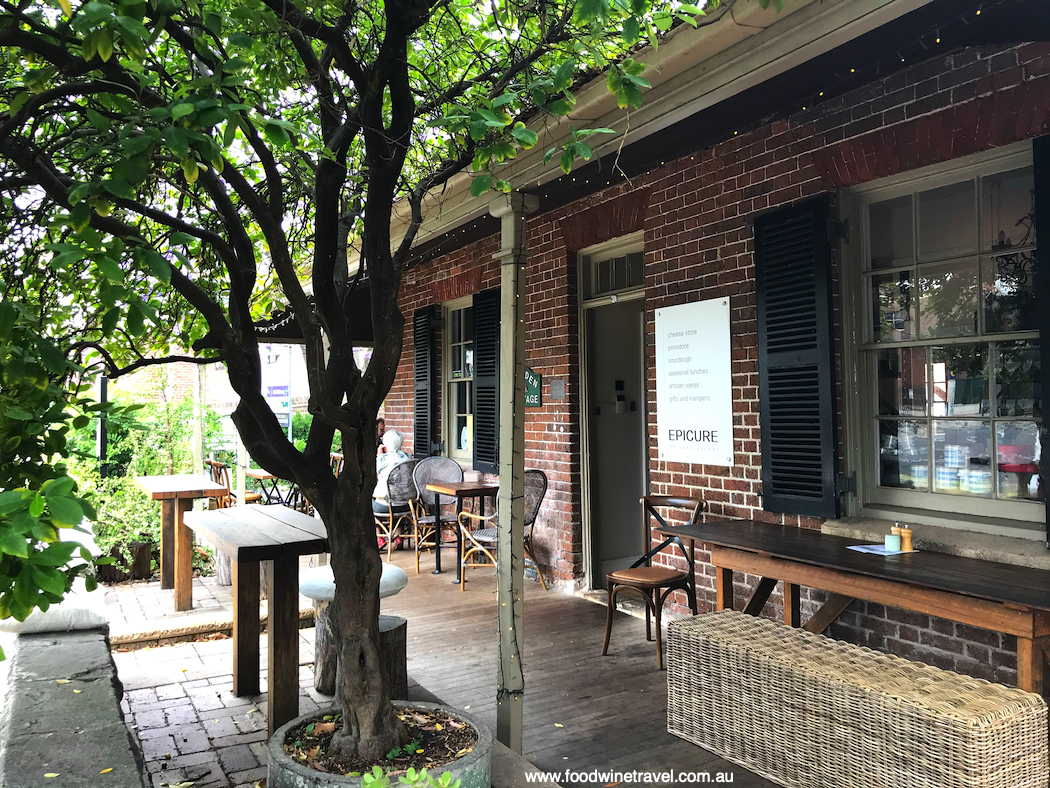 Camden is a lovely town, retaining a country ambience even though it is now well and truly part of the Greater Sydney region. The town has many stunning examples of heritage architecture, from the original post office and courthouse to the Agricultural, Horticultural and Industry Society Hall, still in use more than a century after it was built. Pick up a free Camden Heritage Walking Tour brochure from the Camden Visitor Information Centre (46 Camden Valley Way; phone 02-4658 1370). This excellent brochure gives you a potted history of the town and allows you to explore its history at your own pace.
---
Great Little Cafés, Restaurants & Food Shops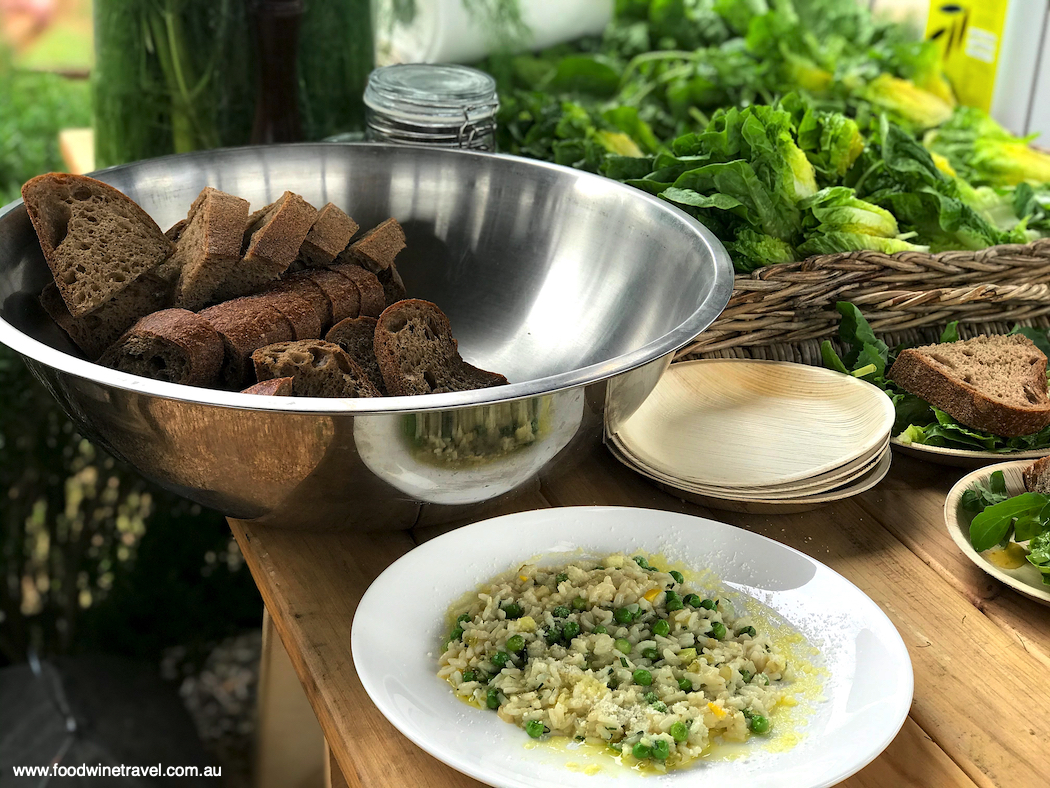 This might come as a surprise but Camden is actually a little bit of a foodie destination! As well as having the best little cheese shop and providore for miles (more about that later), it has popular restaurants like The Italian Food Project, which does woodfired pizzas and some great Italian food, not to mention wine on tap.
The menu at Samadhi Whole Foods is plant based (with the exception of free-range local eggs and locally sourced milk), while Jally's Café, tucked away in a former garage, is a cool spot for coffee or a bite to eat. Sweet Treats By Rhi opened last year in the Capitol Arcade and her cupcakes have been flying out the door ever since. If you love boerewors, biltong or droewors, check out Ossewa Meats, a South African butcher in the Capitol Shopping Arcade.
---
The Best Little Cheese Shop & Providore For Miles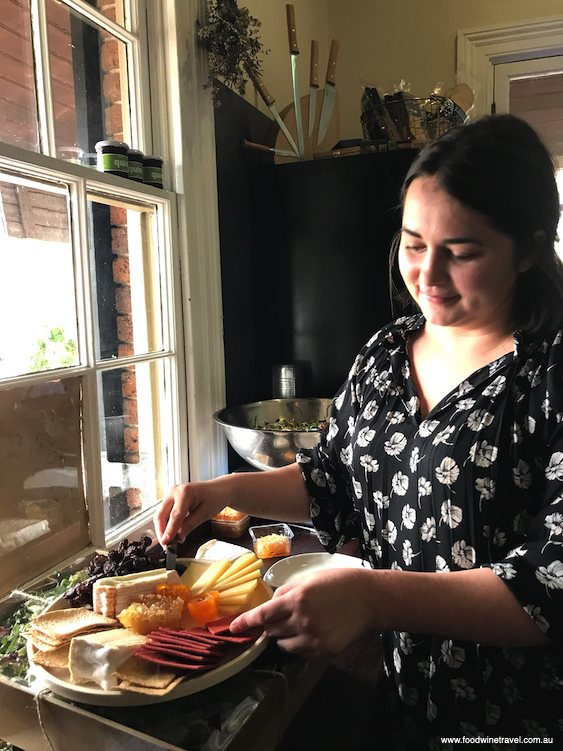 Renee Gillato is the Rachel Khoo of Camden, producing all sorts of miracles from her tiny kitchen with a single hotplate and sandwich press. Renee opened her cheese store, providore and eatery, Epicure, in John Street seven years ago and it's been an unqualified success.
Pull up a chair outdoors and choose from her menu showcasing cheeses, sourdough and preserves. Many of her dishes are plant-based, but there are a few fish and meat dishes as well. The shop is filled to the brim with pantry products and beautiful kitchenware, and there are cheese tastings on Friday nights as well as a monthly cheese subscription service.
Renee tempted our little media group with a board containing Fromage d'Affinois, a French double creme Brie; Brebirousse d'Argental, a French sheep's milk Brie; and Manchego, a Spanish sheep's milk cheese; along with local muscatels. We tucked in like there was no tomorrow, despite the fact that we had just had breakfast.
---
A Flourishing Community Garden & Produce Market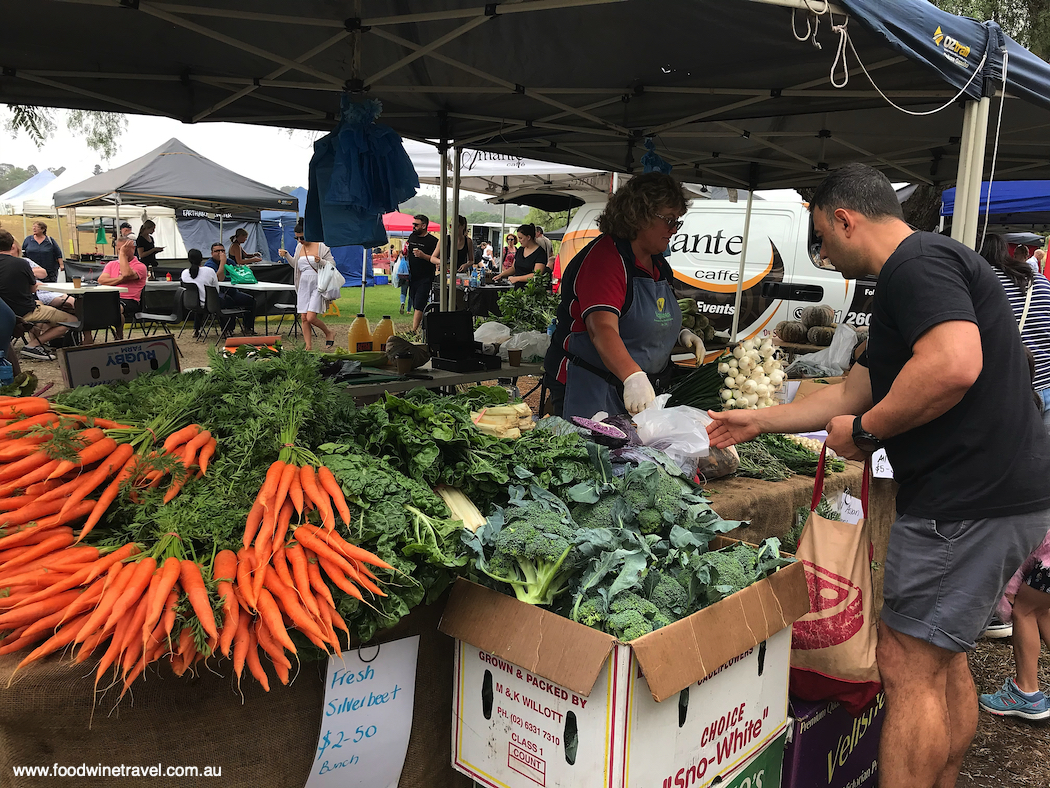 Camden Produce Market is held every Saturday from 7am until noon, but the word locally is that you've got to get there by 8am if you want to get the best produce. Located on Camden Town Farm, it's small but a genuine farmers market – all products must be grown, produced or made by the person selling them. The market has a nice atmosphere with buskers playing live music and places to sit and have coffee.
After you've been to the market, take a walk in the nearby Community Garden. It's open to the public every second and fourth Saturday, as well as every third Sunday of the month (other times by appointment only). The garden is a destination on many farmgate trail tours.
Originally a dairy farm, the garden is on land bequeathed to the community by the late Llewella Davies, a colourful local identity. An old barn remains on site. The garden has taken shape over the past decade, laid out in a platypus design (a nod to occasional sightings of platypus in the nearby Nepean River).
Some local eateries take herbs and vegetables from the community patch, and there's an active and diverse group of members who love getting down and getting their hands dirty, sharing skills and knowledge, and enjoying the social interaction.
www.camdenproducemarket.com.au
---
Alan Baker's Impressive Flower Paintings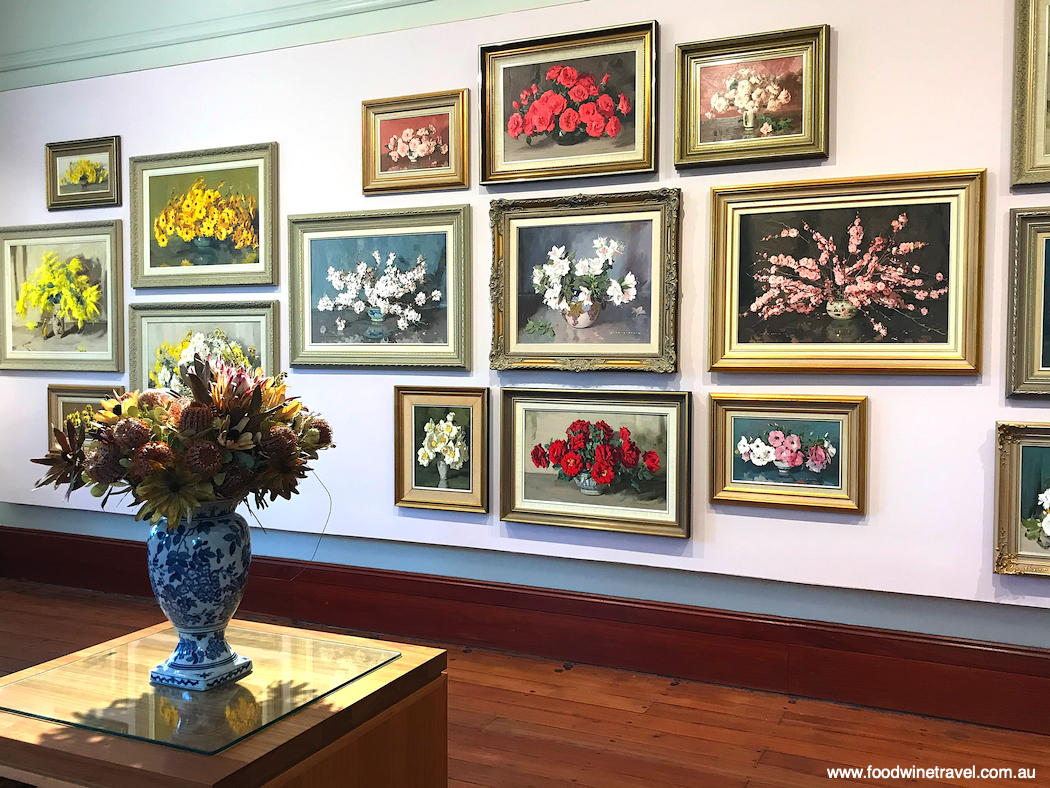 Macaria, a stunning heritage building in John Street, was once a home, grammar school and council offices. After a recent renovation, it is open to the public for the first time in decades, housing the Alan Baker Art Gallery. If you're not familiar with the work of the late Alan Baker, you should be.
Known for his still life and landscape paintings, his depiction of floral arrangements and antique ceramics are particularly wonderful. Baker's wife was an avid gardener so he had plenty of material to draw on – he enjoyed painting blossoming fruit trees and flowers that he had arranged himself. Fine linens and ceramic pieces add depth and character to the works.
The collection, spread over a number of rooms at Macaria, tells stories of love, family, community, war, beauty, darkness and tragedy. Baker lived at The Oaks from the 1960s to the 80s and many of his local landscapes were painted during that time. The gallery is open Thursday to Sunday from 11am till 4pm.
More information about the Alan Baker Art Gallery.
---
A Carpet Of Jacaranda Blooms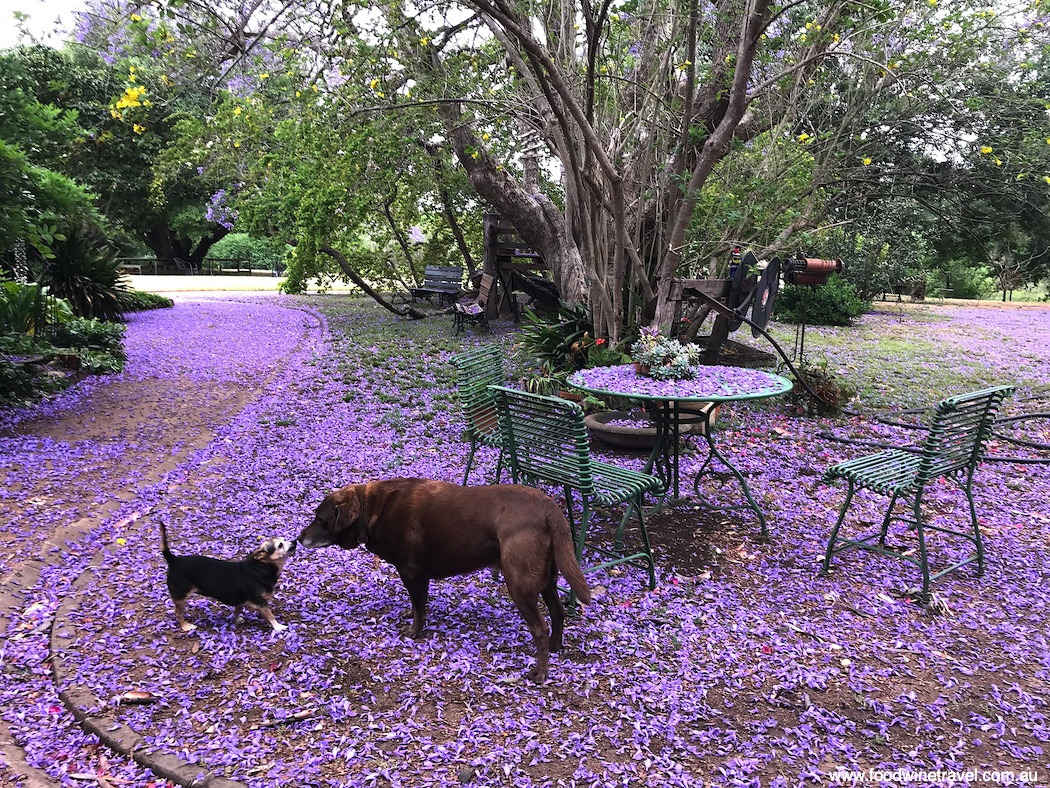 Any time of year is the right time to visit Camden but if you want to be really wowed, go in November when the jacarandas are in bloom. Macarthur Park, a green space that was originally part of the 5400-acre land grant made to John Macarthur in 1825, is planted heavily with jacarandas, giving it a beautiful purple hue in spring. The Argyle Street precinct is pretty too, with the trees creating a carpet of purple.
For three days at the end of November, the annual Camden Jacaranda Festival is a family event that includes the lighting of the Christmas tree and jacaranda fairy lights. Walking tours (guided or self-guided) are available of the streets with jacaranda trees in bloom. On the Friday night, Argyle Street transforms into a showcase of live music, while on the Saturday, more than 100 market stalls and amusements provide family entertainment.
www.camdenjacarandafestival.org
---
Glenmore House: A Country Idyll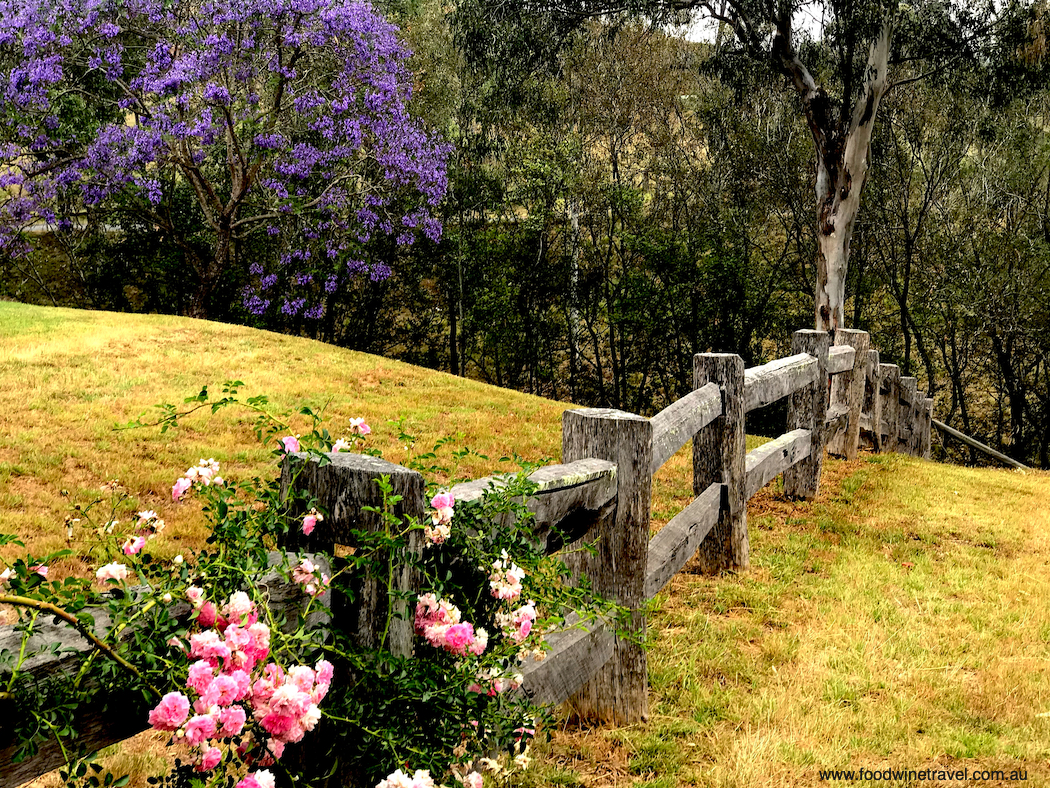 The Macarthur region has many fine historic houses and gardens, but if you want to be really entranced, lay your hands on a copy of Mickey Robertson's book, The House and Garden at Glenmore: landscape, memory, seasons, home (published by Murdoch Books, 2017). Interior designer Mickey and her husband Larry moved to Glenmore 30 years ago, when it was just a collection of dilapidated, early colonial farm buildings.
Over the years, they have restored and extended the farmhouse and outbuildings, worked on the gardens and hedges, and all in all, created an idyllic country property that is quintessentially Australian. Late last year, they held a Spring Garden Fair to celebrate 30 years at Glenmore House, with tea and cakes in the Dairy, stalls selling plants and produce, and a bucolic lunch in the hayshed catered for by Martin Boetz from Cooks Co-op.
Glenmore House holds regular events such as kitchen gardening or seasonal cooking days, art and literary workshops, talks, chamber music concerts, and garden lunches.
---
Rest Your Head At Camden Valley Inn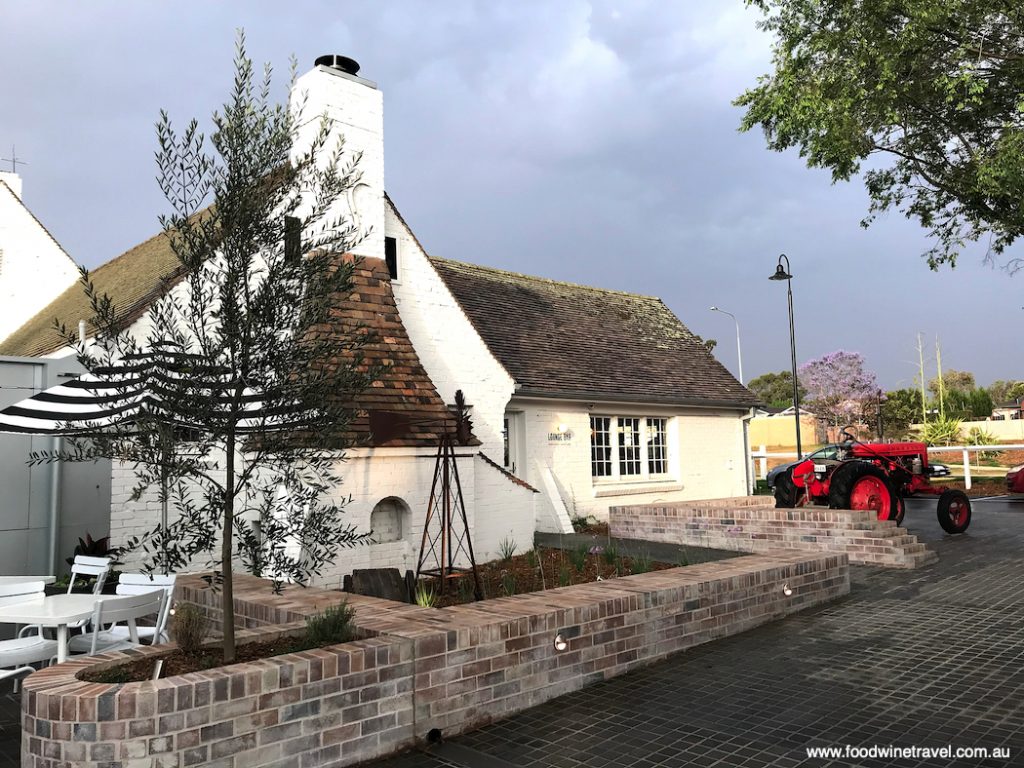 It's hard to imagine now but in the early 1950s, when people got excited by such things, up to 2000 visitors a week flocked to Menangle to see the Camden Park Rotolactor, an automated circular milking machine that was in use until 1983. Thousands of schoolkids from the era probably remember it too, as it was a popular location for school excursions.
The Camden Vale Inn was built in the 1930s to promote Camden Park milk. By the 1950s, when people were flocking to see the whizz-bang new Rotolactor, they would generally swing by the Inn for a milkshake. Granted a tavern license in 1989, it became a popular community hang-out, and in 2019 it underwent another major transformation into a stylish country hotel.
The new-look Camden Valley Inn retains the original heritage Inn, now housing cosy lounges and bars, with these forming the nucleus for a much larger operation that includes indoor and outdoor dining spaces, a beer garden, guest accommodation and oodles of outdoor space for kids to run around in.
Relax with a drink on the deck overlooking the picturesque Razorback Mountains, enjoy a spa bath in the beautifully refreshed guest accommodation, say hi to the goats in the mini-farm, or kick back and listen to some music – you'll love the stylish new look and at the same time enjoy the friendly vibe of this country hotel.
---
Check Out The Calendar Of Events
There's no shortage of fabulous things to do in and around Camden. Debbie Brown's markets and events company, eat.shop.love, organises a calendar of events including the popular AnnanROMA, a food, wine, beer and more festival that attracts thousands to the lakeside lawn at the Australian Botanic Garden Mount Annan. The next AnnanROMA festivals are on February 23 and May 31.
Eat.shop.love is hosting The Sweet Life on February 8 from 11am till 8pm in the Camden A&I Hall. The expo will celebrate all things sweet with desserts, cake making supplies, workshops, presentations and more.
With thanks to the Camden Chamber of Commerce for hosting me on this brief but lovely getaway.