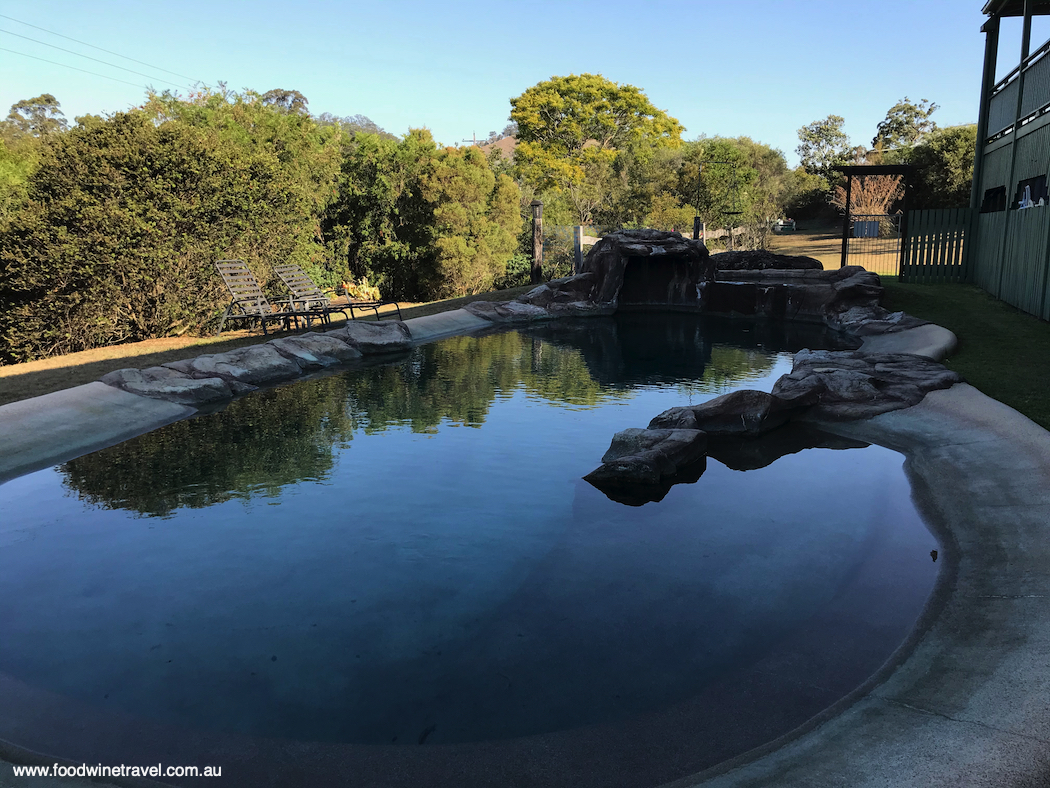 The boutique accommodation at Amamoor Lodge is 25 minutes from Gympie and mere minutes from the township of Amamoor, but it is so quiet and peaceful you could be a million miles from anywhere.
Nestled on 50 acres against a mountain backdrop, Amamoor Lodge is the perfect base to explore the picturesque Mary Valley. Owners Christine and Malcolm Buckley offer comfortable country accommodation paired with fine country hospitality.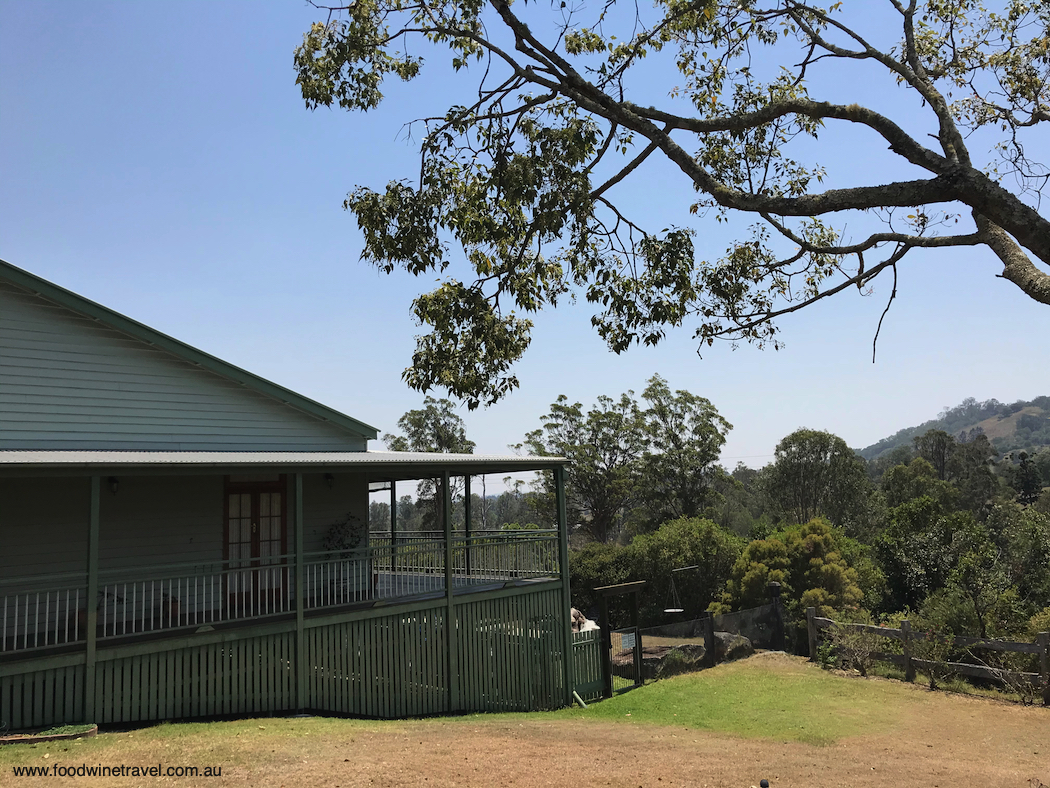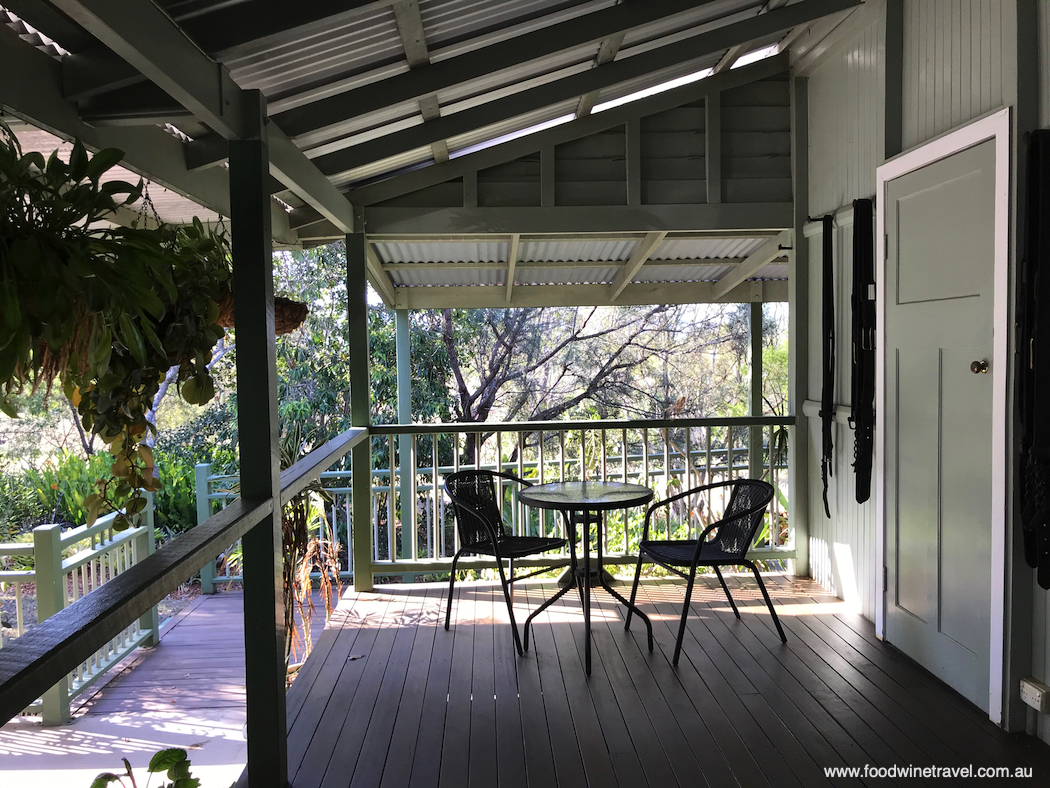 The Lodge was once part of an 800-acre property owned by dairy and small crop farmers who subdivided it in the 1980s. In 2002, the previous owners extended and completely renovated buildings on site that had previously housed a mess area, cook house and single men's quarters, converting them into guest accommodation, each room with its own ensuite.
The single men's quarters had been built in the 1930s using timber felled and milled on the property, and the beautiful ironbark walls and silky oak mouldings were retained during the renovations. This adds loads of character and a warm coziness to the Lodge, but also means that our room, named Callistemon, is quite dark.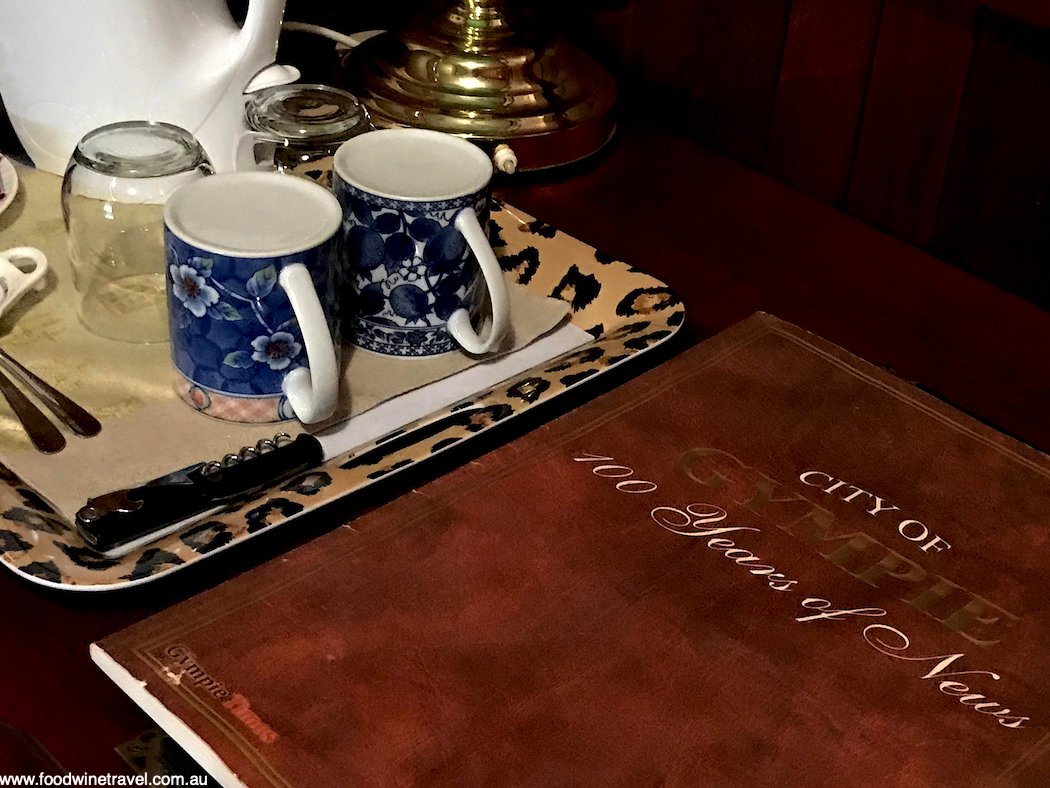 Characteristic of the period, the window is quite small, so on the very hot day of our arrival, we close the door, turn on the air-conditioning and take a welcome afternoon nap. It's one of three guest rooms with access to a large lounge and dining area surrounded by a spacious deck overlooking the swimming pool.
Guests can relax in private here, as the owners have separate quarters, coming to the Lodge only to prepare meals (which they do with great aplomb). We love the historic charm of the Lodge, but for those who might find the rooms too dark or who prefer more motel-style accommodation, there's a separate wing with five more guest rooms, each with their own kitchenette, perfect if you want to self-cater.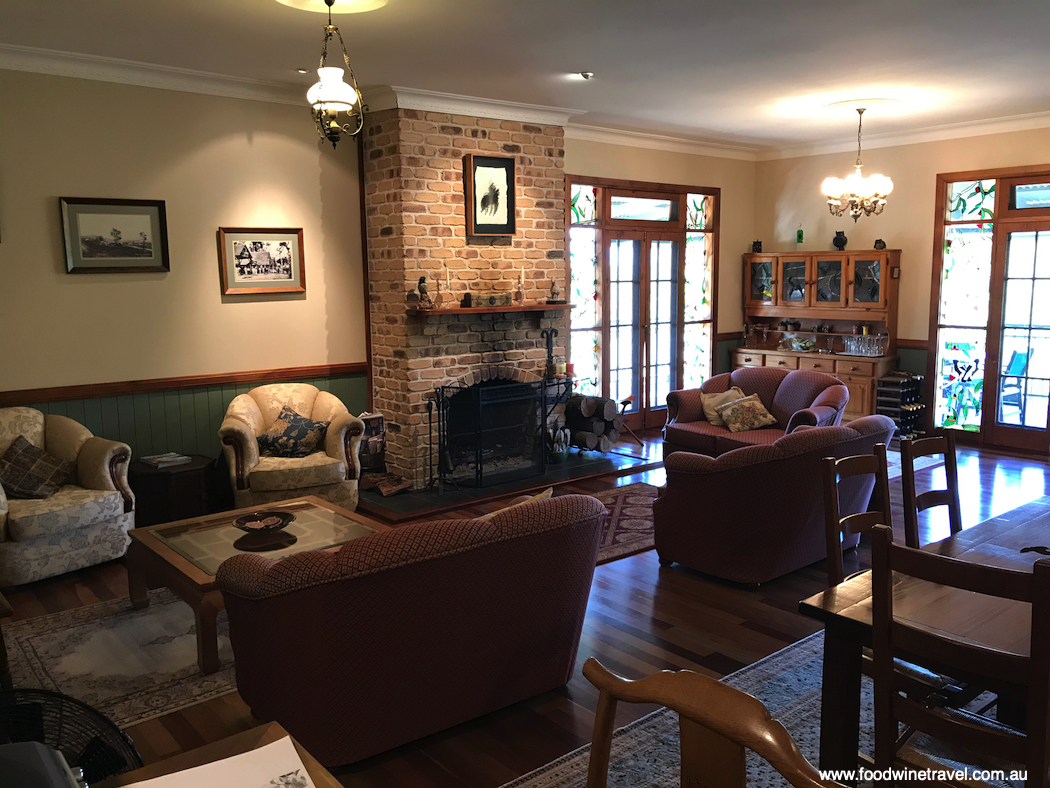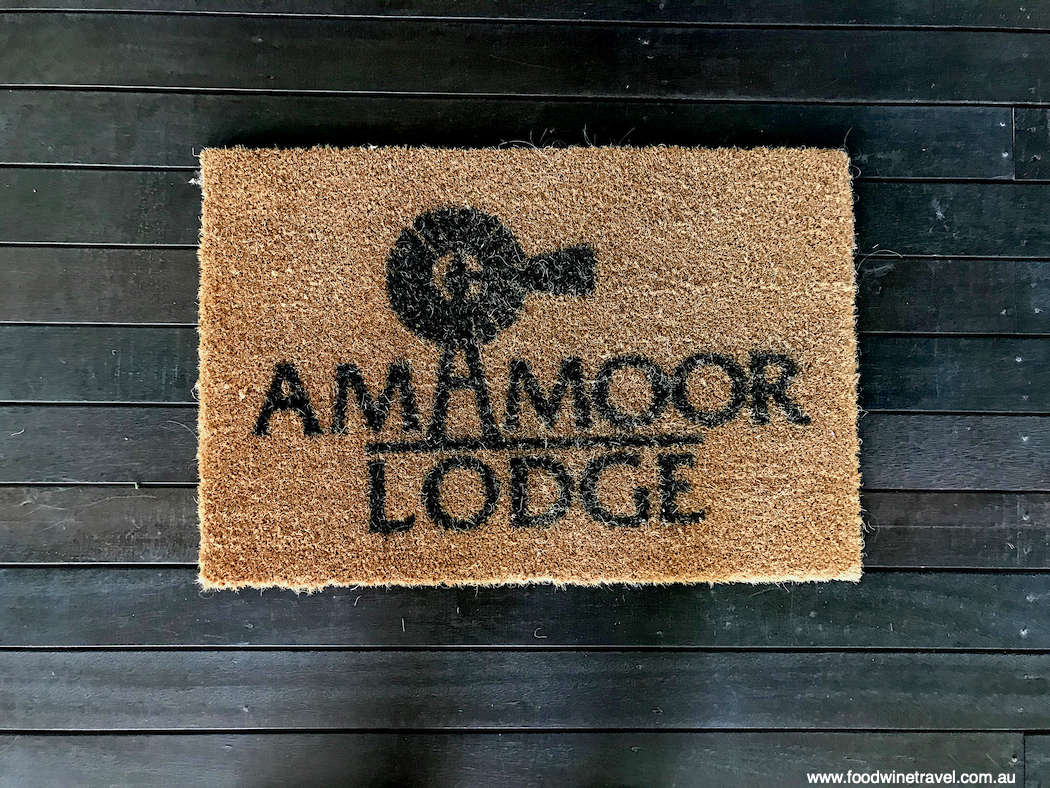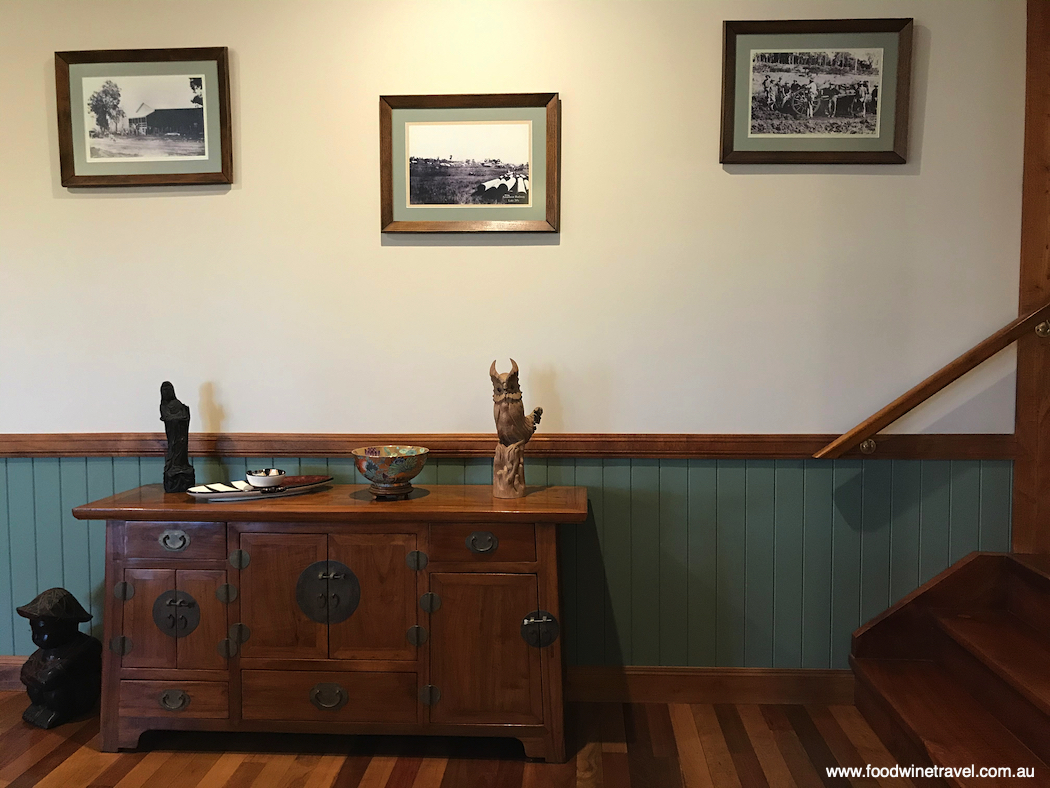 Malcolm Buckley is a fine chef and we're happy to be waited on as he creates a superb meal for us centred around terrific local produce. The Mary Valley is considered one of the food bowls of south-east Queensland and Malcolm goes to a lot of trouble to showcase its bounty, driving up to an hour, for instance, to source a particular cheese from a French cheesemaker in the Conondale Range between Kenilworth and Maleny.
We had his fresh goat's cheese in an entrée of roasted eggplant, zucchini, capsicum and tomatoes with Fat Hen Farm olive oil and pumpkin sourdough. There are more local veges with the main dish, beef roast rump with muscat sauce, squash, Dutch cream potatoes and celeriac purée, all done with generous lashings of milk and cream from the local Cooloola dairy.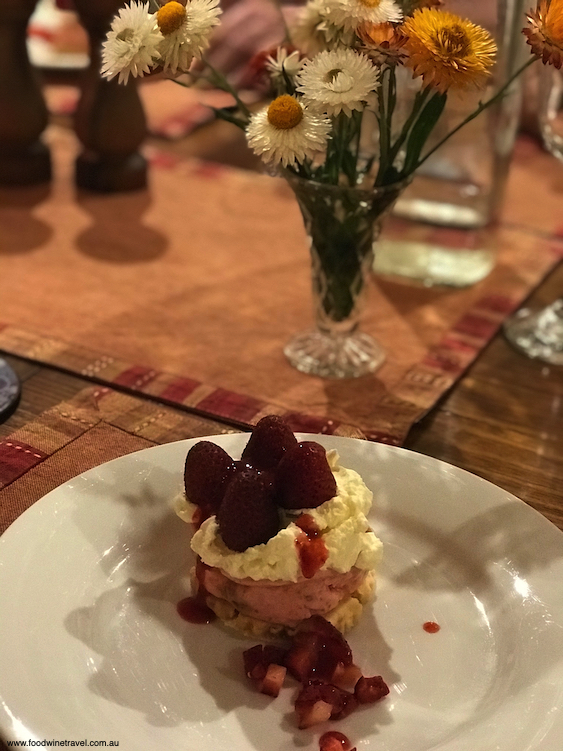 The finale is a delicious dessert of Malcolm's homemade macadamia and strawberry icecream, with fresh strawberries and macadamia shortbread. Prices for this home-cooked feast are very reasonable and it's a very short waddle from the dining table to the very comfy bed in the Callistemon room.
Christine and Malcolm are great hosts who cater for intimate dinners, business events, weddings and other special occasions. Although accommodation on the property allows for up to 16 guests, they do individually tailored events for anywhere between 8 and 150. At various times throughout the year they have Lazy Sunday Lunches and Friday Dinner Under The Stars. Keep an eye out for upcoming events.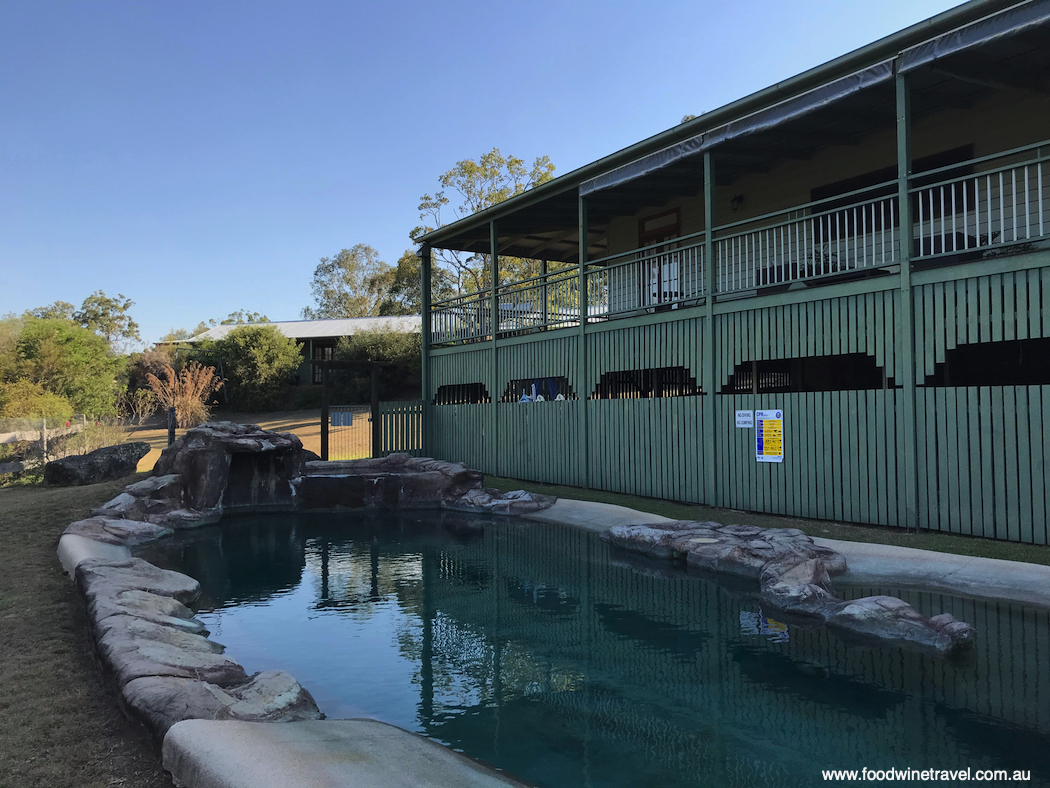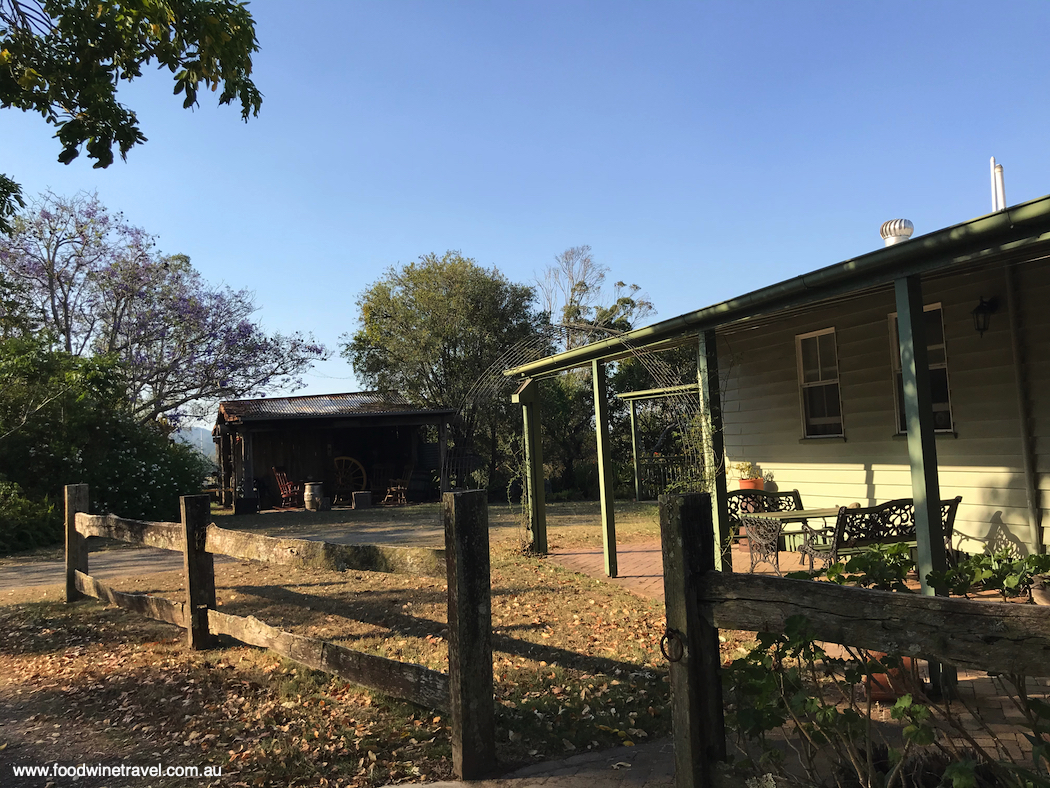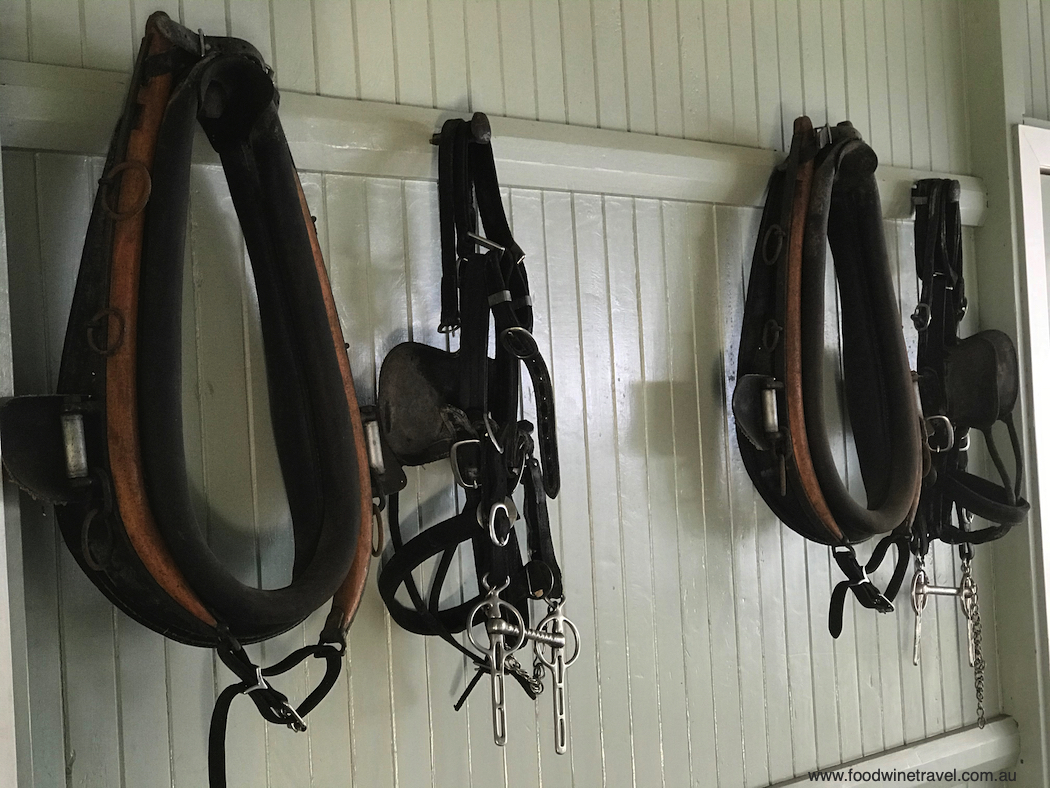 Depending on the weather, house guests take breakfast and dinner on the deck or in the dining room, surrounded by an eclectic array of country furnishings and Oriental touches reflecting the owners' travels and expat life abroad. Although there are tea and coffee making facilities in every guest room, an area is also set aside in the lounge where guests can help themselves to tea and coffee.
A fireplace in the lounge provides a cosy ambience in winter, and there's a wonderful library of books on a diverse array of subjects. (Could there be anything more enjoyable than looking for hidden gems in someone else's library?) On this very hot day, it's the pool that beckons, and what a gorgeous pool it is, landscaped so that it is at one with its natural surroundings. We dip our feet in and spend ages watching a willy wagtail on the water's edge.
Breakfast the next morning is on the deck overlooking the pool, a hearty country breakfast with eggs and bacon cooked to perfection, lots of fresh fruit, yoghurt and homemade jams.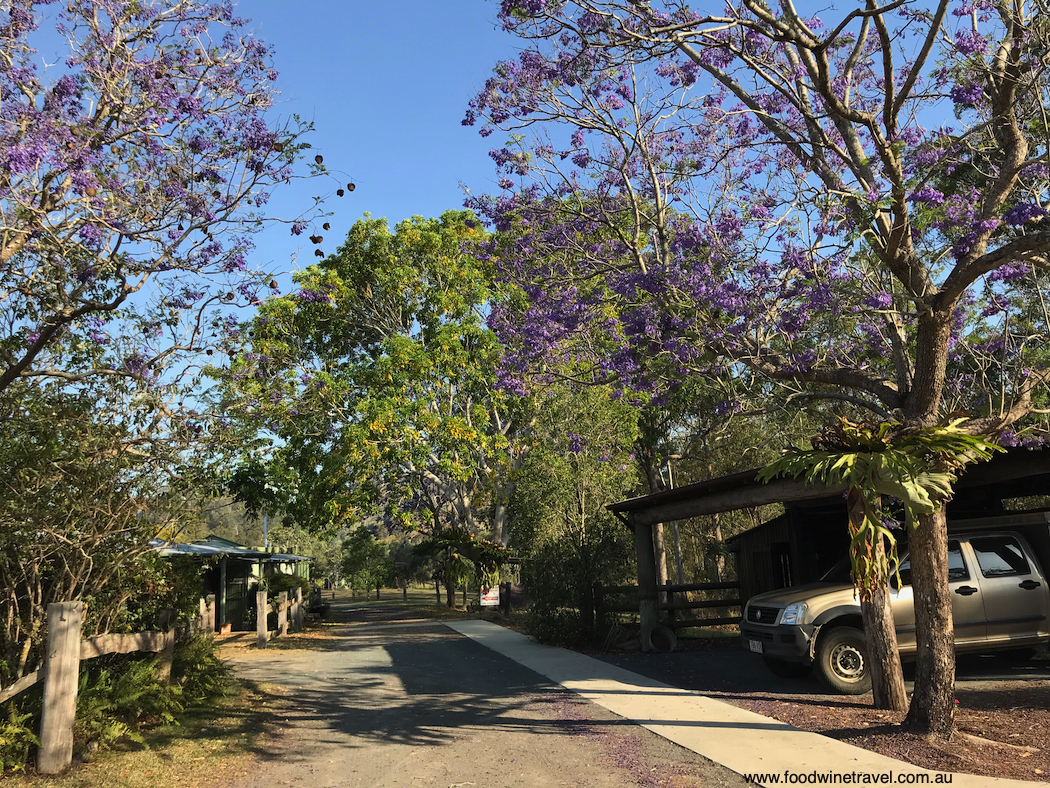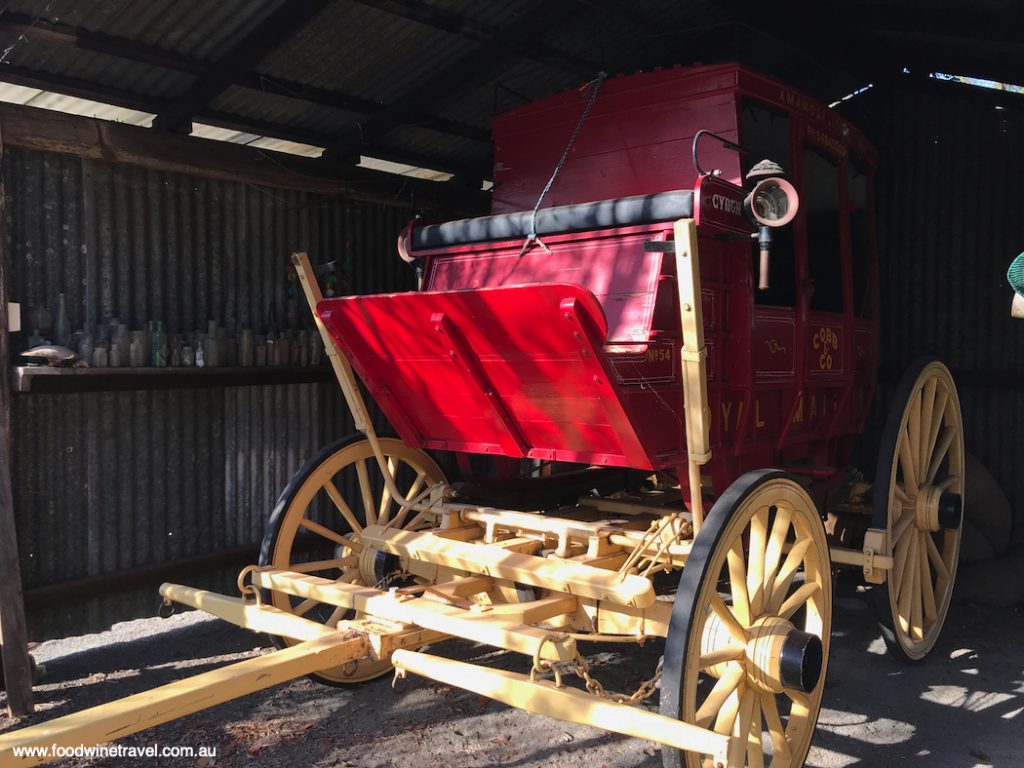 Guests can go for walks on the property or follow the tracks in nearby Amamoor State Forest. The Lodge is within easy reach of the Sunshine Coast and 25 minutes' drive from historic Gympie Station, from where the Mary Valley Rattler departs. The train trip is great fun for train buffs, families and anyone who loves a bit of nostalgia, not to mention foodies who will love the recently introduced Tasting Train showcasing the region's fantastic produce.
Most of the Rattler services depart from Gympie and turn around at Amamoor, but on Wednesdays and Saturdays you can catch the train from Amamoor and turn around at Gympie, making it extra convenient for anyone staying at the Lodge. The Buckleys have already noticed a big spike in visitors since the Rattler returned to service a year ago, which just goes to show the impact that initiatives like this can have on rural communities. The train trip is enormous fun and we think it won't be long until steam train junkies will be coming from all over the world to ride the Rattler.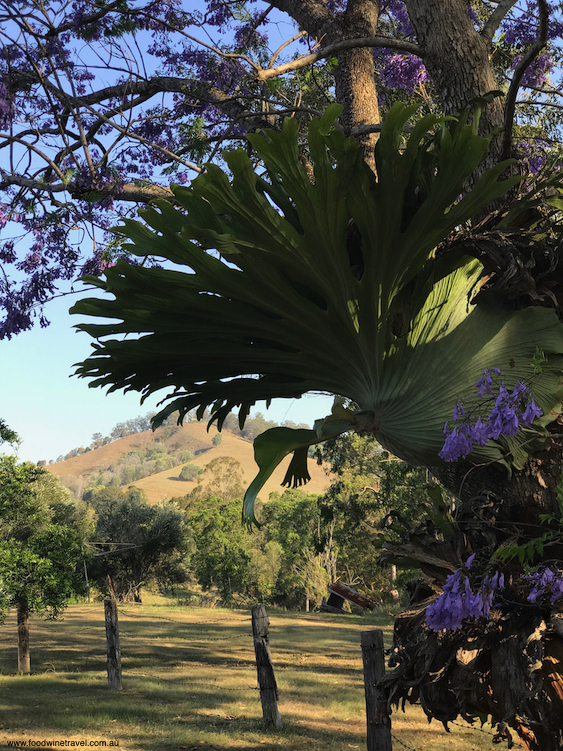 If you go:
Amamoor Lodge
368 Kandanga Amamoor Rd,
Amamoor Qld 4570
Australia
Tel: +61 (0)7 5484 3500
www.amamoorlodge.com.au
With thanks to Amamoor Lodge and Visit Sunshine Coast for hosting our stay.