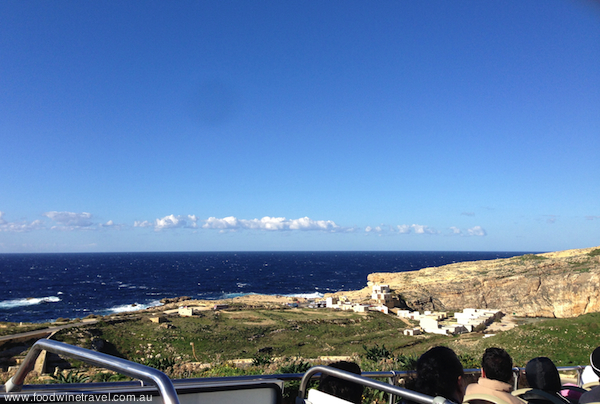 We're a happy duo who agree on most things when we travel but one subject on which we diverge is that of hop-on hop-off sightseeing buses. My number one travelling companion likes them. I don't.
I've had some pleasant enough experiences with these open-top double-decker street cloggers – in Bath, Dublin and Barcelona to name a few. But mostly I find you either waste a lot of time hanging around for the next bus or you have to scoot past everything at a cracking pace to keep up with the schedule.
I rarely find they get me anywhere easier than public transport would have got me, and then there's the question of where to sit? Downstairs where you can't see anything, or upstairs where you're either frozen to the core, windswept with your hair flying into a million knots (having forgotten to bring a hair tie) or burnt to a crisp in the sun.
But the other half won out this time and so we arrived on the Maltese island of Gozo, ready to tackle it on a red hop-on hop-off bus. And no, I wouldn't recommend it as the way to go, especially for travellers like us who had to be back at the ferry at an appointed time.
Although it's only a small island about 4km long by about 7km wide, I saw only half the places I wanted to see. And, let me tell you, there is much to see.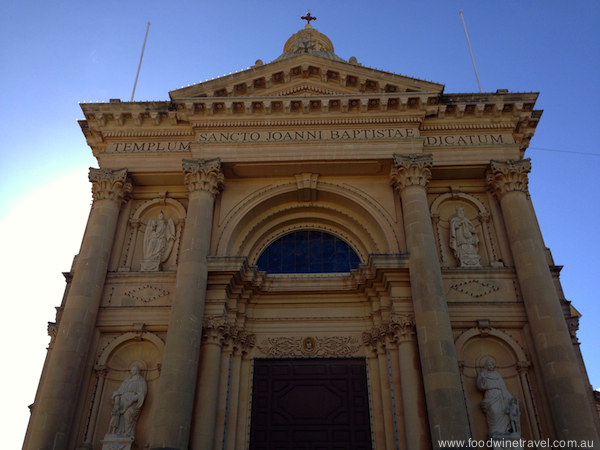 Gozo is blessed with an abundance of picturesque natural scenery, charming little towns with winding streets and historical relics, some of which are a thousand years older than Stonehenge.
After a half-hour stop at the impressive Dwerja coastal formations (top photo), we called into Victoria, the largest town on the island, to sample a typical local platter of goat's cheese and salad. With the clock ticking, we bolted down our food only to have to wait 15 minutes in burning sun for a bus that arrived late.
From there, we continued on to the megalithic temples of Gjantija (below), which date back to between 3600 BC and 3000 BC. The name is derived from the Maltese word 'ggant' which means giant.
It's an impressive site but compact enough to be viewed in half an hour. It certainly didn't require the one and a half hours that the bus timetable allocated to it.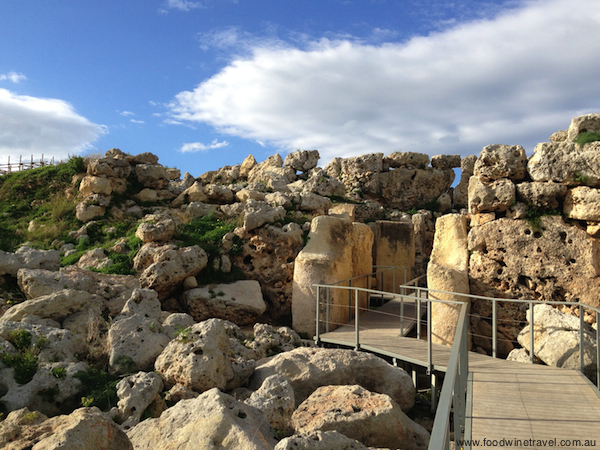 As a result, we missed the citadelle in Victoria, Calypso Cave (believed to be the cave referred to by Homer in The Odyssey) and Ta'Kola Windmill, one of the few surviving windmills on the Maltese Islands dating back to the time of the Knights of St John.
Because the driver who had delivered us to the ferry from downtown Valletta didn't bother finding out the ferry schedule before imploring us to be on the return bus at 5pm sharp, we raced all day to meet the 3.45pm ferry, only to find ourselves waiting in a smoky minibus for an hour for another party who had been told by their driver that the 4.30 ferry would be fine.
And so as we and a motley collection of other travellers waited until 5.15 for their arrival, the sharp 5pm departure time now apparently not so sharp, there was very nearly a revolution rivalling the Great Siege of Malta.
We loved Gozo but there must be a less frenetic way of experiencing it. As my travelling companion reminds me, this is supposed to be a holiday, not hard work.