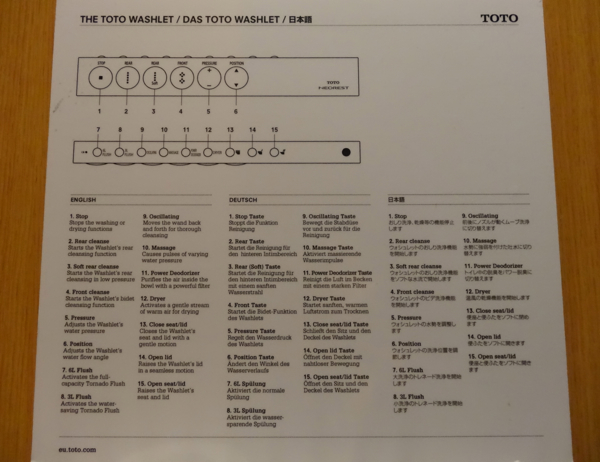 I've recently returned from Europe and will have lots of stories in the coming weeks about many of the places we visited. But in the meantime I can't wait to tell you about an experience I had at Frankfurt airport.
The Qantas Club uses the facilities of the JAL lounge at Frankfurt and that was how I came to be acquainted with Das Toto Washlet.
Imagine my surprise when I opened the toilet door and saw the toilet lid magically opening! It was zero degrees and snowing outside in icy Frankfurt, but when I sat down, the toilet seat was invitingly warm.
On the wall to my right was a panel of instructions for no less than 15 functions … I'm not kidding. I only road-tested two of them (and I'm not going to reveal which ones they were – some things shall remain private).
But the one that had me most intrigued was the tornado flush. Now what the hell is that? I was too nervous to find out.
While I'm on the subject of toilets, you might be interested in a little project I've been undertaking. Over the past few years, I've been photographing signs on toilet doors around the world.
Take a look at my photo gallery to see some of the cute, interesting and quirky signs I've encountered on my travels.
Related post: Toilet Doors