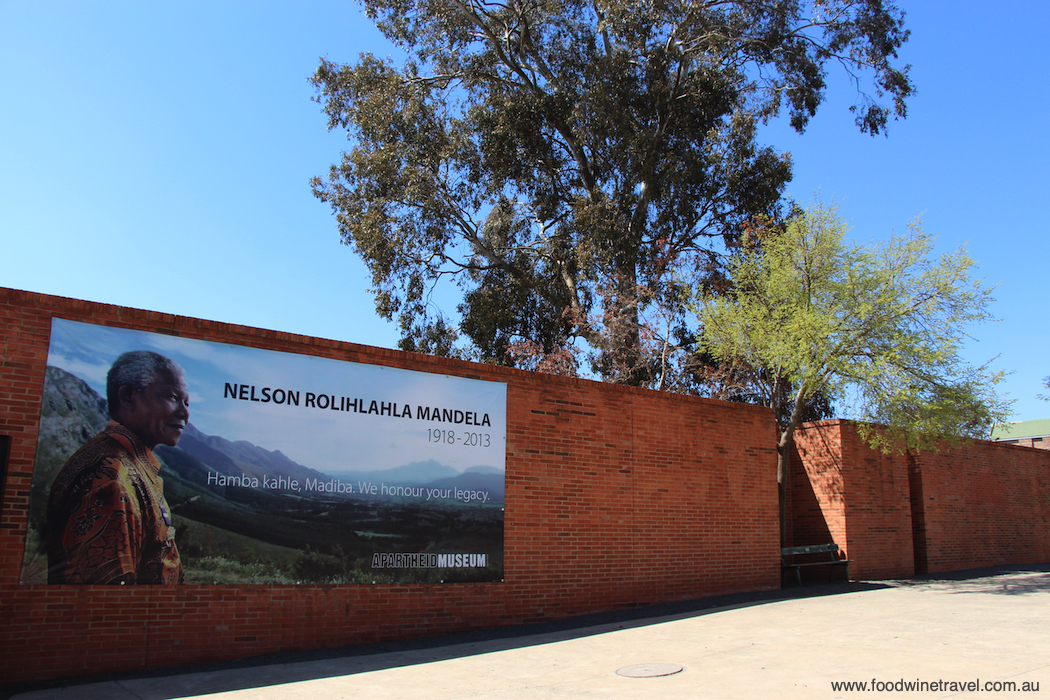 This year marks 30 years since Nelson Mandela walked free after 27 years of imprisonment in South Africa. Recently I finished reading Mandela's autobiography, Long Walk To Freedom, his beautifully written account of the struggle for liberation from repression and the odious apartheid system that ruled South Africa for so many years.
In the early 1990s I worked with a reporter who had met Mandela shortly before he became South Africa's first democratically elected president. I remember my colleague remarking on what a charismatic and inspirational human being Mandela was (and after reading his autobiography, that's certainly the impression I've gained too).
I've had the privilege of visiting South Africa a couple of times and each time I visit this wonderful country, it gets a little deeper under my skin. Mandela's story is South Africa's story and everywhere you turn, there's a reminder of this great man who is widely revered as the "Father of the Nation". (In South Africa, he is often referred to by his Xhosa clan name, Madiba.)
Mandela served as President of South Africa from 1994 to 1999. He died in 2013 and was buried at his ancestral home at Qunu in the Eastern Cape. His presence is felt wherever you go in South Africa and he is immortalised in museums, statues, exhibitions and street art. Visiting these top sites associated with Nelson Mandela helps us gain an understanding of his long walk to freedom and the legacy he left behind.
---
Nelson Mandela's Home in Soweto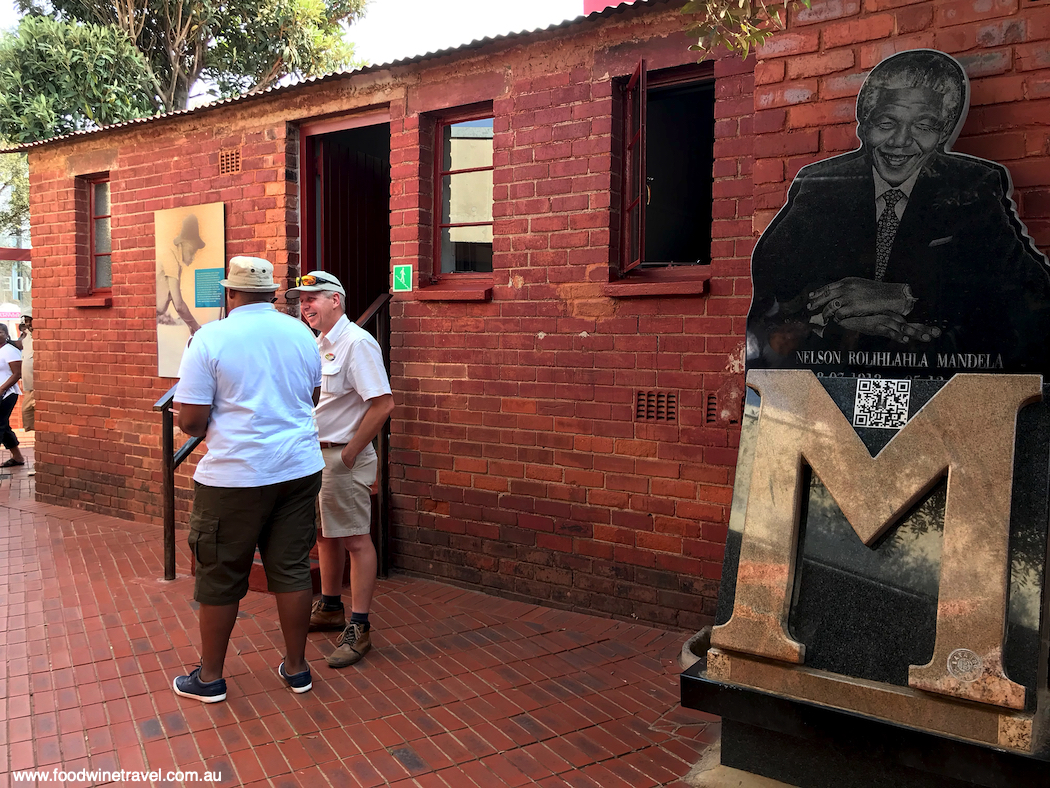 One of the easiest places to visit is Mandela House, at 8115 Vilakazi Street, Orlando West, Johannesburg. Mandela moved into this humble little house in Soweto in 1946 and it was where he returned, briefly, when he was freed in 1990. "It was the opposite of grand but it was my first true home of my own and I was mightily proud," he wrote in Long Walk to Freedom. "I did not know then that it would be the only residence that would be entirely mine for many, many years."
Mandela lived here with his first wife Evelyn and after his marriage to second wife Winnie in 1958. It remains deeply personal despite the hordes that stream through every day and despite extensive renovations (it was firebombed several times; bullet holes and scorch marks can still be seen on the walls).
The four small rooms contain memorabilia, paintings and photographs of the Mandela family, as well as honorary doctorates bestowed on Mandela by universities and institutions around the world. There's a leather chair that Winnie bought in 1988, a boxing belt given to Mandela by Sugar Ray Leonard, and in the garden an Australian melaleuca tree under which the umbilical cords of Mandela's children were buried. Mandela planted the tree himself.
A leading force for change during the apartheid years, Soweto has the only street in the world that produced two Nobel Peace Prize winners, Mandela and Desmond Tutu. African National Congress founder Walter Sisulu lived close by and the Freedom Charter was created and launched here. Nearby is the Hector Pieterson Memorial, a homage to the schoolchildren killed during the 1976 student uprising.
---
Constitution Hill, Johannesburg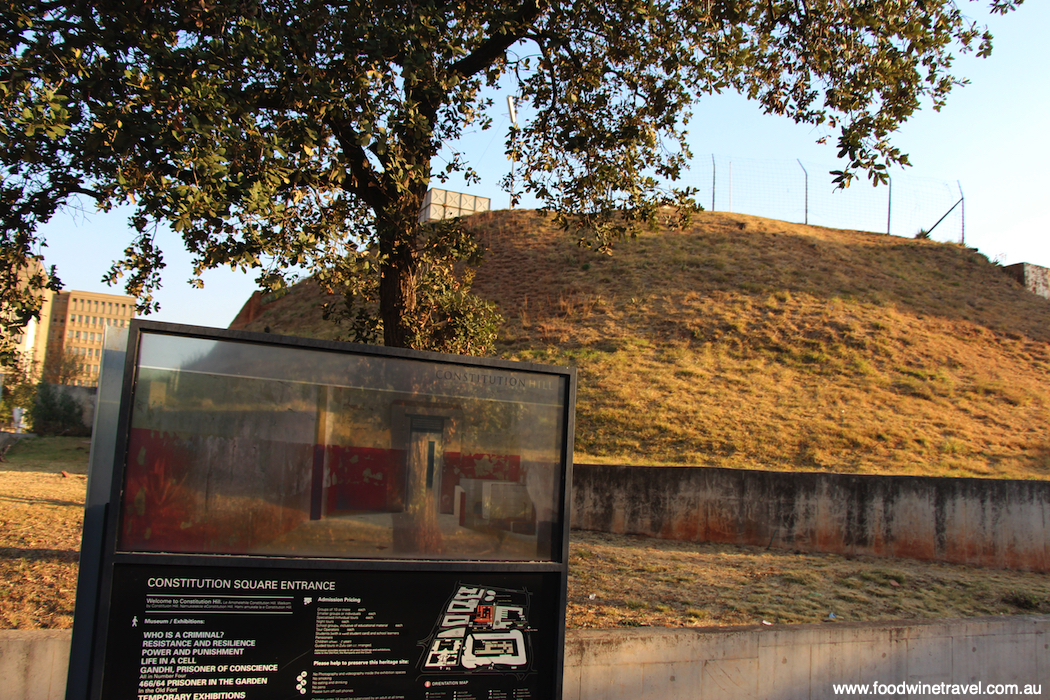 Mandela and Ghandi were among the high-profile activists who were imprisoned in the notorious Old Fort prison here at various times. Mandela was detained here during the 1956 Treason Trial – when all 156 defendants were eventually acquitted – and again in 1962 following his arrest in KwaZulu-Natal.
Today, Constitution Hill is home to South Africa's Constitutional Court, built within the ramparts of the Old Fort. Visitors can watch the proceedings through large windows. There are daily tours of the heritage precinct. The museum is quite chilling, especially when you see how prisoners of different races were treated. Nelson Mandela's cell can also be seen.
---
Apartheid Museum, Johannesburg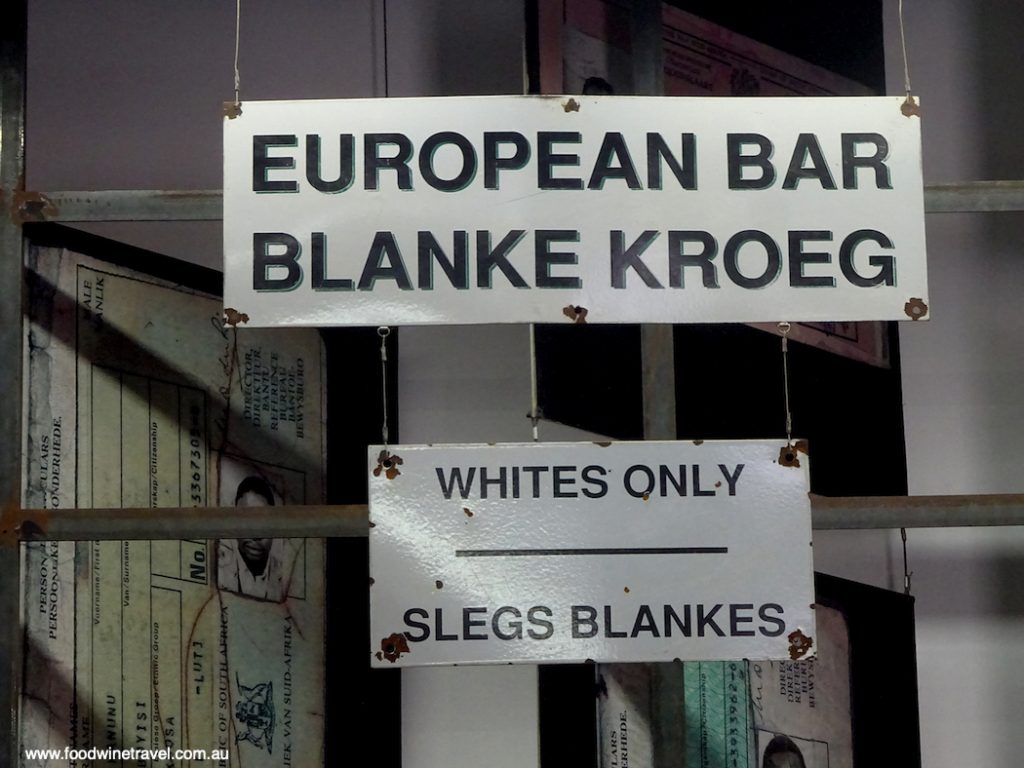 While in Johannesburg, the Apartheid Museum deserves a couple of hours of your time, at the very least. With its beautifully presented audio-visual displays, it's probably the best means of understanding South Africa's complicated society, and why Mandela is so revered.
From 1948 to 1994, the apartheid system infiltrated every aspect of life in South Africa, from education and employment, to housing, health care, transport, and even the beach you swam at. Visiting the Apartheid Museum is emotional and exhausting, especially when you enter the small chamber where 131 nooses are hanging. These represent 131 opponents of the government who were executed under anti-terrorism laws, a chilling reminder of the heavy price paid for freedom.
---
'The Purple Shall Govern', Mandela mural, Johannesburg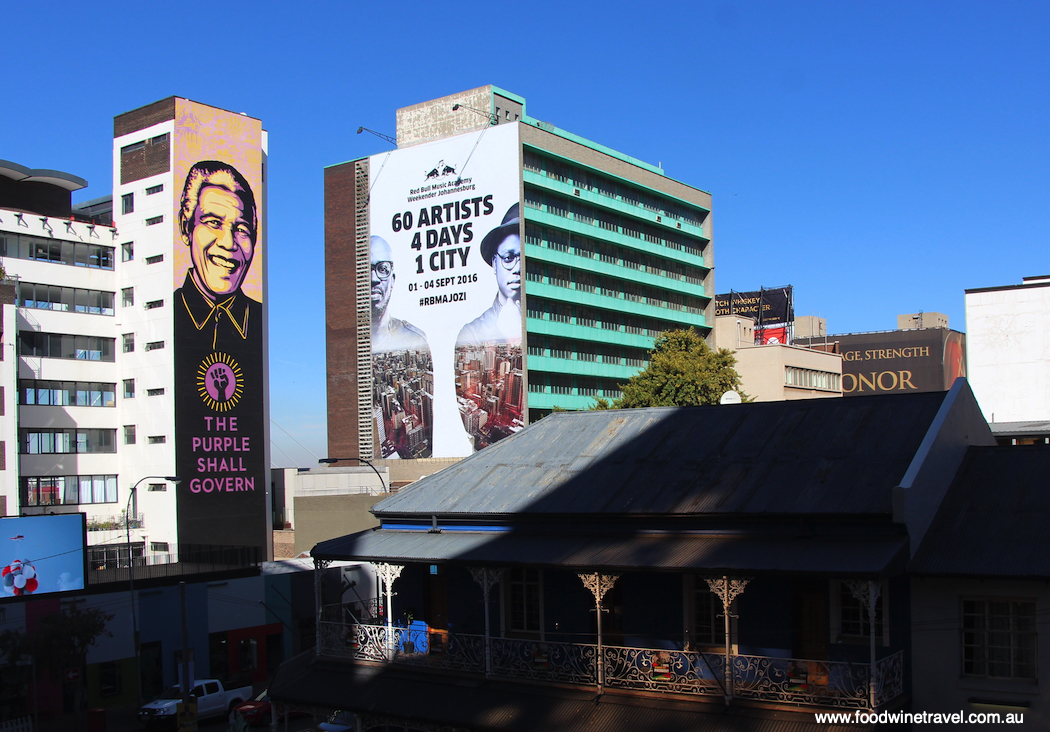 Tributes to Mandela appear on walls and buildings throughout Johannesburg, many of them on quite a grand scale, including on a former water-cooling tower in Soweto. (The towers, built originally for the Orlando power station, now host, of all things, bungee jumps.) One of the most famous murals, and certainly one of the most imposing, is the 10-storey mural on Juta Street in the Braamfontein neighbourhood.
Portraying a beaming Mandela with the words "The Purple Shall Govern", it looks out over the Nelson Mandela Bridge, built in 2003 and named after him as a tribute to his efforts in bridging racial divides. The bridge offers great views of the city for anyone driving or walking across it.
The mural was created in 2014 by Shepard Fairey to commemorate the 25th anniversary of the anti-apartheid Purple Rain Protest. Fairey also created the iconic Barack Obama "Hope" poster.
---
Chancellor House and the Shadow Boxer
Chancellor House in downtown Johannesburg doesn't look noteworthy, but it is. It was in this building that Nelson Mandela and Oliver Tambo set up South Africa's first black-owned law firm in the 1950s. The 3-storey building is not open to the public but you can walk around outside and look at the window displays of photos, letters, newspaper clippings and other archival material.
Opposite the building is Shadow Boxer, a six-metre-tall statue of Mandela created by local artist Marco Cianfanelli. It is based on Bob Gasini's famous photo of Mandela shadow boxing on a nearby rooftop in 1952. The statue carries this quote from Mandela: "In the ring, rank, age, colour, and wealth are irrelevant."
---
Mandela 'Shadow Boxer' Mural, Johannesburg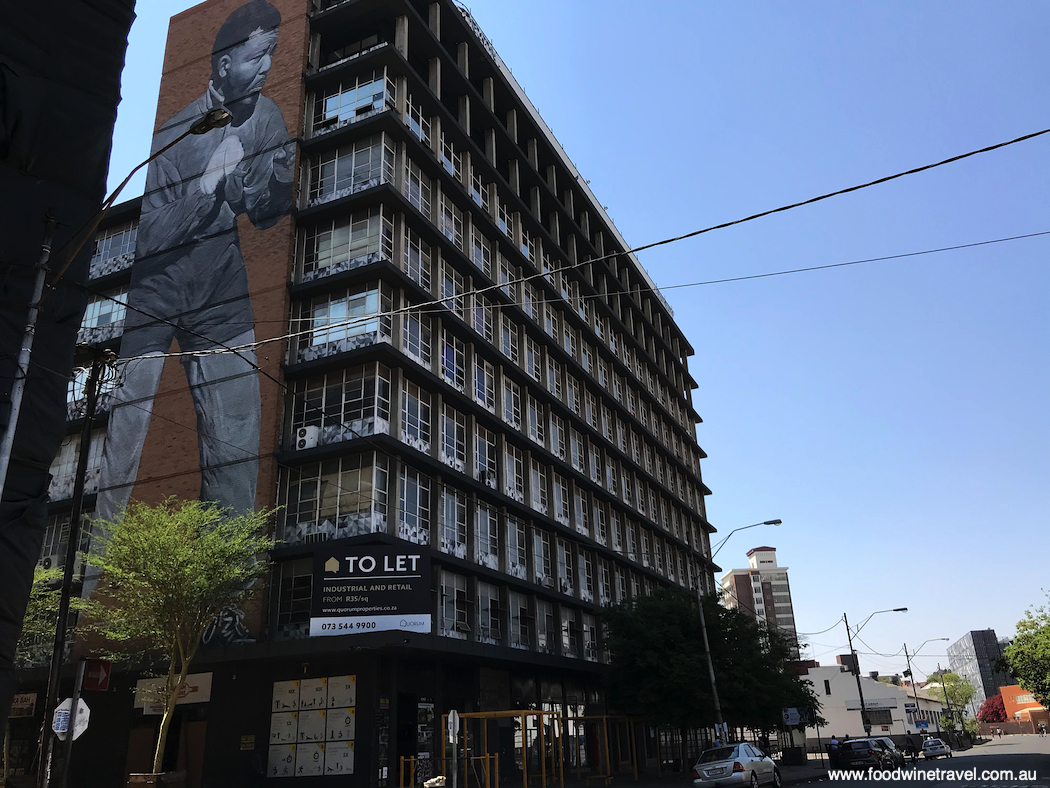 The coolest place to hang out in Johannesburg is Maboneng, a precinct bustling with restaurants, retail and entertainment hotspots. Walking tours starting from Curiocity, in Fox Street, give the low-down on Maboneng's impressive street art. Formerly a printing house, Curiocity's Hideout Bar is so named because Nelson Mandela and other freedom fighters hid here at various times.
On the walking tour from Curiocity you'll find a mural of Mandela shadowboxing, based on the same Cianfanelli photo that the Shadow Boxer statue is. The colossal 10-storey high mural on the Access City building, corner of Staib Street and Beacon Road, was painted by Ricky Lee Gordan (aka street artist Freddy Sam) to commemorate Mandela's passing in 2013.
---
Robben Island, Cape Town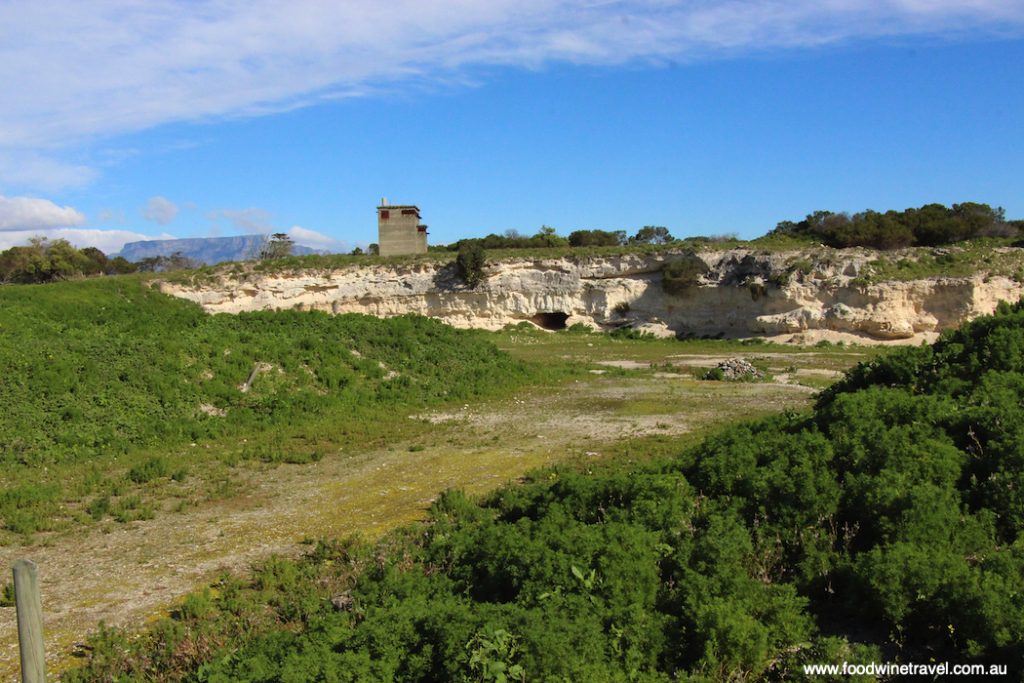 I visited Robben Island before reading Long Walk To Freedom, but I wish I'd read Mandela's autobiography first as I would have had a much greater insight into his long incarceration on this forlorn island off the coast of Cape Town. Even so, the tour led by a former political prisoner was distressing in the extreme.
Mandela spent 18 years of his 27-year incarceration on Robben Island, confined to a tiny cell with a narrow bed, a small table, and a metal bucket for a toilet. Originally a leper colony before becoming a prison, Robben Island has been a UNESCO World Heritage site since 1999.
It can only be visited on a tour departing from the Nelson Mandela Gateway at the Victoria and Alfred Waterfront in Cape Town. Bookings are recommended as tours sell out quickly. The tour takes about four hours all up, including the ferry ride and a bus tour around the island to key sites such as the limestone quarry where Mandela and other prisoners laboured in the blazing sun. Many were left with damaged eyes from the dust and glare; some even went blind.
The bus tour is followed by a tour on foot through the cell blocks, including the solitary confinement hut, offering an insight into the prisoners' daily routine and the grim reality of what life was like. Interestingly, criminals, who were kept separate from political prisoners, were treated marginally better, with more food rations and more frequent visits from loved ones.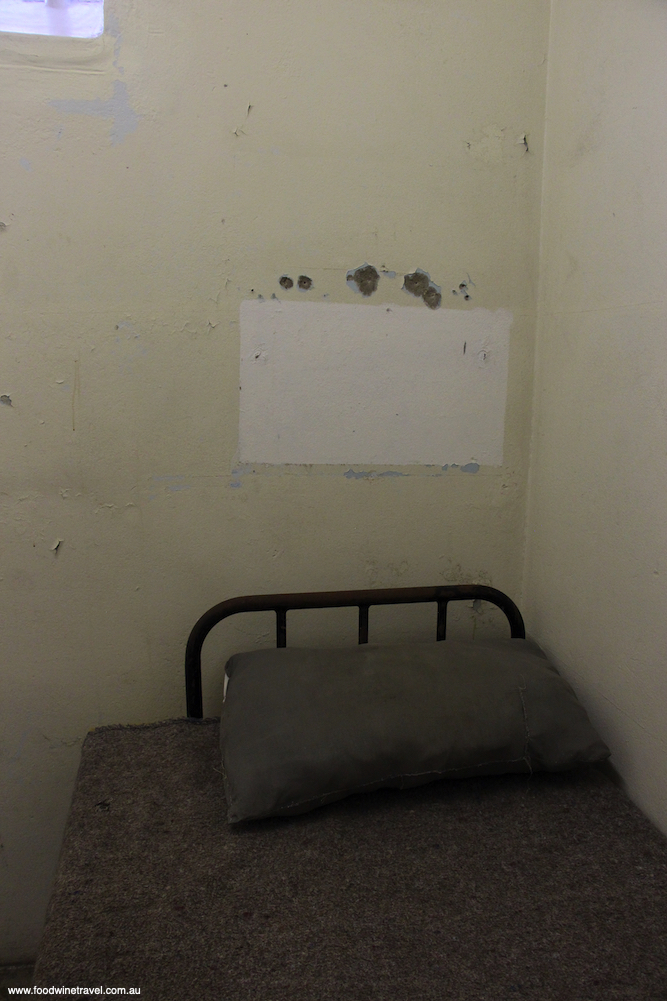 By keeping political prisoners together in a separate section of the prison, there was an unintended consequence. As Mandela described it in Long Walk To Freedom, a lot of politics went on inside the prison. Leaders of the banned African National Congress and other resistance groups were able to mix, come up with strategies and smuggle political statements out.
With great daring, Mandela penned much of his autobiography while on Robben Island, and there was a lot of education going on too. Veterans of the liberation struggle referred to Robben Island as "Mandela University".
What really hits you in visiting Mandela's tiny cell is how anyone could spend 18 years here and emerge with a heart filled with forgiveness rather than hatred. "At least, if for nothing else, the cell gives you the opportunity to look daily into your entire conduct, to overcome the bad and develop whatever is good in you," he wrote in a 1975 letter to his wife. "Never forget that a saint is a sinner who keeps on trying."
---
Nobel Square, Cape Town
Four larger than life bronze statues on the V & A Waterfront commemorate South African winners of the Nobel Peace Prize: Albert Luthuli, Desmond Tutu, F.W. de Klerk and Nelson Mandela. De Klerk and Mandela were awarded the Nobel Peace Prize jointly in 1993 "for their work for the peaceful termination of the apartheid regime, and for laying the foundations for a new democratic South Africa."
Many people take selfies here, but better still, take a moment to reflect on the long walk to freedom.
---
Mandela Rhodes Building, Cape Town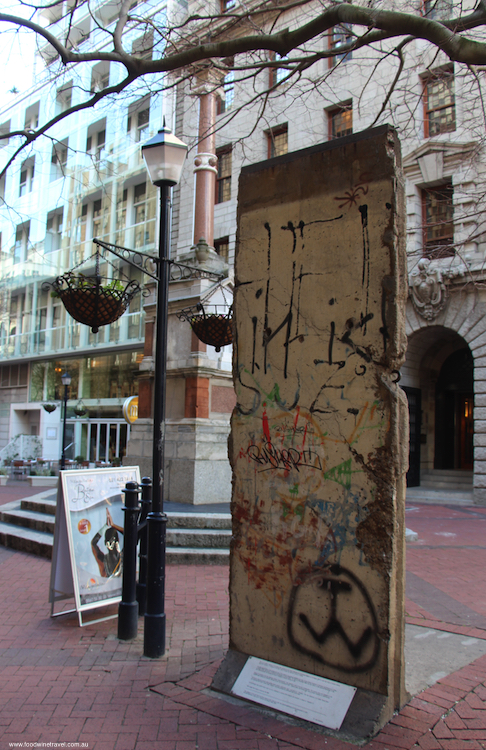 The beautiful, cenury-old Mandela Rhodes Building in St George's Mall is not open to the public but outside it is a piece of the Berlin wall given to Mandela on a visit to Berlin after he became President. It's a potent symbol of freedom from oppression.
---
We haven't visited the following sites but they are on our list of places we would like to visit next time we are in South Africa – yes, there'll hopefully be a next time!
Long Walk To Freedom Statue, Paarl
On February 11, 1990, a smiling Nelson Mandela walked free from the Victor Verster Correctional Centre in Paarl, with his fist raised high. Now known as the Drakenstein Correctional Centre, this was where he spent the last 14 months of his imprisonment. There are no tours (it's still a working prison) but outside is a statue of Mandela that captures the triumphant moment.
---
Liliesleaf Heritage Site, Sandton, Johannesburg
Liliesleaf Farm was the underground headquarters of the ANC in the 1960s, its white owners, the Goldreich family, presenting a respectable facade. Mandela lived here in disguise as groundsman David Motsamayi in 1961-1962. He was already in custody in 1963 when police raided the farm and made numerous arrests, but he was nevertheless tried with his comrades and sentenced to life in prison.
Artefacts and an audio-visual exhibition in the main house recall the events leading to the Rivonia Treason Trial. Liliesleaf, in George Avenue, Rivonia (Sandton), is about 25 kilometres north of Johannesburg city centre so it doesn't draw the crowds of other sites, but it's a particularly fine museum by all accounts.
---
Nelson Mandela Square, Sandton, Johannesburg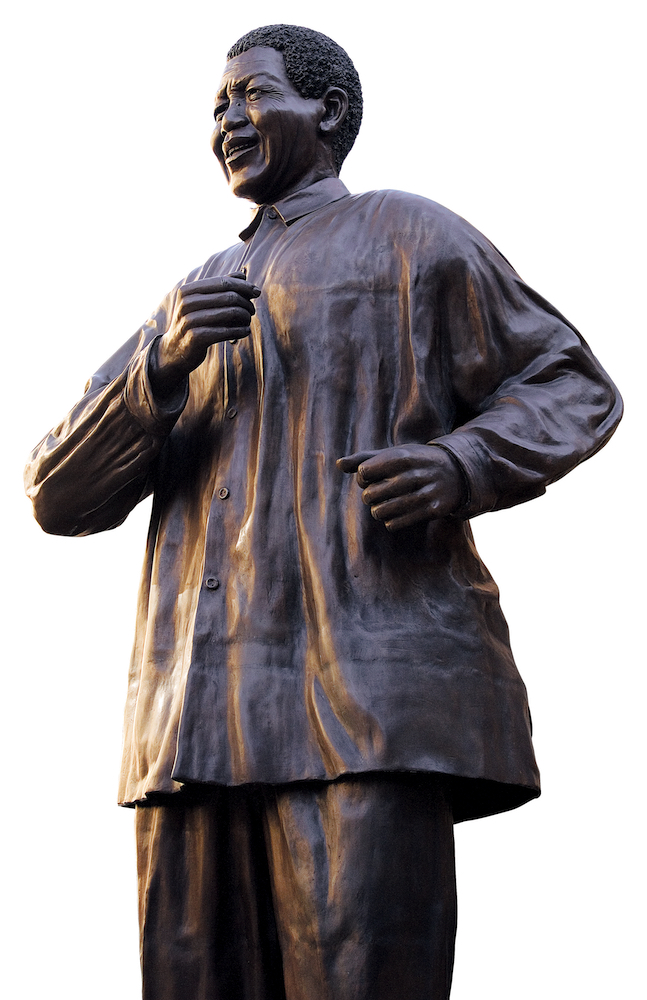 While you're in the vicinity, visit the bustling, upmarket Nelson Mandela Square, which is presided over by a gigantic statue of Mandela.
---
Capture site near Howick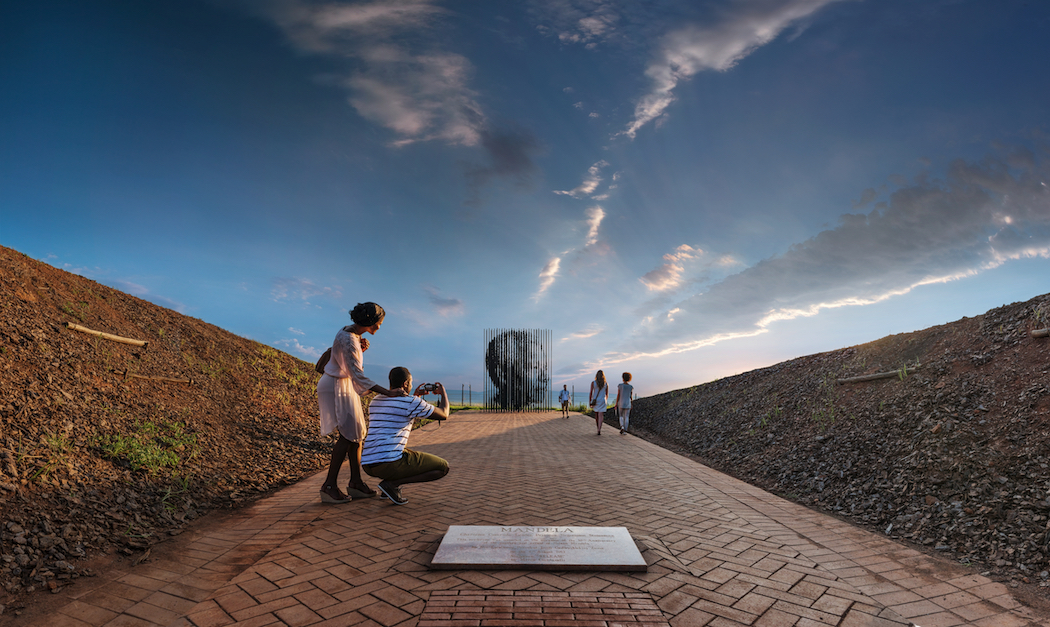 In this marvellous sculpture located near Howick, not far from Durban, 50 steel poles align to create a striking portrait of Mandela. Created by Marco Cianfanelli, it marks the spot where Mandela was captured in 1962. As you follow the footpath leading down to it, the laser-cut poles line up to create the illusion of a perfectly flat image of Mandela looking west. A café, bookshop and museum nearby provide an opportunity to contemplate.
---
The Voting Line statue, Donkin Reserve, Port Elizabeth
The Voting Line statue recalls South Africa's first democratic poll in 1994. At its head is a triumphant Nelson Mandela and to his right is a long line of 59 South Africans holding hands.
In Long Walk To Freedom, Mandela wrote that from the moment the results of the election were in and power was turned over to the black majority, he saw his mission as one of preaching reconciliation. "At every opportunity, I said all South Africans must now unite and join hands and say we are one country, one nation, one people, marching together into the future," he wrote.
---
Sharpeville Human Rights Precinct, Vaal Triangle
The Sharpeville Human Rights Precinct is a memorial to those who died in the Sharpeville Massacre in 1960, an event that shocked the world. Mandela signed the new Constitution of South Africa here.
---
Where Mandela grew up in the Eastern Cape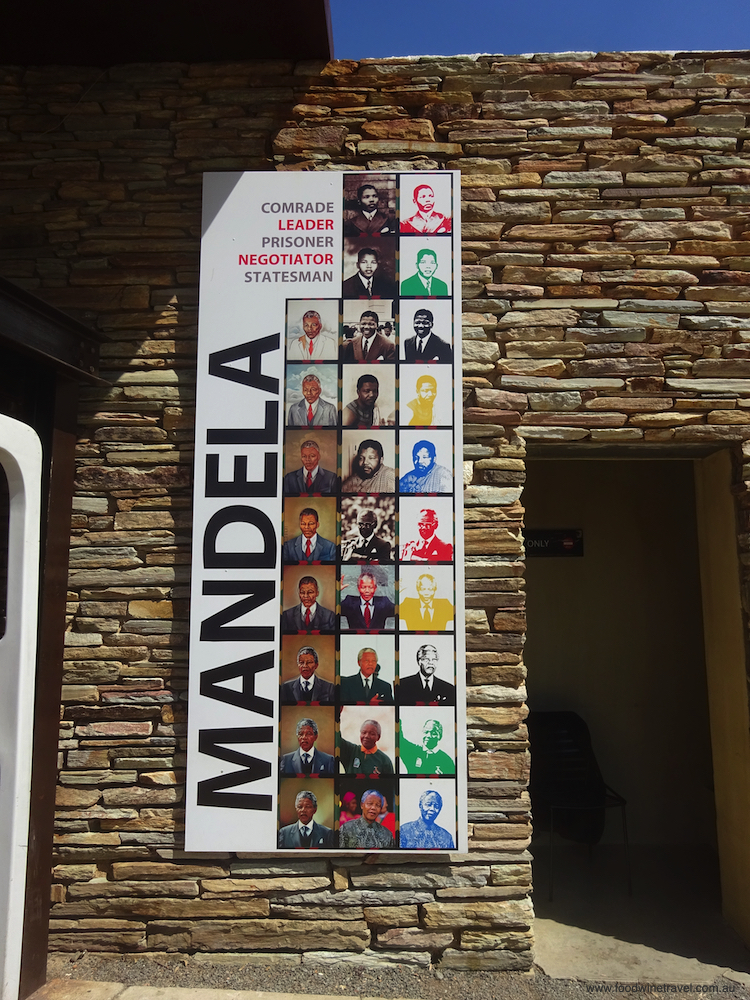 Mandela's long walk to freedom began in the Eastern Cape and the province is rightly proud of its most famous son. Here he is referred to as Madiba (his clan name) or simply Tata (father).
The Nelson Mandela Museum has exhibits spread across three sites: Mvezo, where Mandela was born; Qunu, where he spent his childhood; and the stately Bunga Building, a former parliamentary building in Nelson Mandela Drive, Mthatha. Here you can dig a little deeper into the essence of the man.
The Bunga Building houses an exhibition called The Meaning of Mandela, which we were fortunate to see when it was at the Apartheid Museum in Johannesburg in 2016. The Apartheid Museum curated this wonderful exhibition of photographs, multimedia, objects and handwritten notes that have rarely been seen in public. It reveals him as a comrade, leader, prisoner, negotiator, and finally, statesman.
The museum has a satellite complex at the Nelson Mandela Youth and Heritage Centre in Qunu, a hamlet 30 kilometres southwest of Mthatha. In Long Walk To Freedom, Mandela said he spent the happiest moments of his childhood in Qunu. He built a house here after his release from prison and it is also his final resting place.
Visitors can walk in his footsteps to see the remains of the stone church where he was baptised, the single-room school where he was given the name Nelson, and other sites mentioned in his autobiography.
Qunu; his other boyhood village, Mqhekezweni; and his birthplace in Mvezo, can be visited independently but this is a very rural area and a local guide is recommended. Tours can be booked at the museum.
www.nelsonmandelamuseum.org.za
---
For information on the Nelson Mandela Route, visit www.brandsouthafrica.com
---
Nelson Mandela's autobiography, Long Walk To Freedom
In Long Walk To Freedom, Nelson Mandela wrote: "I had no epiphany, no singular revelation, no moment of truth, but a steady accumulation of a thousand slights, a thousand indignities and a thousand unremembered moments produced in me an anger, a rebelliousness, a desire to fight the system that imprisoned my people. There was no particular day on which I said, Henceforth I will devote myself to the liberation of my people; instead, I simply found myself doing so, and could not do otherwise."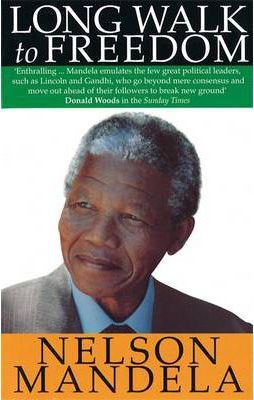 Buy your copy of Nelson Mandela's autobiography, Long Walk To Freedom, from Book Depository now (free delivery worldwide).
Buy your copy of Nelson Mandela's autobiography, Long Walk To Freedom, from Australian-owned Booktopia.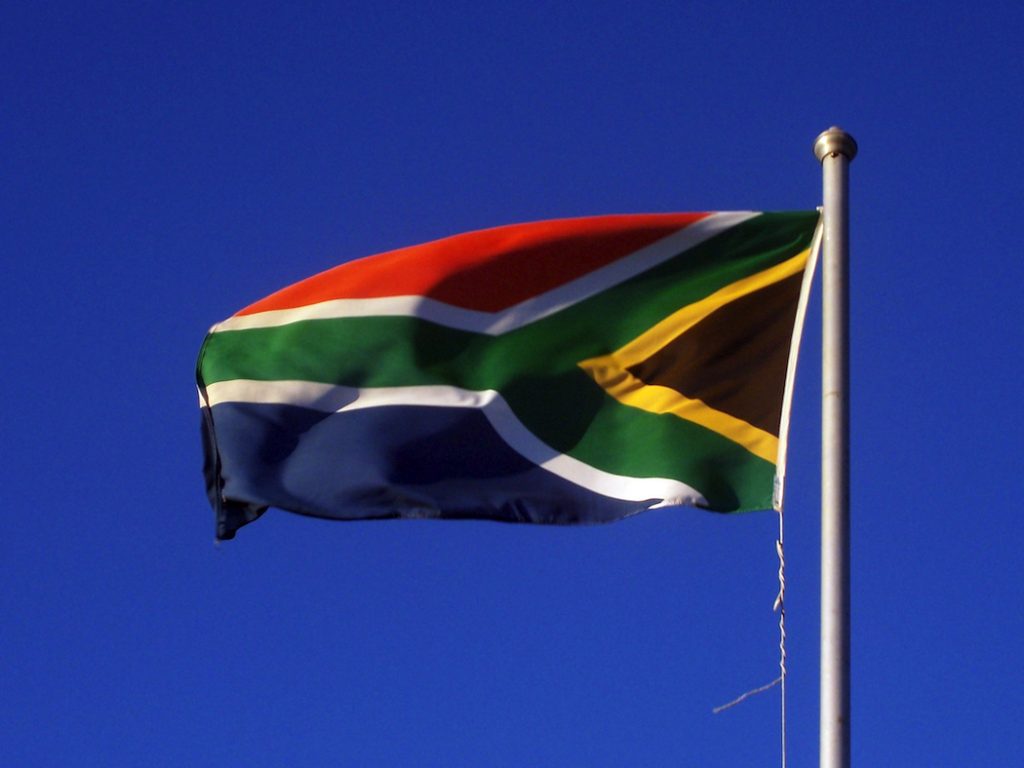 With thanks to South African Tourism for hosting me on my visit. I also visited South Africa in 2016 for the Australian Society of Travel Writers' annual convention, and some of the photos in this post were taken during my earlier visit.