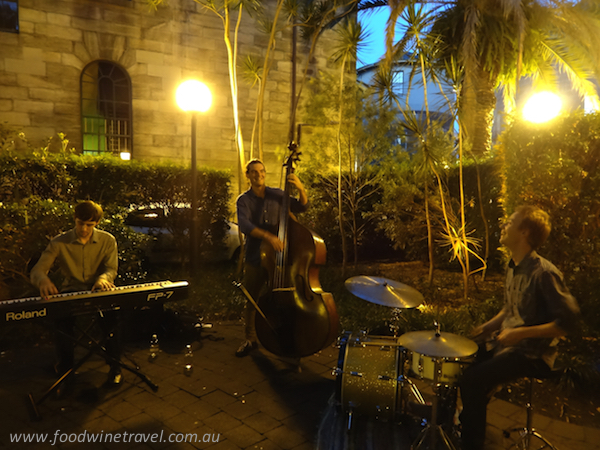 #QUEENSTOWNLIVE
Although I've visited most of New Zealand's wine regions, Central Otago has always eluded me – which is a pity, because this region near Queenstown on the South Island produces some of the world's finest Pinot Noir and is a great food and wine destination. We got a taste of what it has to offer at Urban Vineyard, held in Sydney at the Cell Block Theatre.
This historic building, formerly the Old Darlinghurst Gaol, has 10 metre high walls of golden sandstone, still with the original bars where the cells were. It almost looks like a cathedral inside and was a cool backdrop for the event, which had six wineries showing their wines, matched with canapés prepared by New Zealand chef Josh Emett. 
Urban Vineyard was one of a series of trade and consumer events presented in Sydney by Destination Queenstown, and images of Queenstown's alpine and lake scenery were projected onto a large wall at one end of the Cell Block Theatre to whet our appetite. A music ensemble playing in the courtyard added to the atmosphere.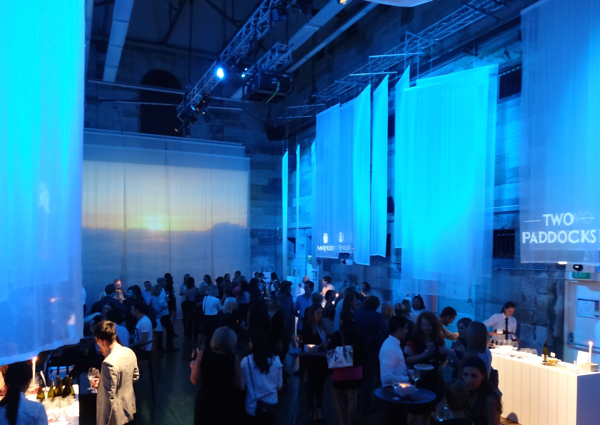 Emett's restaurant, Rata, in Central Otago has a strong regional flavour and draws on his wealth of international experience, including more than a decade of working alongside Gordon Ramsay in London, New York and Melbourne. Among the canapés we tried were some large, meaty oysters from New Zealand's Stewart Island, clams with seaweed butter, and little balls of crumbed ox tongue topped with thin discs of radish.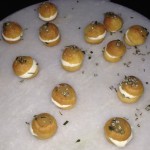 There were white spoons containing bite-sized pieces of sashimi kingfish with wasabi, avocado and watermelon (an interesting combo that worked – surprisingly well, actually).
Each stall had cheeses for tasting, and we really loved the dainty goat's cheese profiteroles with honey and rosemary (pictured at right).
Queenstown is the gateway to the Central Otago wine region, with hot dry summers, cool autumns and crisp cold winters providing perfect growing conditions for wines of elegance and longevity. Local wineries Amisfield, Mt Edward, Peregrine, Valli, Gibbston Valley and Two Paddocks each showed two wines from their portfolios, and we happily worked our way through them all.
Wineries of Central Otago
Two Paddocks: "Producers and purveyors of Pinot Noir to both gentry and ratbags since 1993," says the blurb from owner Sam Neill. An actor of some repute, Neill was raised in, and still calls, the South island of New Zealand, home. He has four small vineyards in Central Otago that are farmed holistically, although they aren't certified organic. We tasted the 2011 Picnic Riesling from Two Paddocks' entry range, bright and expressive with floral and citrus notes, and Two Paddocks 2012 Pinot Noir, elegant and aromatic with a hint of spice. The labels feature Sam Neill's grandfather, Sydney Neill, who, as it happens, was a wine merchant.
Valli Vineyards: We had the privilege of meeting Valli's owner, Grant Taylor (pictured at right below), whose name is synonymous with Otago Pinot Noir. He has been making wine in the region since 1993, when there were only 20 hectares planted – today the region has more than 1700 hectares of plantings. Grant (pictured) has won the best pinot trophy at the International Wine & Spirit Competition in London an unprecedented three times. His Pinot gets ever so gentle handling with a traditional basket press.
Amisfield: We met Craig Erasmus (pictured at left below), CEO of Amisfield, one of the largest single vineyard estates in Central Otago. The wine receives little intervention; all the Pinot Noir and some of the whites are naturally fermented (rather than yeast being added). I've heard a lot about Amisfield's cellar door and its spectacular views. Definitely adding this one to the must-visit list!
Mount Edward: Gibbston Valley founder Alan Brady started Mount Edward as a small personal project in 1997, and it has since evolved from its humble beginnings as a Pinot Noir and Riesling producer to producing wines across a number of varieties and styles. All the vineyards and the winery are certified organic.
Peregrine: Not only does this certified organic winemaker produce superb Pinot and other cool-climate varieties, its cellar door is a huge talking point too. A giant wing-span soars above the winery and cellar door, its design winning international architectural accolades.
Gibbston Valley: One of the region's founding wineries, its Home Block vineyard is certified organic and the wines, which include single vineyard varietals of Pinot Noir, Riesling and Gewurztraminer, are made with traditional methods, including handpicking and even stomping on the grapes. That's dedication for you.
For more information on travelling to Queenstown visit: www.queenstownnz.co.nz