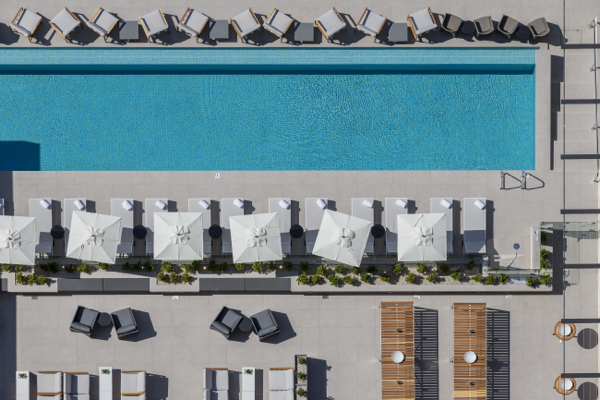 There's a lot to love about Brisbane's Next Hotel but the thing I love most is its Club Lounge, open 24 hours a day to all hotel guests at no extra charge. I've arrived at enough hotels before check-in time after long-haul flights – and had to fill in time while feeling tired and grungy – to know that the Next Hotel is a traveller's godsend. If you arrive before the 3pm check-in time and your room isn't ready, you can head straight to the Club Lounge where there's a bar, a pool, a 24-hour gym and an "InTransit Zone" with shower pods and even sleep pods.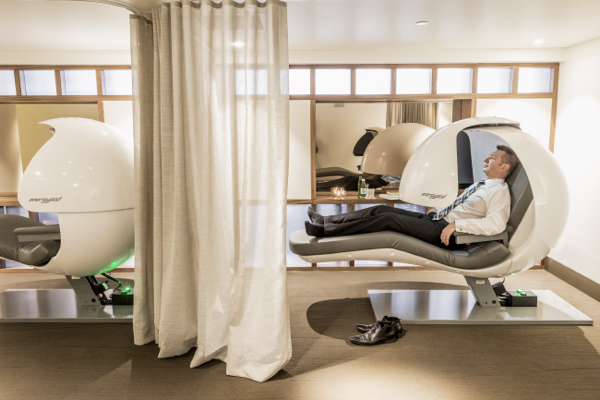 It's a cool addition to a hotel that has a long history but which has its eyes firmly on the future with a raft of technological innovations, from giving every guest a Samsung Galaxy S4 phone for complimentary use throughout their stay, to enabling guests to use their own mobile phone to check in and out, unlock the room door, and control the room temperature, lights and entertainment channels – even when away from the room. The hotel says it is the first in Australia to use the mobile key.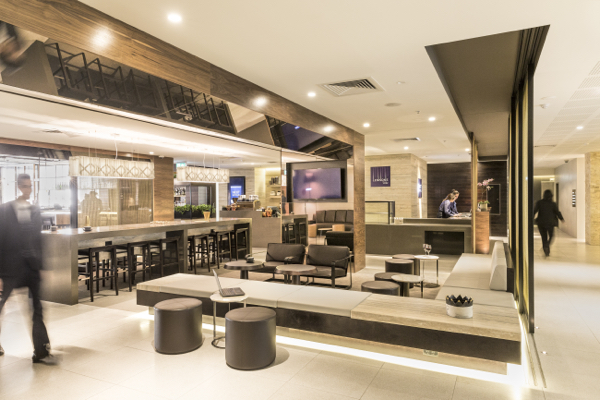 The redevelopment of the former Lennons Hotel into this uber-cool establishment was one of Brisbane's biggest hotel redevelopment projects in recent years. Yet in many ways the hotel was always uber-cool. More than a century ago, it had a ladies' drawing room and nine bathrooms for its 62 bedrooms, which was awfully luxurious for the time. Presidents, politicians and celebrities have stayed there, including aviator Sir Charles Kingsford Smith, opera singer Dame Nellie Melba, telephone inventor Alexander Graham Bell and The Beatles.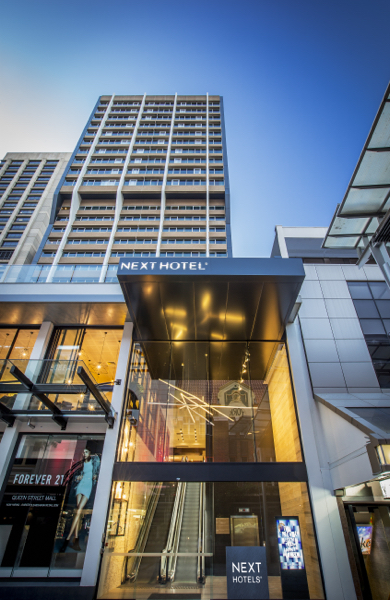 The hotel moved to its present location in Queen Street from George Street in 1972, when it was rebuilt as one of Brisbane's tallest buildings. It subsequently became Country Comfort and then Chifley at Lennons. Singapore-based hotel group SilverNeedle Hospitality had been managing it for 15 years when it bought the property in 2012 and decided to redevelop it into the first of its flagship brand, Next Hotels.
Brisbane is Australia's first Next Hotel although others are quickly following. In Australia earlier this year for the launch of the SilverNeedle Select loyalty program, group CEO and managing director, Iqbal Jumabhoy, said the groups other resorts overseas were beautiful properties with special histories. It was delighted with the Brisbane purchase.
"It's serendipitous to some extent. It was an ageing property that really needed an upgrade. The vision for Brisbane is very impressive."
Lennons restaurant
In a nod to its heritage, the new brasserie-style restaurant is also called Lennons. Featuring artisanal produce from Queensland, its menu is described as "comfort food with a gourmet twist". It offers multiple cooking styles including a wood-fired oven, Brazilian BBQ and grill and a flaming Asian wok.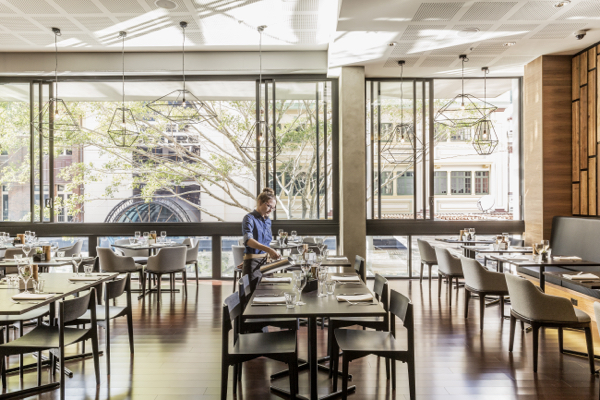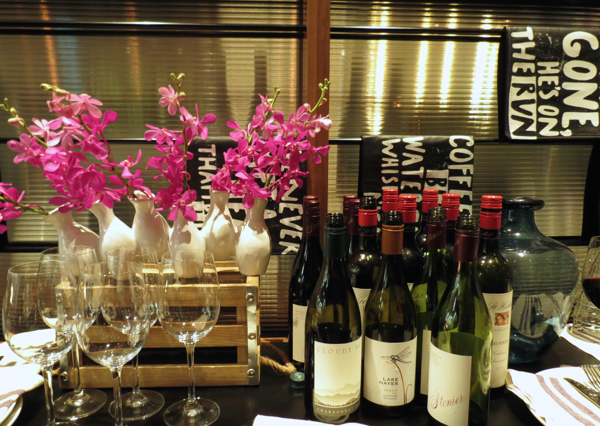 On the beverages list, there are wines from boutique vineyards, artisanal beers and bespoke cocktails with a botanical twist. I can highly recommend the cucumber martini that we enjoyed on the pool terrace. The terrace, overlooking Queen Street Mall, is a focal point of the city's social scene, especially with its Pooltino party on Friday nights, when guests enjoy Latin-inspired small bites and cocktails.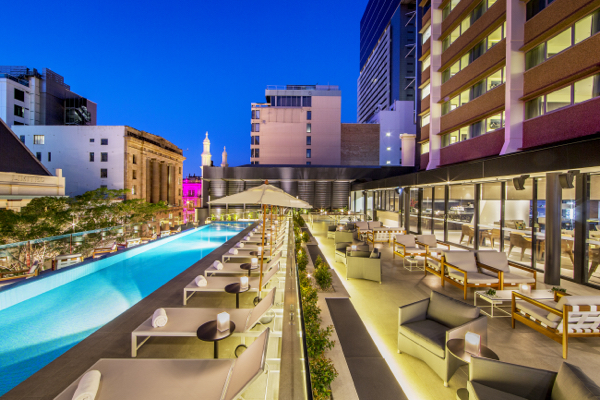 Apart from its complete facelift, Next has almost doubled in size from when it was Chifley at Lennons, with the number of rooms increasing from 154 to 304. The beds are super comfortable with pillow-top mattresses and gel-infused memory foam, along with crisp Egyptian Cotton sheets and a cheerful doggy cushion.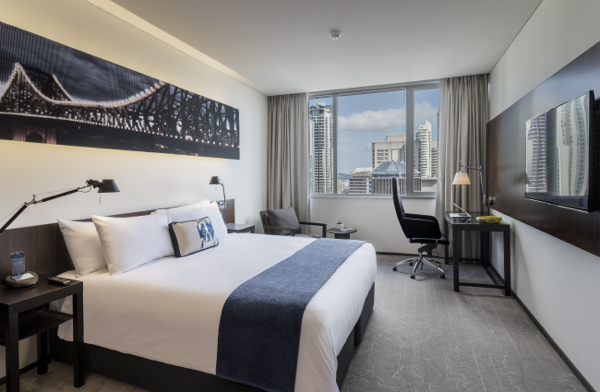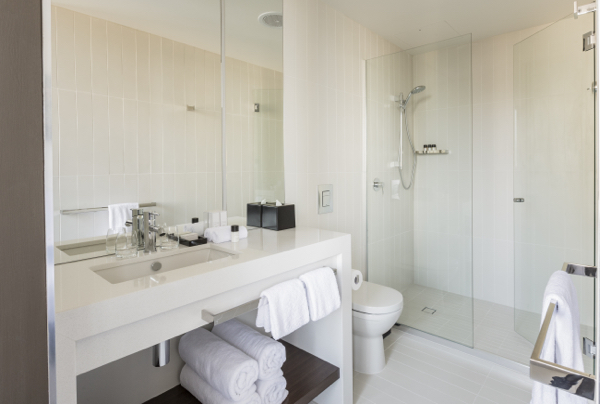 By downloading the Next app from the Apple App Store or Google Play Store to your mobile phone, you can order cocktails by the pool or select room service even before you arrive at the hotel. Now that really is cool.
Fact File: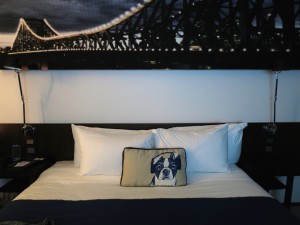 Next Hotel Brisbane
72 Queen Street
Brisbane Qld Australia
+61 (0)7 3222 3222
Tel: 1300 272 132 (within Australia)
www.nexthotels.com
Lennons Restaurant & Bar
+61 (0)7 3222 3232
www.lennonsrestaurant.com
(Walk-ins are welcome but reservations are preferred.)
Food Wine Travel stayed as guests of Next Hotel Brisbane. Photos supplied by Cocom Communications.