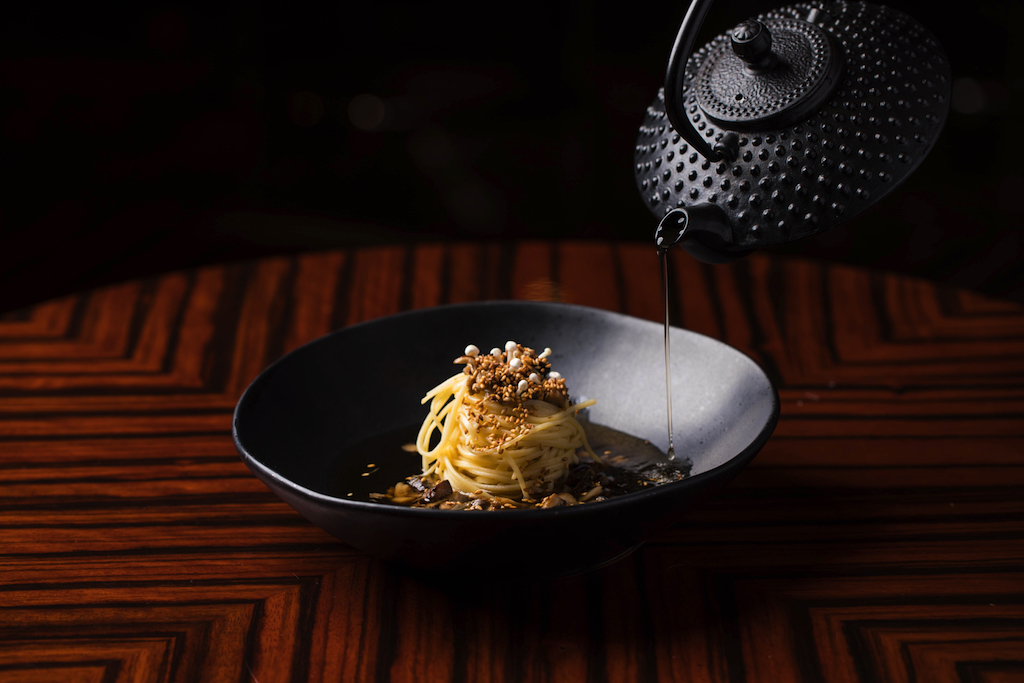 Massimo Speroni has done a few inventive degustation menus at Bacchus – we've heard good reports of his crudo, beef and truffle menus, not to mention the nine-course menu he co-created with Michelin-starred chef, Valentino Marcattilii, in 2018. But he has really branched out with his latest one, inspired by the flavours of Japan.
It's not strictly Japanese – the beef course, for example, is a bigger cut than you'd ever get in a fine Japanese restaurant. But there's a definite Japanese sensibility that runs through the presentation and the ingredients used. Speroni might hail from Italy but surely there's a little bit of Japanese flowing through his veins? If not, then he's mastered his subject well.
This was our first visit to Bacchus, in Rydges Hotel on Brisbane's South Bank, and we were impressed with what an elegant restaurant it is – all very classic and old-worldly. There were families and groups dining (with very well-behaved children) and they looked equally as comfortable as couples and smaller parties. We had a lovely corner banquette and were very impressed with the smooth service.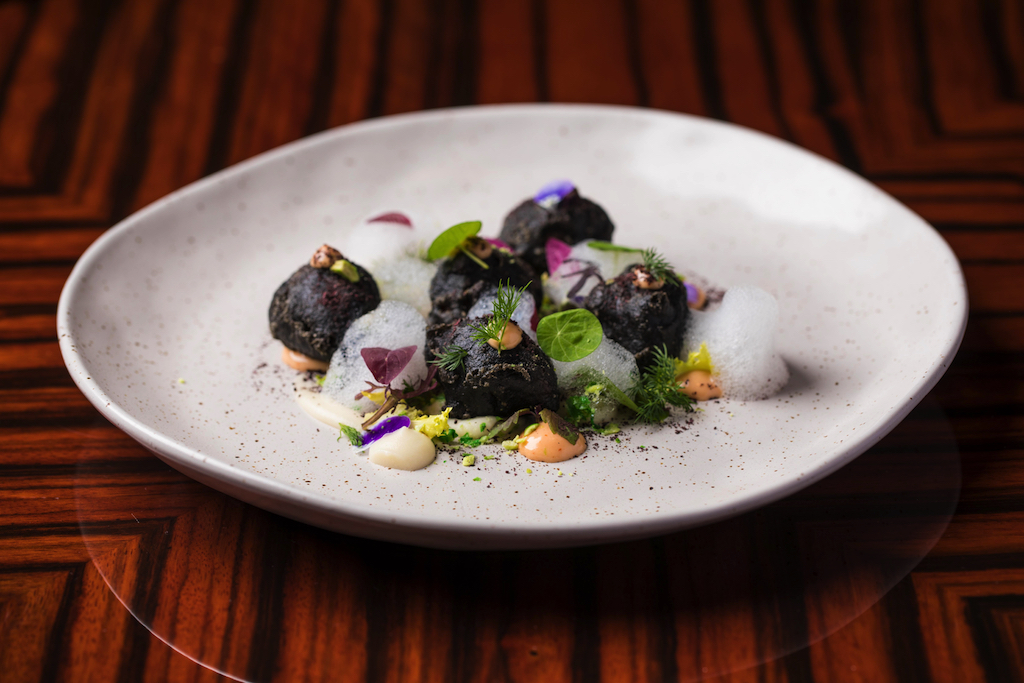 The Japanese degustation costs $174 with paired wines or saké, or $99 without. We opted for the wine matching although we did try a saké with the main, for research purposes of course. The restaurant's sommelier, Andrew Giblin, who chose all the exceptionally good pairings, was wonderful in explaining the wines, and maître d' Christie Lawler was enthusiastic and knowledgeable too.
The meal started with a selection of bread and amuse bouche, our favourite being the spoons of mojito and cucumber, the 'mojito' having a jelly-like consistency that immediately dissolved to liquid on the tongue. It was here that we were introduced to an aperitif of Regal Rogue vermouth, served over ice.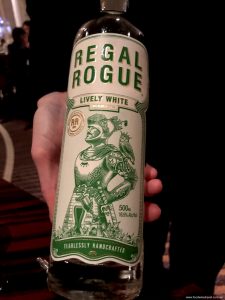 I would never have thought to order vermouth but what a wonderful surprise this was. This Australian-made product is semi-dry with around 30% less sugar than traditional European vermouth, but what makes it really interesting is that it marries an Australian wine with native Australian aromatics. Regal Rogue's 'Lively White' blends Hunter Valley Semillon with native lemon myrtle, desert limes, finger limes and native thyme.
The first course was the prettiest with discs of wild-caught Gold Band snapper sashimi (from North Queensland) delivered on big white plates, along with a flask of blue tea dashi that was poured over the sashimi at the table. The tea is made from dried and fermented butterfly pea flower, a bright blueish/purple flower.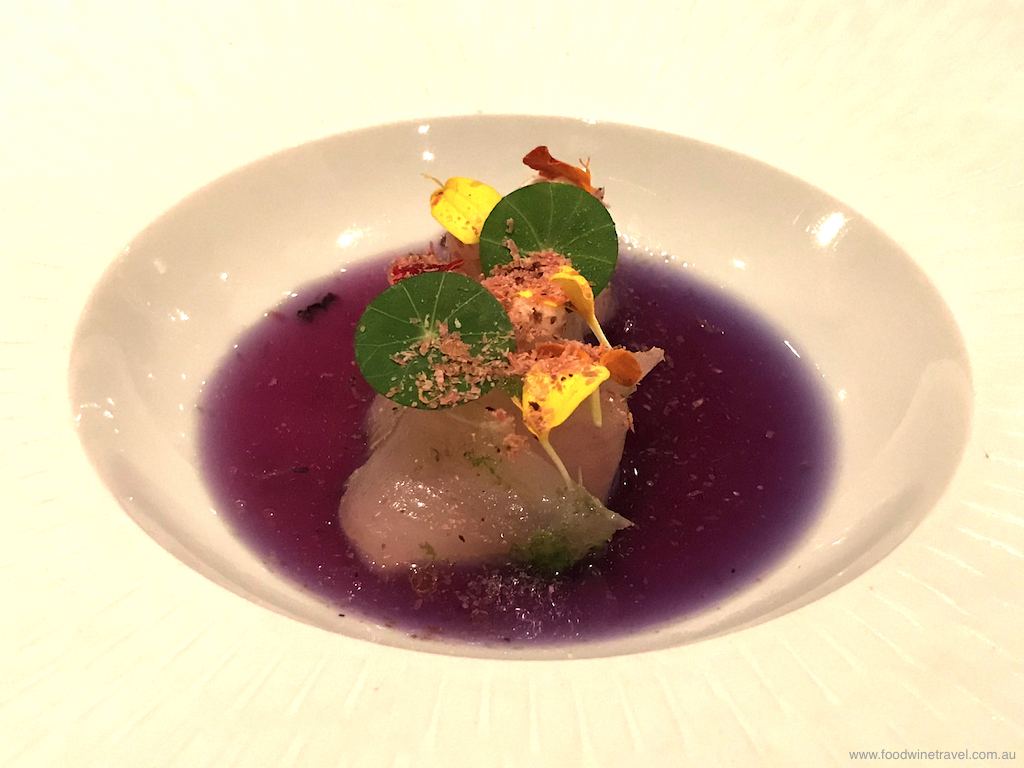 It was all very theatrical because not only did the blue tea dashi produce a striking purple liquid around the sashimi, but an impressive-looking whole hongarebushi was shaved over the dish in front of us as well. Hongarebushi are Skipjack tuna fillets that are fermented, moulded and sun-dried over the course of six months.
Hongarebushi is the finest grade of katsuoboshi (bonito flakes) produced in Japan; it is made by Sakai Shoten, an artisan producer in the tiny town of Yamakawa. The pink/brown shavings have a strong umami flavour, and it's not often in Australia that you'll see it being shaved from a whole piece like this. We were told that the one at Bacchus is one of only two in Brisbane.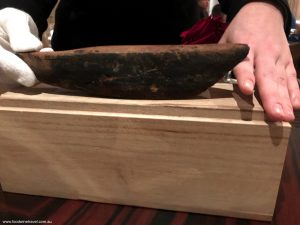 It's also not every day that we get to drink a Japanese wine – and by wine I mean a wine made from grapes, like the Grace 2014 Gris de Koshu that we enjoyed with the sashimi. The Koshu grape variety is said to have been cultivated in Japan for more than 1000 years. A little like Pinot Grigio, it has citrus and slightly earthy notes, complementing the sashimi dish well.
An Italian Pinot Grigio came next, 2017 Livio Felluga, a rich and complex DOC wine from Friuli. Bright and lively with pineapple, melon and stonefruit notes, it did well to stand up to the wasabi and shiso mayo, the horseradish foam and the crushed wasabi peas that were served with the deliciously tender West Australian octopus tempura.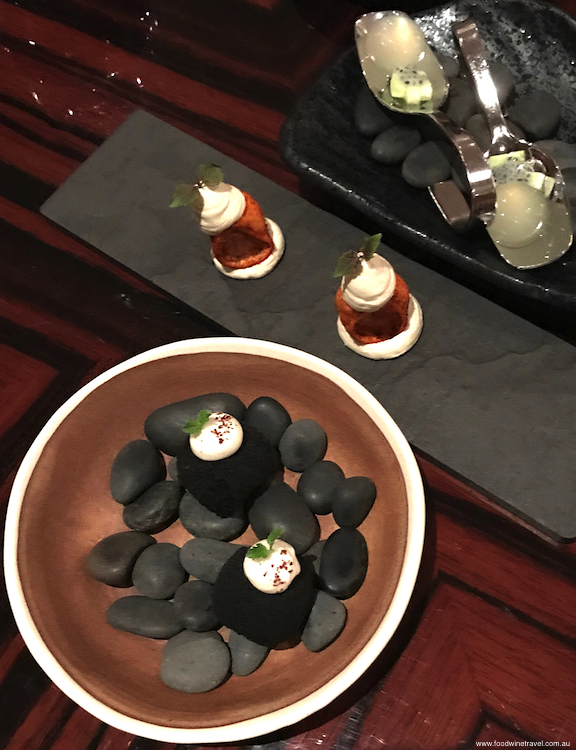 After a palate cleanser of grapefruit granita and martini jelly, we were on to the next course, which was definitely Italy meets Japan head-on. Served on a large black plate, it was a mound of chitarra, a square spaghetti typical of Italy's Abruzzo region. Bacchus makes it by hand, and it was surrounded by Japanese mushrooms, the waiter using a gorgeous black teapot to pour a shiitake broth over it at the table.
The sommelier is a great fan of Castagna wines from Beechworth – as am I, even though it's a good while since I've enjoyed a Castagna wine. So it was with some relish that I drank the Castagna Adam's Rib 2015 The Red that he poured to go with the spaghetti. A compelling blend of Nebbiolo and Shiraz, it has sweet spice and earthiness – a little bit of everything.
Bacchus sources the Wagyu for the main dish from Stanbroke Farm in Western Queensland. The fillet of Petite Tender Diamantina 5+ beef was served with a fresh herb salad and accompanied by a glass dropper filled with shoyu (smoked soy sauce) that we could add to taste. Speroni buys Suehiro shoyu made by one of the finest producers in Japan. It is gently smoked and has a lovely subtle nose.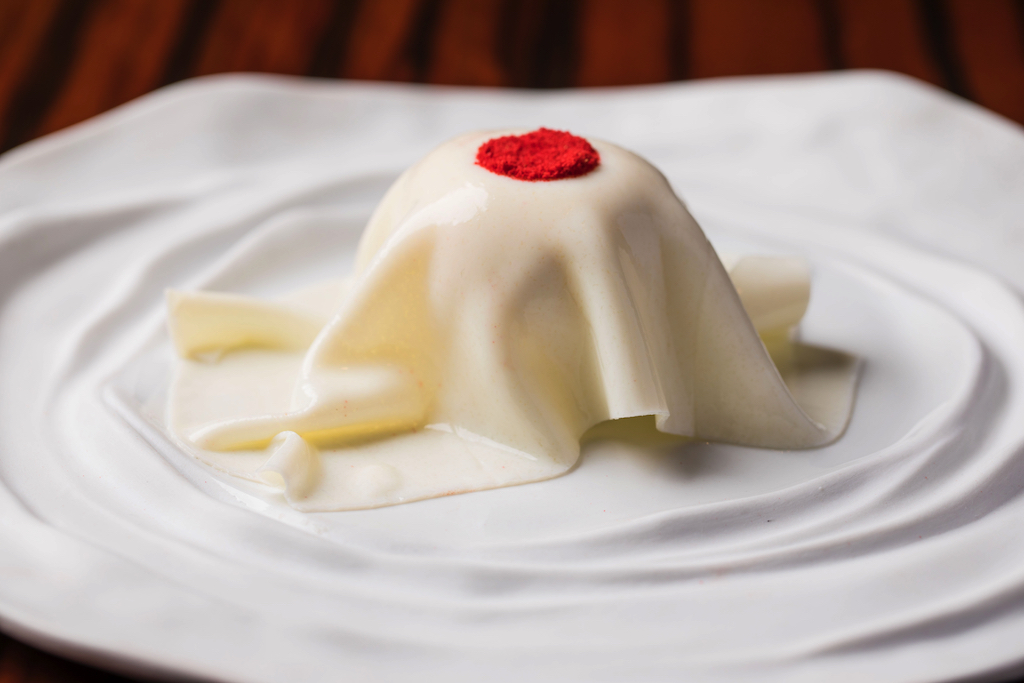 We smiled at the name of the Shiraz that was served with the steak: Kaesler 2016 The Bogan. Kaesler is having a bit of a joke with the label, since its vines are close to the vineyard where some of the fruit for Penfolds' iconic Grange is sourced. Needless to say, the wine is anything but bogan, coming from 120-year-old Barossa vines that are an absolute treasure.
The sommelier very kindly allowed us to try the saké that guests opting for the sake pairings would be served with the beef. Kenbishi is one of Japan's oldest breweries, established in 1505, and its Kuromatsu saké has great umami flavours and a lovely long finish. We drank it warm (which is the best way to enjoy this fine drop) and it was easy to see why it is the crescendo of the saké pairings.
The little blue ball served in the first of two sweet courses revealed itself as a cocoa butter shell filled with white chocolate mousse and blueberry jam. That was followed by a very striking looking yogurt mousse with yuzu gel, draped with a milk sheet and topped with dried raspberry. The tart and fragrant yuzu citrus fruit is very popular in Japan, and it was nicely matched with a tiny glass of Silvio Carta Limoncello from Sardinia.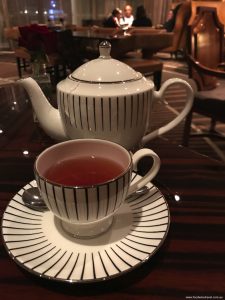 Bacchus has a great selection of teas from Harney & Sons – I loved the African Autumn blend of rooibos blended with orange peel and cranberry. It was served in the most beautiful china teapot and cup, along with petit fours including caramels with bee pollen harvested locally in Carindale.
We loved everything about this meal from start to finish and can't wait to see what chef Speroni has in store when he cooks with Massimiliano Mascia who will be visiting from Italy in October. Mascia is the nephew of Marcattilii who did a stint at Bacchus last year, and hails from the same Michelin-starred restaurant. I'm sure diners will be in for a treat.
The Japanese Degustation is available until Saturday, September 7, and bookings are essential.
If you go:
Bacchus Restaurant
Rydges South Bank (Podium level)
Corner of Grey and Glenelg Streets,
South Bank, Brisbane, QLD
Australia
Tel: +61 (0)7 3364 0837
www.bacchussouthbank.com.au
Christine and Maurie dined as guests of the restaurant. Photos by Food Wine Travel where indicated. Other photos supplied by Kath Rose & Associates and used with permission.