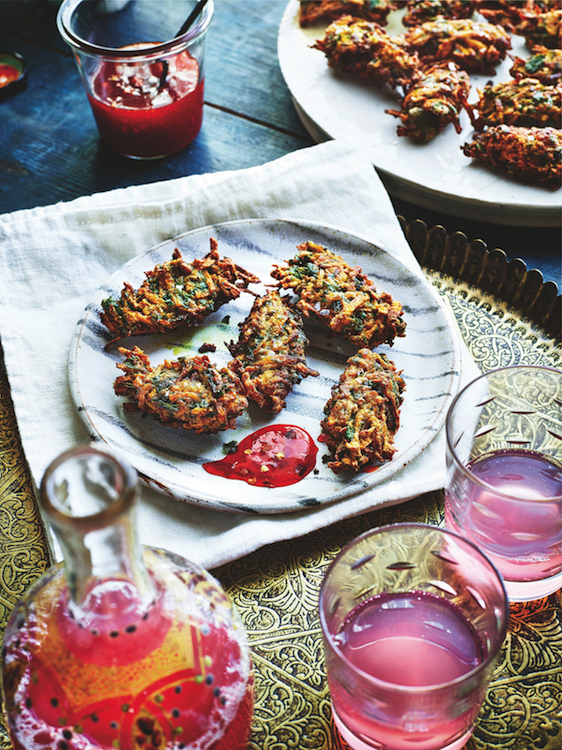 Despite being a consummate carnivore, Sabrina Ghayour's latest book, Bazaar, published by Hachette, contains only vegetarian and plant-based recipes. Deliberately so. The Middle Eastern chef and author of Persiana, Sirocco and Feasts, wrote Bazaar with meat-eaters in mind "because I feel it is we who really need the most help and inspiration when it comes to preparing simple meals without meat".
Ghayour, who has written for a raft of British magazines and newspapers, says that as she gets older, she is unable to digest meat as easily as she once did. She has noticed that more and more people are choosing to eat less meat and are seeking inspiration for plant-based dishes.
"I have started teaching many vegetarian cookery classes lately and have noticed that the vast majority of my students are not actually vegetarians, but those who eat meat and fish. They come in search of ideas to help them deliver delicious meals at home without falling back on the same old repertoire."
Ghayour says she has been guilty of resorting to pasta, potatoes, bread, rice and "mountains of cheese" when taking time off from eating meat. "Eventually you do just crave vegetables." The recipes she has come up with for Bazaar put vegetables front and centre stage, and she hopes they will appeal to vegetarian and meat-eaters alike.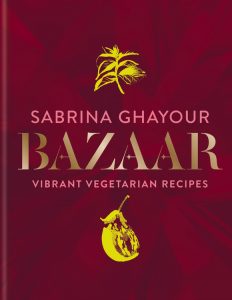 The recipes draw on Middle Eastern flavour profiles, from spices, herbs and perfumed aromatics to hearty staples such as grains and pulses, combined with fresh fruit and vegetables. There are dishes to suit every occasion and all seasons, from salads and spectacular sides, to comforting bowl food, hearty mains and sweet treats.
Carrot, Haloumi and Dill Balls sound so enticing, as do the Turmeric, Spinach and Sweet Potato Fritters featured here, Date-Stuffed Naan, and Caramelized Onion, Feta and Olive Tart. Or how about Roasted Peppers and Pomegranate Vinaigrette, Raspberry and Mascarpone No-Bake Cheesecake, or the amazing Pom-Bombe which is made from goat's cheese studded with pomegranate and pistachios?
There's no doubt that these vibrant and delicious recipes will win over even die-hard carnivores.
---
Buy your copy of Bazaar from Book Depository now, with free delivery worldwide
---
Recipe for Turmeric, Spinach & Sweet Potato Fritters
Makes approximately 20
300g sweet potato, peeled and coarsely grated
150g baby spinach leaves, finely chopped
3 teaspoons turmeric
1 teaspoon chilli flakes
3 large eggs
100g plain flour
1 teaspoon baking powder
vegetable oil, for frying
Maldon sea salt flakes and freshly ground
black pepper
sweet chilli sauce, to serve
Put the sweet potato, spinach, turmeric, chilli flakes, eggs, flour and baking powder into a mixing bowl and mix well. Season generously with salt and pepper, then allow the batter to rest for 15 minutes.
Pour enough vegetable oil into a large, deep frying pan or saucepan to fill to a depth of about 5cm. Heat the oil over a medium-high heat and bring to frying temperature (add a pinch of mixture: if it sizzles immediately, the oil is hot enough). Line a plate with a double layer of kitchen paper.
When the oil is ready, stir the batter well. Using 2 dessertspoons, form quenelles of the mixture: scoop up the mixture with one spoon and use the other to press down and shape it. Lower the quenelles carefully into the hot oil and fry in batches, 6 at a time – it is important not to overcrowd the pan or the temperature of the oil will drop and your fritters will not be crisp.
Fry the fritters for 1 minute, then turn them over and fry for another minute or so, or until nicely browned all over. Remove the fritters from the oil using a slotted spoon and transfer to the paper-lined plate to drain. Serve hot with sweet chilli sauce.
Recipe and images from Bazaar by Sabrina Ghayour. Photography by Kris Kirkham. Published by Hachette Australia and reproduced with the publisher's permission.
This story originally appeared in PS News online.
You might also be interested in Sabrina Ghayour's recipe for the amazing Pom-Bombe made from goat's cheese studded with pomegranate and pistachios.