Tortellini At Midnight is the third book from Emiko Davies, a former Canberran now living in Tuscany, but it is her most personal yet. That's because it tells the story of generations of her husband's family and their favourite recipes, a heritage that also belongs to their two daughters.
As well as a great selection of family photos scattered amongst the pages of Tortellini At Midnight, there's even a family tree showing the lineage down to her husband, Marco. The stories and the family's heirloom recipes span the entire length of Italy, from the Mediterranean port city of Taranto in the southern heel of Puglia, to elegant Turin, the city of aperitivo and Italian café culture in the far north on the border of France and, finally, back to Tuscany, where Emiko, Marco and their children now call home.
One such story accounts for the book's intriguing title. Sometime in the 1950s, Marco's grandfather began a tradition of ringing in the new year with tortellini al sugo. He served it with spumante and a round of tombola, and in doing so, set a trend. Up until the 1970s, tortellini could be found at midnight on New Year's Eve in the bars around the Tuscan town of Fucecchio.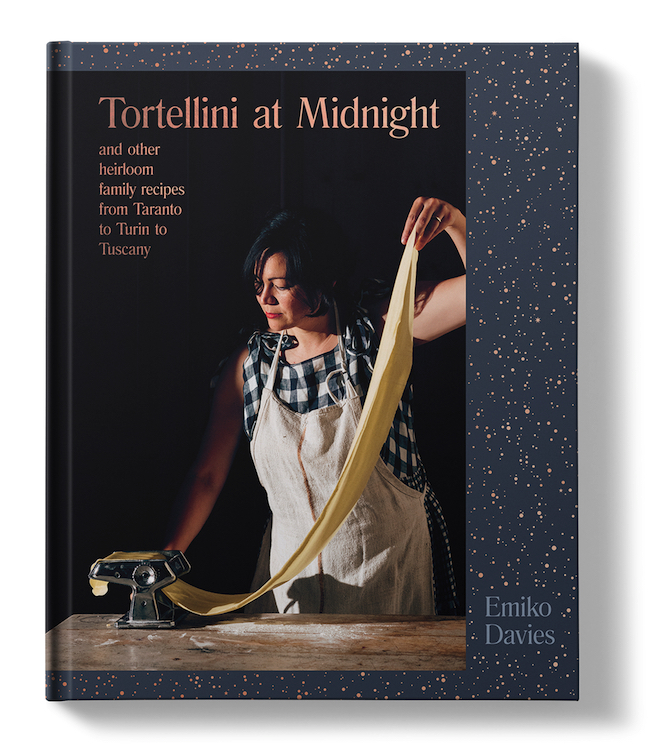 The book is rich in nostalgia like this, with recipes for comforting dishes of the sort that is, ironically, not normally found in cookbooks. They are recipes learned through tasting and watching, usually from the kitchen table, the memories of which are absorbed through sound, texture and smell.
The recipe here evokes memories of Marco's grandparents, who have had a beachfront apartment near Livorno for summer getaways since the 1960s. One of the characteristics of Livorno's rustic seafood cuisine is the pairing of red wine with fish, both for drinking and cooking with. Preparing red mullet like this is a firm family favourite.
Emiko suggests that you choose fish about 18 to 20cm long, ie. not too small but able to fit in a pan whole. You will get maximum flavour out of using whole fish, but you could also do this with fillets.
One of the loveliest things about Tortellini At Midnight is the book's beautiful feel. With thick paper stock with a crinkle edge, it is as unique as it is personal, making it a book that is truly good for the soul.
---
Buy your copy of Tortellini at Midnight from Book Depository now, with free delivery worldwide
---
Recipe for Triglie alla Livornese
(Livorno-style Whole Red Mullet)
Serves 4
4 whole red mullets, approx. 18 to 20 cm (7-8 in) long, gutted and scaled
3 tablespoons extra-virgin olive oil, plus extra for drizzling
1 garlic clove, squashed
1 fresh, small red chilli, finely chopped
1 x 400 g (14 oz) tin chopped tomatoes
125 ml (4 fl oz/½ cup) dry red wine, such as sangiovese
handful of flat-leaf (Italian) parsley, roughly chopped
crusty bread, to serve
Snip the fins off the mullets and rinse the fish gently, pat dry and sprinkle both sides with salt. Set aside.
In a pan large enough to hold the four mullets, slowly heat the olive oil and garlic over a low heat, infusing the oil for about 5 minutes, or until the garlic begins to become fragrant but is not yet coloured. Add the chilli and the tomatoes to the pan, along with a splash of water. Increase the heat to medium and cook for a few minutes, then add the red wine. Bring to a lively simmer, then place the mullet in a single layer in the pan and cook for about 3 minutes on each side, being careful not to break the delicate fish while flipping them over. Remove from the heat, sprinkle over the fresh parsley and serve with an extra drizzle of olive oil and good, crusty bread.
Recipe and images from Tortellini at Midnight by Emiko Davies, published by Hardie Grant Books and reproduced with the publisher's permission. Food Photographer: © Lauren Bamford.
This story originally appeared in PS News online.