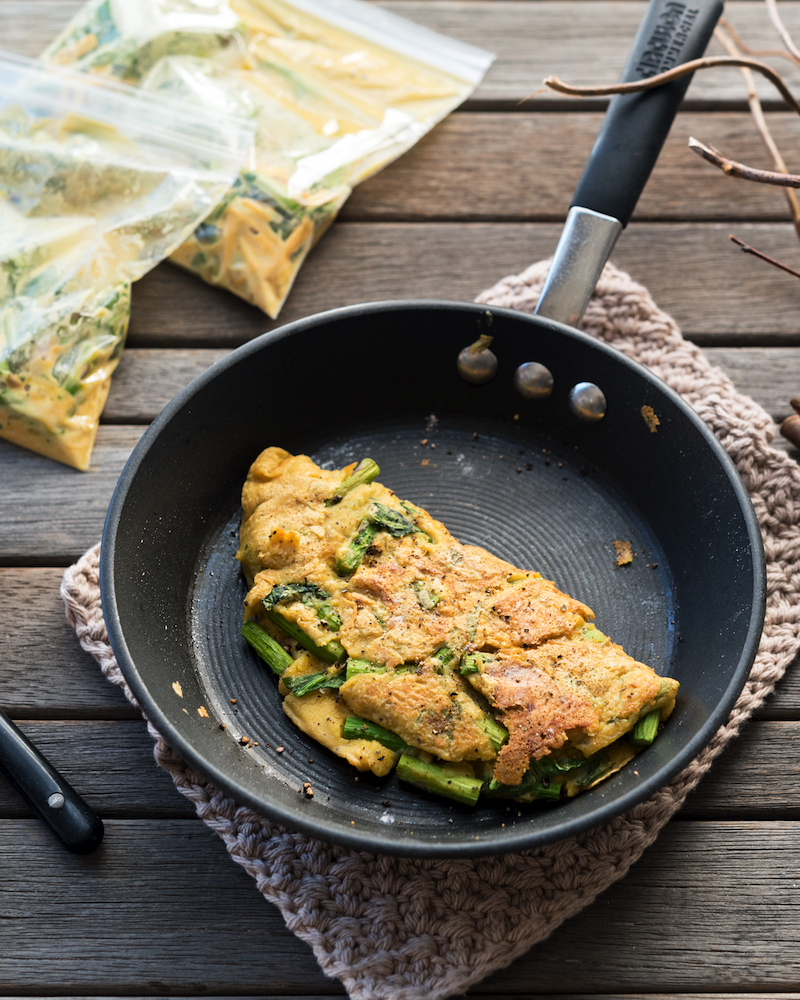 If you'd like to follow a vegan diet but it seems an awful lot of work, Jackie Sobon has some tips for you that might make it a more attractive proposition. In her latest book, Vegan Yack Attack On the Go!, the author behind the very successful food blog, Vegan Yack Attack, shows that you don't have to sacrifice quality for convenience.
Sobon is the author of an earlier book, Vegan Bowl Attack!, and she also develops vegan dessert recipes for VegNews magazine, so not surprisingly there are a few sweet treats in her books. But mostly, this one's all about making easy, nourishing meals for people in a hurry.
Published by Murdoch Books, Vegan Yack Attack On the Go! is divided into chapters such as Quick Breakfasts, Prep-Ahead Recipes, Lunch Box Stuffers, Meals In 30 Minutes Or Less, and Food On The Move. The omelette recipe here, for example, is divided up into bags that can be refrigerated or stored in a portable cooler, making it ideal for a camping trip or overnight stay. The mixture could also be bottled in 355ml jars if you prefer.
An omelet may not seem like an inherently vegan dish, but this asparagus spinach omelet with a chickpea base is a winner. Other recipes that sound enticing include Pineapple Teriyaki Burgers, Cauliflower Curry Grill Packets with Yoghurt Sauce, Shiitake Spring Rolls, and Lemon Lavender Mini Cheesecakes. That's just a small taste of what's in store, but if you want some inspiration for tasty, quick plant-based meals, you'll find plenty in this fun book.
Buy your copy of Vegan Yack Attack On the Go! from Book Depository now, with free delivery worldwide
ASPARAGUS OMELET IN A BAG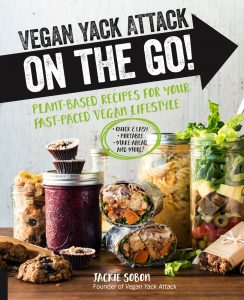 Serves 4
1 cup (120 g) chickpea flour
3 tablespoons (15 g) nutritional yeast
2 tablespoons (15 g) cornflour (cornstarch)
1½ teaspoons Indian black salt
¼ teaspoon black pepper
1¾ cups (415 ml) vegetable broth
2 cups (250 g) chopped asparagus, woody ends trimmed
1 cup (40 g) packed baby spinach or rocket (arugula)
½ cup (55 g) vegan Cheddar shreds (optional)
¼ cup (30 g) diced shallots
Cooking oil spray
In a mixing bowl, whisk together the chickpea flour, nutritional yeast, cornflour, Indian black salt, and black pepper until combined. Pour vegetable broth into the flour and whisk until smooth, then divide the mixture between 4 sealable sandwich bags. Next, place ½ cup (75 g) of asparagus, ¼ cup (10 g) of spinach, 2 tablespoons (15 g) of Cheddar shreds (if using), and 1 tablespoon (7 g) of shallots into each bag. Store in the refrigerator or a portable cooler for up to 1 week, or move on to preparing it.
When you are ready to prepare an omelet, warm a pan or well-seasoned cast-iron skillet over medium heat. Spray the pan with a thin layer of cooking oil. Once it is hot, shake the omelet bag vigorously. Pour the mixture into the pan and cook on one side for 5 to 7 minutes, or until the edges start to brown. Flip one half over onto the other half and cook for another 2 minutes. Repeat with remaining bags, when ready, and serve hot.
Recipe and images from Vegan Yack Attack On the Go!, by Jackie Sobon. Photography by Jackie Sobon. Published by Murdoch Books and reproduced with the publisher's permission.
This story originally appeared in PS News online.