In a sea of gins, Silent Pool will surely stand out for its beautiful packaging alone. In a gorgeous blue bottle embossed with gold and closed with a glass stopper, this is surely a drink that you'd want to have out on display for the world to see.
A relatively new arrival in Australia, it comes from a distillery in Surrey Hills, England, where there really is a silent pool nestled amongst the rolling hills. The area is shrouded in myth and folklore. Legend has it that in the early 1200s, a woodcutter's daughter was discovered floating in the Silent Pool, alongside the crest of Prince John – the future King of England.
A close look at the intricate pattern on the Silent Pool Gin bottle reveals the woodcutter's daughter, Prince John and a crown representing his royal crest, amongst the leaves and flowers. In a recent Zoom session with master distiller, Todd Zillwood-Hunt, he said the bottle's beautiful blue colour came from a photo of the bluest part of the pool on a glorious sunny day.
Now I really want to see this magical spot for myself! Until we can put on our travelling shoes, however, we'll have to be content with travelling virtually. Todd did a really great job of showing us around the distillery, even taking us down to the pool where the legend was born.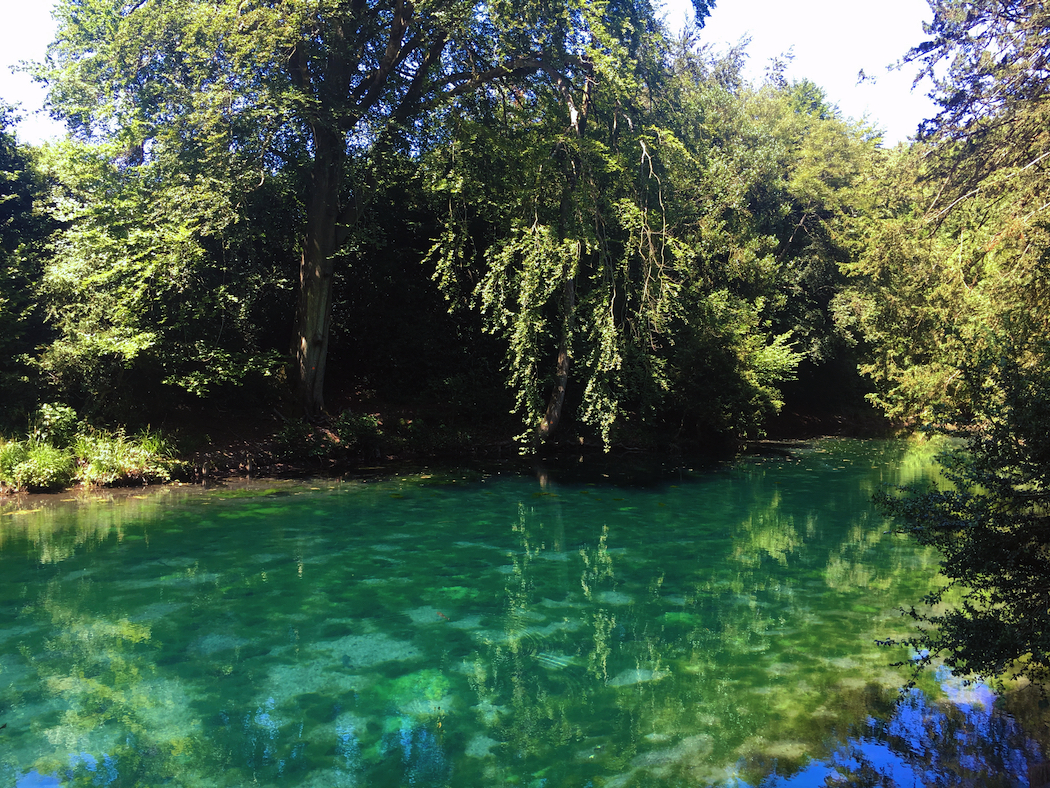 Silent Pool founders, Ian McCulloch and James Shelbourne, wanted somewhere with good water for their new venture (Ian is a big whisky buff). They found it on the Albury Estate, a disused dairy farm, and originally drew water from the pool itself. Their first gin was produced in 2015.
These days, production volume is such that they need to take water from an aquifer, though it's still very much an artisan product, handcrafted with local ingredients and botanicals.
Todd says they did about 600 distillations to perfect the original recipe which encapsulates the romantic essence of its surrounds in a blend of 24 botanicals.
Delicate yet beautifully complex and distinctive, it is juniper-driven with layers of lavender, chamomile, citrus, cassia bark and a little pepperiness, with velvety local honey providing a smooth finish.
Todd says it now takes about 5 or 6 goes to get a recipe right (other blends have been added to the line-up, although the original one is currently the only one available in Australia).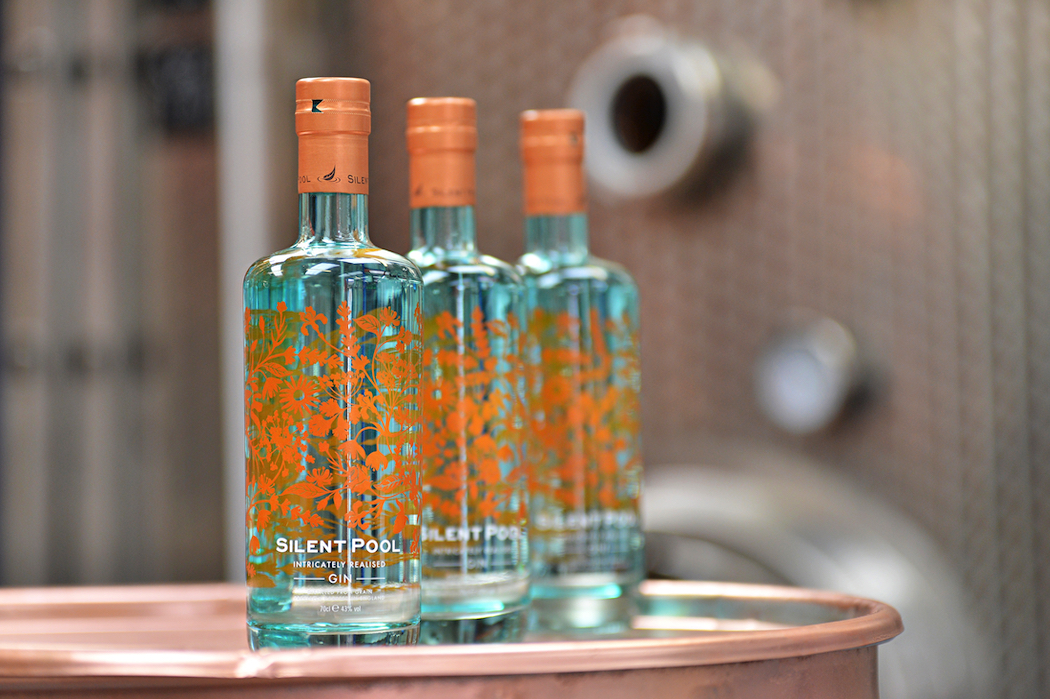 An innovative four-stage distillation process allows the team to precisely control the quality and flavour of each gin. The core botanicals, such as juniper, coriander and cardamom, are first steeped and macerated in alcohol, to achieve maximum flavour extraction for a deep and rich flavour profile that lingers on the palate.
The more delicate floral ingredients, such as chamomile, rose and elderflower, are steeped separately in high-proof spirits in a giant tea bag. After 24 hours, the tea bag is strained and the unwanted plant material discarded before the bright green, oil-rich liquid is added to the still. These ingredients give a combination of bright floral notes and mid-palate complexity.
The distillation is then passed through a basket infusion to draw out the brighter top notes of citrus and the Macedonian juniper. Finally, the distillation process is completed using a rectifying column, where the spirit is refined by aroma and taste.
The gin is best served as a G&T over ice, with a premium Indian tonic water and garnish of orange peel.
Silent Pool Gin is available from BWS, Dan Murphy's and other Australian retailers. RRP $79.99.
How To Take Your G & T To The Next Level
Silent Pool Gin Master Distiller, Todd Zillwood-Hunt, has these tips for taking your G & T to the next level:
The More Ice, The Better!
Many people think that less ice in your G&T means that you will eventually have less water to dilute the flavours. This is completely false, says Todd. The best way to prevent your ice from diluting your G&T is to use more and bigger ice cubes. Having more ice in the glass will lower the temperature so it will take longer to melt, thus you retain the chill and flavour of your G&T for much longer. Keeping all components cool will also help sustain carbonation and ultimately retain a more cohesive flavour profile.
Don't Skimp On the Garnish
The function of a cocktail garnish is to add gentle aromatics that amplify and enhance the drink without actually becoming the drink. A slice of lemon, lime, or orange can easily overwhelm the gin, so the garnish should provide just enough citrus to better your drinking experience. We love the liquid garnish that Silent Pool has created to accentuate the drink while maintaining key citrus botanicals.
The Bergamot Orange mist is a rich, floral, and slightly bitter aromatic that you spray over the top of your completed G&T, elevating the flavours and leaving you to indulge in a complex and fragrant drink. If you don't have access to a mist, you can gently rub a lemon rind or orange-peel along the rim of the glass and leave this for 2-3 minutes ahead of preparation, ensuring the beautiful citrus fragrance can take hold.
Keep it Bubbly
It is not widely known that carbonation is a strong flavour within a drink. The human tongue has sensors to experience carbonation in similar ways it does for sour and salty tastes. With this being said, when creating a G&T, it's important to focus attention on carbonation. You can do this by keeping your surroundings cool and minimising any rough transfers. This includes tilting your tonic water and gently placing your ice into your glass.
Also, Silent Pool likes to minimise waste, and the longer your tonic has been open for, the more it will impact the flavour of your G&T. So instead, Todd recommends buying 250mL bottles of tonic, as opposed to one litre bottles, as this means you can save on wastage, and also ensure it stays carbonated for as long as possible. "Caring for your bubbles only means that your perfect G&T will fulfill its entire destiny," says Todd.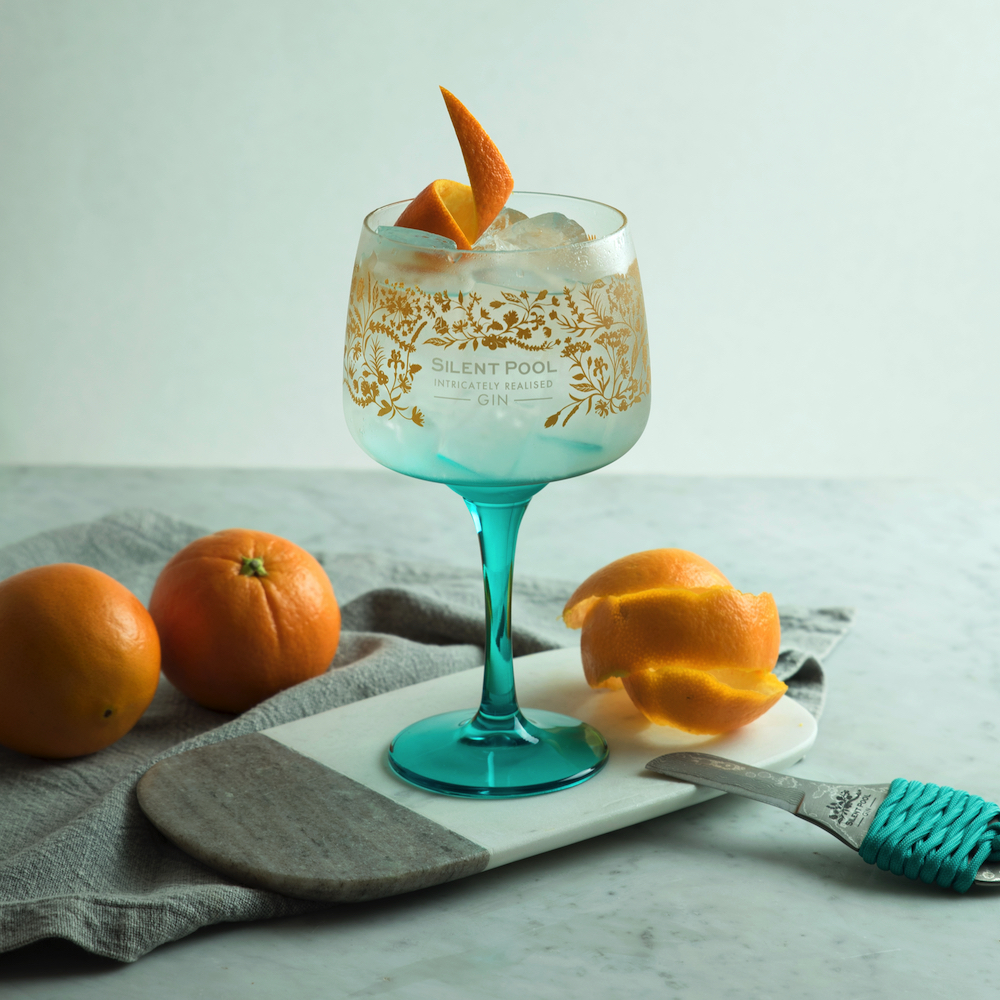 If you would like to put these tips to the test, have a go at Silent Pool's trusted Gin & Tonic recipe.
Silent Pool Gin & Tonic
Ingredients:
50ml Silent Pool Gin
150ml Premium Indian Tonic
Handful of ice cubes
Bergamot Orange Silent Pool Mist
Method:
Use a jigger to pour your Silent Pool Gin into a Copa glass filled to the brim with large ice cubes. Top with Premium Indian Tonic Water. Garnish the top of the glass with a spray of the Bergamot Orange Mist. Enjoy!
More information about Silent Pool Gin.
This is not a sponsored post but we were given a bottle of the gin to experience it for ourselves.