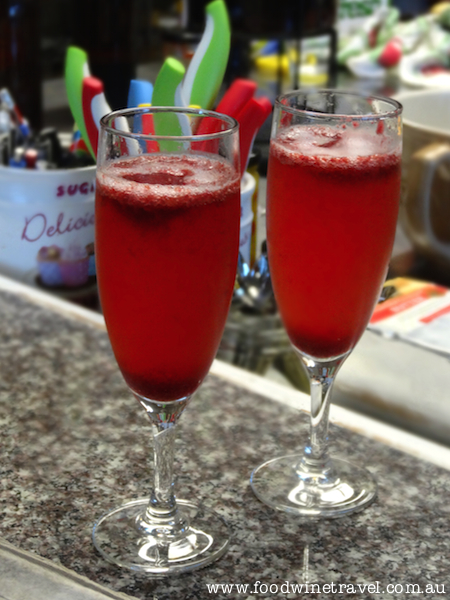 Wow! FoodWineTravel readers clearly love their cocktails.
There were lots of fabulous entries in our Italian bubbles competition, and we're really impressed by the ingenuity of some of them, so much so that I'd like to share some of them with you.
*Add a kick to your champers or Prosecco by adding 15ml pear juice, 15ml of your favourite whiskey) and a spiral/twist of lemon.
*Use frozen berries in blender-type cocktails – they taste great and you don't have to add ice. And in a similar vein: use frozen fruit such as grapes or lychees instead of ice cubes, so you don't end up with watery cocktails.
*Get creative! Try classic cocktails, but put your own unique spin on it, like adding a little passionfruit to your next Strawberry Daiquiri.
*Don't stay up drinking far too many cocktails, especially when you have to get up at 6am for a long haul flight. Yes, speaking from experience…
*Make sure you shake your booty as much as the cocktail shaker. This makes for better cocktails and a more fun time.
Make the presentation spectacular
*Not only does the liquid of a cocktail need to taste great, but the presentation should be spectacular.
*1) Keep hubby away from the ingredients!
2) The less ingredients the better!
3) Go fresh, fun and bright with added fruits!
4) Keep hubby away from ingredients!! 🙂
*For a variation on Italian Spritz, use Rosso Antico instead of Aperol or Campari and a blood orange slice instead of regular orange. As with all cocktails, the real tip is who you share it with. Enjoy this one on a beach holiday with friends.
*Vodka (with a packet of redskins mixed in) and soda water. (Who would have thought?!)
*Chill your glasses – simple but important.
*Savour the taste, every last drop. Whatever concoction is created, always serve it with a smile.
Sadly, there can be only one winner and it is …. drum roll … Alex Pritchard. Alex made herself a Basil Gin & Tonic by sous-viding (is that a word?) basil leaf and gin and, when ready to serve, snipping the bag open and pouring the tonic in. She suggests drinking it from the bag – with a straw, of course! Alex's prize of a gift box of Carpenè Malvolti Prosecco and Rosso Antico is on its way to her.
You might also enjoy: Celebrating with Prosecco in a Strawberry Basil Cocktail.