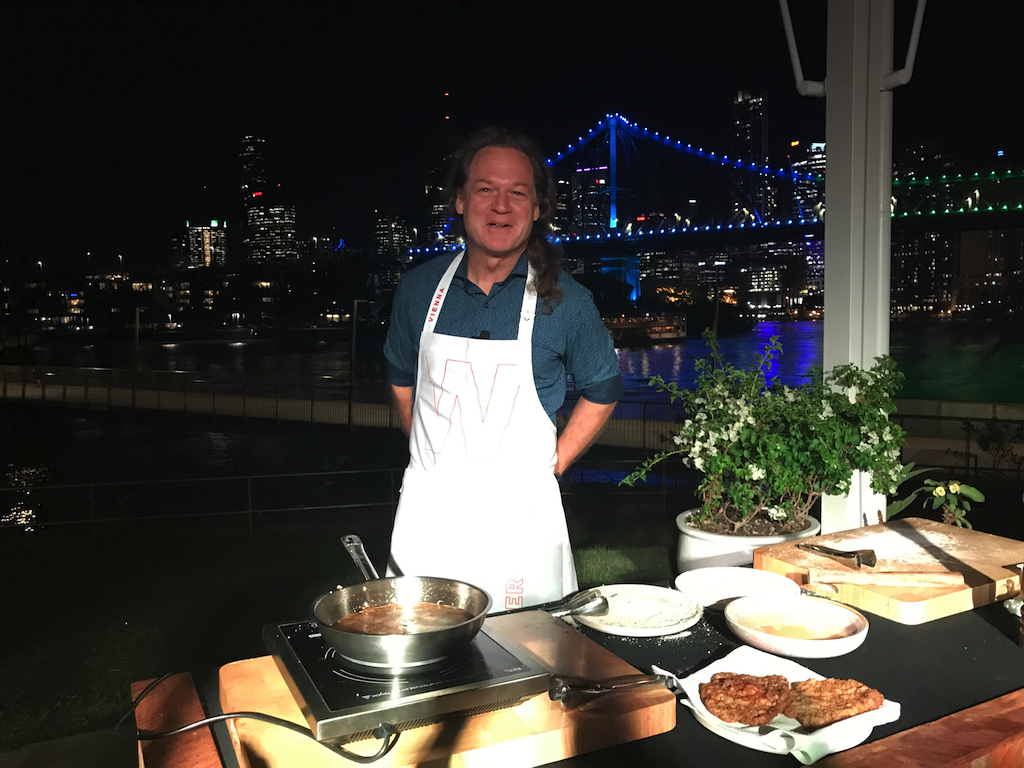 Would you like to know how to make the perfect Wiener schnitzel? It's not that difficult – and in a minute, we'll show you just how easy it is. But first a bit of background. The name 'Wiener' comes from Wien, or Vienna in English, the capital of Austria, an attractive, cultured city that is frequently named the world's most liveable city.
Austrians are very proud of their Wiener schnitzel, and rightly so! It's hard to get a bad one in this food-obsessed city. There are lots of variations on the schnitzel theme around the world, but in Austria they're very strict about what constitutes Wiener schnitzel.
"Just crumbing a piece of meat does not make a Wiener schnitzel," said Astrid Gruchmann-Licht, director of the Austrian National Tourist Office (Sydney).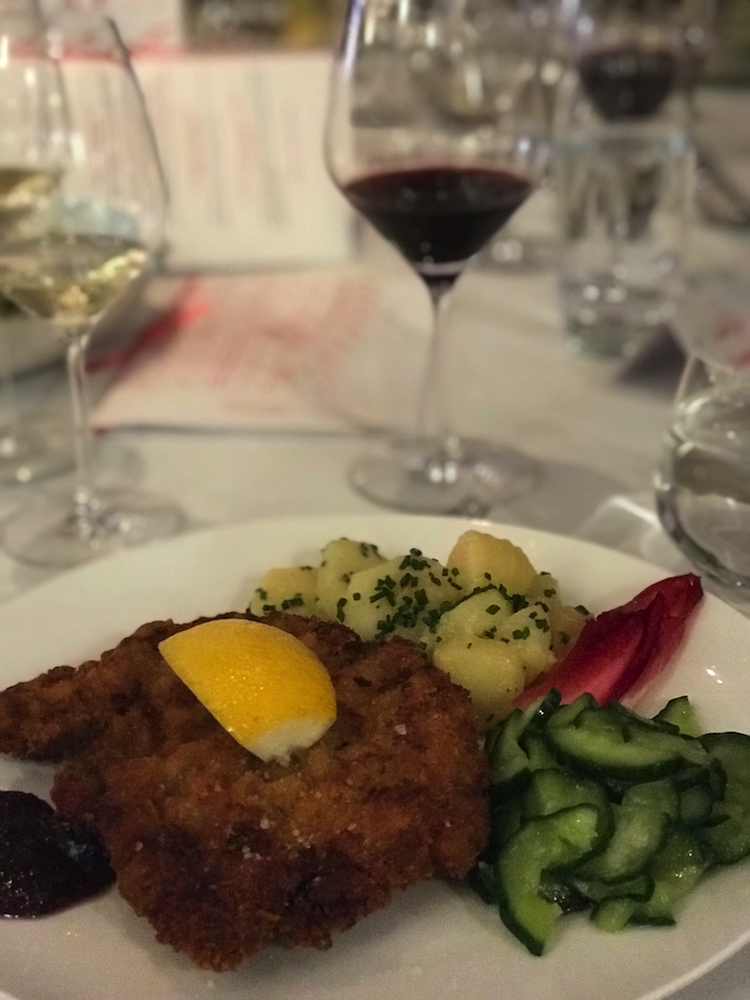 In Vienna, it can only be a piece of veal, coated in breadcrumbs and shallow-fried, served with potato salad, cucumber salad and a wedge of lemon. It might have some warm parsley potatoes with it, and perhaps some lingonberry jam, but anything else and it will no longer be Wiener schnitzel.
At an event in Brisbane recently, Astrid recalled being in Vienna with an Australian friend who she introduced to a local chef. "My Australian friend said, 'why are you so strict about what goes with it? I think mango sauce goes really well with it' and my (chef) friend turned to her and said, 'you're very welcome to put mango sauce with your schnitzel but it won't be a Wiener schnitzel anymore'."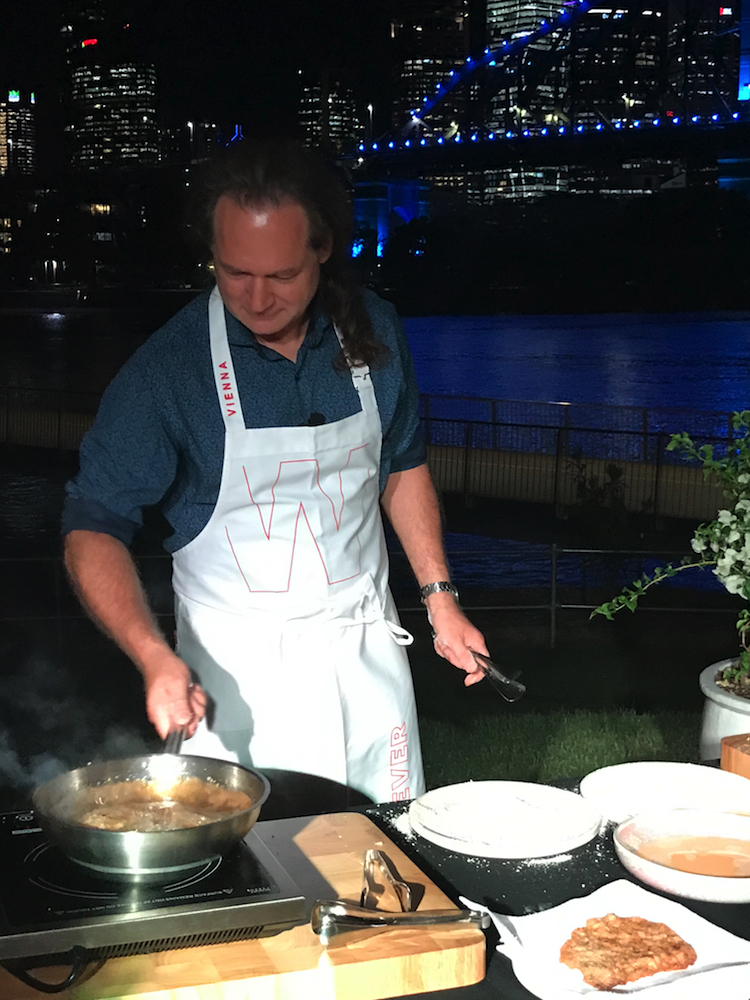 That's backed up by wine importer and cook, Andreas Puhar, who, against a backdrop of Brisbane's Story Bridge, demonstrated the finer points of making schnitzel. To be a Wiener schnitzel, he said, it has to be veal, sliced and pounded to no more than about 3mm thick. Sprinkle a little bit of salt and pepper on it: "Austrians are big into white pepper, not black pepper".
Then coat the veal in flour: "not too much flour but (make sure) it's nice and covered". Dip it in beaten egg: "it's best to use pure egg, do not dilute the egg, otherwise it's too thin and will go everywhere". Then hold the meat up so any excess egg drains off.
Next, dip the meat in breadcrumbs. "In Austria we eat so much bread, and we eat so many white rolls in the morning, and obviously we don't eat everything and things get stale, and this is the breadcrumbs we use. We normally grind the whole bread, with crust," he said as he dipped each side in breadcrumbs a couple of times. "You have to be careful that you cover it well (with breadcrumbs) but you don't press too hard."
The crumbed veal is shallow fried in just enough oil to cover it (traditionally it would have been pork lard). The oil should be about 180 degrees C, he said as he gently dipped one edge in to make sure it was hot and sizzling before he put the whole piece in.
Then, "you shake the pan so that the oil floats over the schnitzel. It's very quick. It takes about 1 to 2 minutes, then you turn it," he said, shaking and jiggling the pan until the meat was browned on each side. "You drain it well … on paper or a napkin. You don't want any residual oil with it. And then you serve it as soon as possible."
On that note, we sat down to dinner at Bougainvillea House, one of the private function rooms at Howard Smith Wharves, where guests of the Austrian National Tourist Office dined on … Wiener schnitzel, of course. It was followed by delicious pancakes filled with apricot jam, and we drank some of the Austrian wines that Andreas imports into Australia through his company, Enoteca Sydney.
"Wiener Schnitzel is very pure," said Andreas. "If you follow a bus in Sydney, you see schnitzel from the Lowenbrau Keller (advertised) … a piece of schnitzel with spaghetti on top. That's simply not what we do. Our schnitzel is very simple but that's what makes it so special."
More about Austrian food and wine:
If you really want to nail it, watch this video of Andreas demonstrating how to make the perfect Wiener schnitzel.
Read about the four Austrian wines that were served with the schnitzel dinner. You might also be interested in this story about Andreas that I wrote for Hospitality magazine after visiting Austria in 2012.
Read my story on Austrian Wine: A Modern Approach To Ancient Tradition. It's full of suggestions for wonderful cellar doors to visit.
And, finally, check out this post on Six Of The Best Food And Wine Experiences in Austria to discover a world beyond schnitzel and strudel!