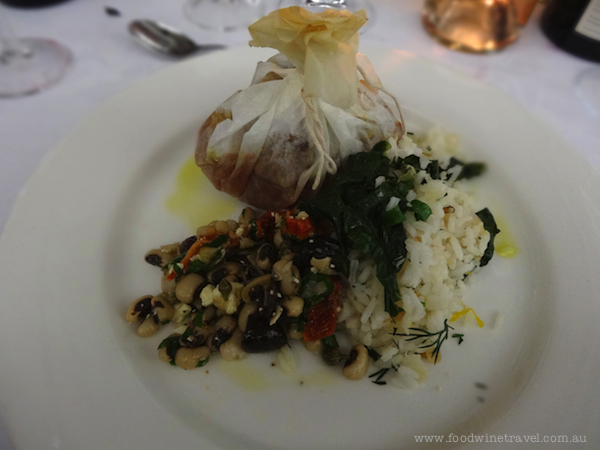 And the winner is …. Moppity Vineyards Lock & Key Single Vineyard Hilltops Reserve Cabernet Sauvignon 2012. This was the pick of the show for Tyson Stelzer, who had the enviable task of judging around 50 wines at the annual Hilltops Wine Dinner.
The Hilltops region of New South Wales is one of Australia's most under-rated regions (in my humble opinion). Its story deserves to be told, for it produces beautiful Shiraz, surprisingly good Riesling, and as Moppity's win goes to show, some excellent Cabernet too.
Moppity has become one of the region's most successful producers in less than a decade, its owner Jason Brown having a dogged determination and an absolute commitment to quality. There is probably no greater endorsement of the region than the fact that revered Canberra winemaker, Tim Kirk, of Clonakilla, buys in fruit from the region for his incredibly popular Hilltops Shiraz.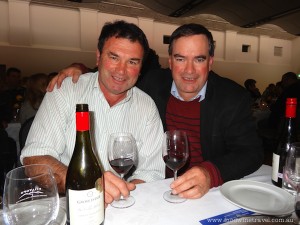 Kirk has a close association with Grove Estate, and has been making their Shiraz since 2003 (and more recently their Shiraz Viognier).
Along with McWilliam's Wines and Chalker's Crossing, Grove Estate is one of the region's stalwarts.
(Tim Kirk is pictured at right with Grove Estate viticulturalist Brian Mullany.)
Sydney food and wine luminary Lyndey Milan designed the menu for the dinner, basing it around recipes from her Taste of Greece cookbook.
Susie and Andy Forrest, of Zouch Catering, and Rob and Kerrie Provan, of The Pastor's Pleasures, prepared the dishes with the assistance of local students.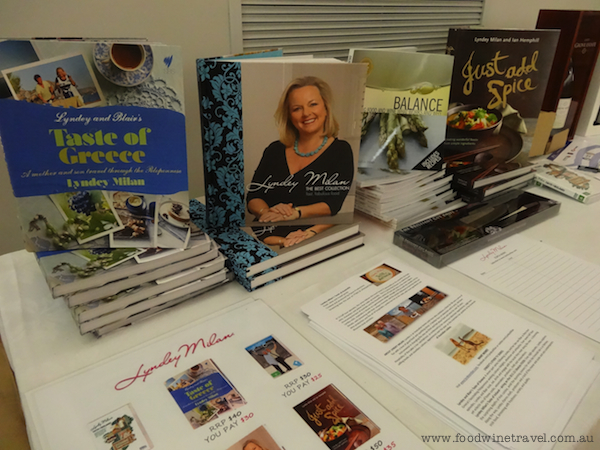 Milan is a great supporter of the region and spoke passionately about its produce, ending her speech with a plea to support Australian farmers. I'll leave you here with a couple of her recipes – the pumpkin fritters (served on the entrée platter) were divine. Lamb was cooked in individual paper parcels for the dinner but served with the same salad of black-eyed peas featured in this recipe.

Tyson Stelzer is the author of 15 books on wine and spent a couple of hours sipping and spitting his way through the line-up before the dinner got under way. Here's his list of the Hilltop's region Top 10. Keep an eye out for them.
HILLTOPS WINE REGION TOP 10
10. Freeman Altura Vineyard Nebbiolo 2010
9. Chalkers Crossing Hilltops Riesling 2012
8. Freeman Rondo Rondinella Rose 2012
7. Clonakilla Hilltops Shiraz 2012
6. Moppity Vineyards Reserve Hilltops Shiraz 2010
5. McwIlliams Barwang GDR Hilltops Cabernet Sauvignon 2009
4. Moppity Vineyards Lock & Key Reserve Hilltops Shiraz 2012
3. Grove Estate The Cellar Block Shiraz Viognier 2012
2. Moppity Vineyards Hilltops Shiraz 2012
1. Moppity Vineyards Lock & Key Single Vineyard Hilltops Reserve Cabernet Sauvignon 2012
FRIED PUMPKIN BALLS
These can be rolled small as finger food, or cooked in larger, flatter patties as an entree or part of a mezze. A food processor is great for grating the pumpkin.
Makes 30
1 kg pumpkin, grated, squeezed dry (see note)
5 green onions, finely sliced
1 bunch mint, finely chopped
1 bunch parsley, finely chopped
1 cup (150g) plain flour
200 ml extra virgin olive oil, for frying
Combine the pumpkin, green onion, mint, parsley and flour in a large bowl, and mix well.  Season with salt.
Heat oil in a large, deep frying pan over medium heat. Form heaped tablespoons of the pumpkin mixture into flat cakes. Fry in batches for 3-4 minutes on each side until golden and cooked through. Remove with a slotted spoon and drain on paper towel. Serve immediately.
Note: It is important to use a firm pumpkin for this recipe. Butternut is not suitable.
SLOW-ROASTED LAMB WITH SALAD OF BLACK-EYED PEAS
Serves 4
Ask the butcher to leave the shank bone attached.
1.5 kg lamb leg, shank bone attached (or shoulder)
½ cup extra-virgin olive oil
¼ cup red wine vinegar
1 tbsp rigani
1 tbsp fennel seeds
2 tsp sea salt flakes
6 thyme sprigs
Salad of black-eyed peas
1 cup dried black-eyed peas (or use a can of rinsed butter beans or chickpeas)
2 garlic cloves, peeled
1 bay leaf
½ cup sliced sundried tomatoes
2 tablespoons capers, roughly chopped
½ cup pitted kalamata olives, cut into halves
1 cup flat-leaf parsley
2 tablespoons wine vinegar
¼ cup extra-virgin olive oil
100g feta, crumbled (optional)
Preheat the oven to 160 degrees C (140 C fan-forced). Place the lamb in a roasting tin. Combine the oil, vinegar, rigani and fennel. Rub the mixture over the lamb, then sprinkle the lamb with the salt and thyme sprigs and season well with freshly ground black pepper.
Roast the lamb, uncovered, for three hours (it will be meltingly tender) or for four hours if you want the meat to fall from the bone.
Meanwhile, cook the black-eyed peas for the salad. Place them in a medium saucepan with the garlic and bay leaf. Cover with cold water, place over a medium-low heat and simmer for 50-60 minutes, or until the peas are soft and tender. Drain.
To serve, remove the lamb from the oven, cover loosely with foil and stand for 10 minutes. Toss all of the salad ingredients together and season well with salt and freshly ground black pepper. Use a carving fork and knife to slice or pull the lamb from the bone and serve with the salad.
Recipes from Lyndey and Blair's Taste of Greece. Published by Hardie Grant.
Related post: Weekend In The Country; Bluestill Distillery.