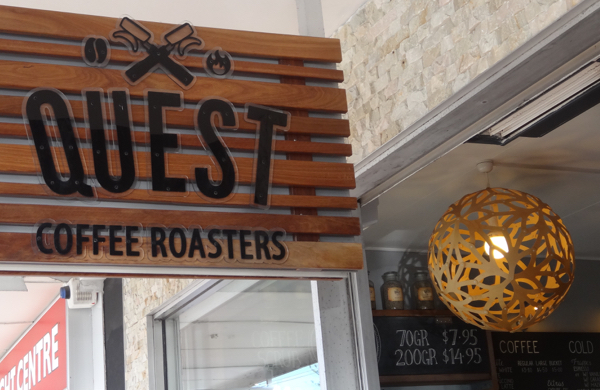 James Street, Burleigh Heads, is a cool little street for shopping. Stretching one block back from the beach, it has an interesting mix of shops selling clothing, homewares, candles and other gorgeous smelly things, gourmet foods, bamboo clothing, artisan bread and so on.
Scattered amongst them are a couple of little cafés, and our attention was immediately drawn to Quest Coffee Roasters, where we popped in for a caffeine hit. It's a tiny café with just a handful of tables lined up against one wall, and a few more small tables and stools on the footpath.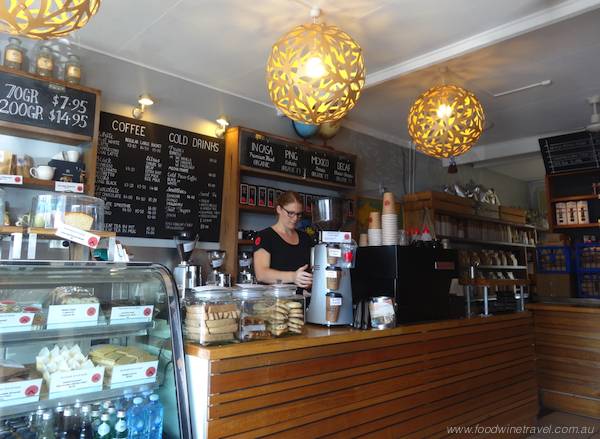 We were super impressed with the coffee and discovered that they roast their beans locally – they used to roast them in-store until the demand was too great and they couldn't keep up with supply.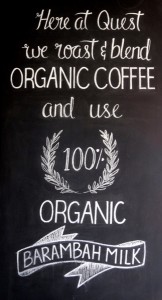 They only use organic, fair trade coffee and according to a sign on the wall, they also only use Barambah organic milk produced in south-east Queensland.
The house blend, Incasa, is a great all-rounder – flavoursome and a little dark, with some spicy undertones. It's perfect for a milky coffee, but also easily enjoyed black. Quest describes it as the "wool sweater of our blends – warm, comforting, familiar" and I'd agree with that.
On the day we visited, they were also serving PNG Kokoda, Mexico Oaxaca and a Mexico Chiapas Decaf from their Mazzer grinders. The Quest website says they've been told by their customers that they serve the best coffee on the Gold Coast.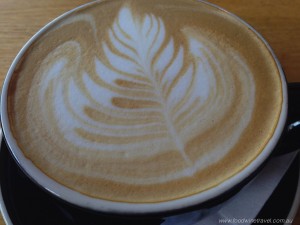 We haven't drunk enough coffee on the Gold Coast to vouch for that but of the few we've had, it certainly rated highly – enough for me to write a blog post about it, at least! (and no, we weren't invited or paid to do so).
We didn't try any of the snacks but there is a cabinet filled with cakes, slices, sandwiches and muesli, apparently all made on site. Ginger crunch, salted caramel cheesecake and passionfruit slice were among the goodies on display. Quest claims to be the only cafe in Burleigh that serves cold-pressed coffee from the Toddy.
Fact File:
Quest Coffee Roasters
20 James Street,
Burleigh Heads 4220 Qld
Australia
+61 7 5535 2959
Open: 6 am to 4 pm Monday to Sunday.
Visit: www.questcoffee.com.au