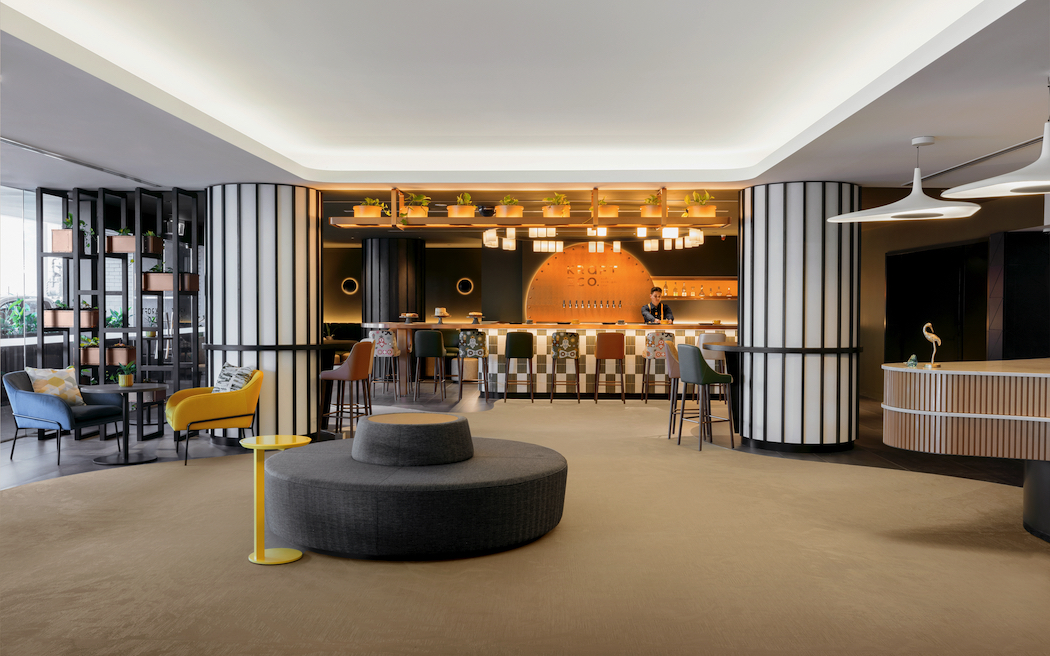 We're having a night cap at the bar in Voco Brisbane and Maurie has struck up a conversation with the affable bartender, Charles. It turns out Charles is into musicals in a big way – not your Phantom of the Opera type of musical, but rather the old classics like West Side Story. His obsession seems rather unusual for a young bloke and Maurie is super-impressed with his knowledge, leading to a lively discussion about musical favourites and Brisbane's entertainment scene.
Voco happens to be just across the river from the Queensland Cultural Centre, making it the perfect spot for anyone attending a concert or show, as we are. Its North Quay location is also convenient for anything in the CBD including Queen Street Mall and either Roma Street or Central rail stations.
Bold and colourful, Voco Brisbane City Centre is the fourth Voco hotel in Australasia, a brand that has expanded rapidly worldwide since IHG Hotels & Resorts opened the first Voco in the Gold Coast in 2018.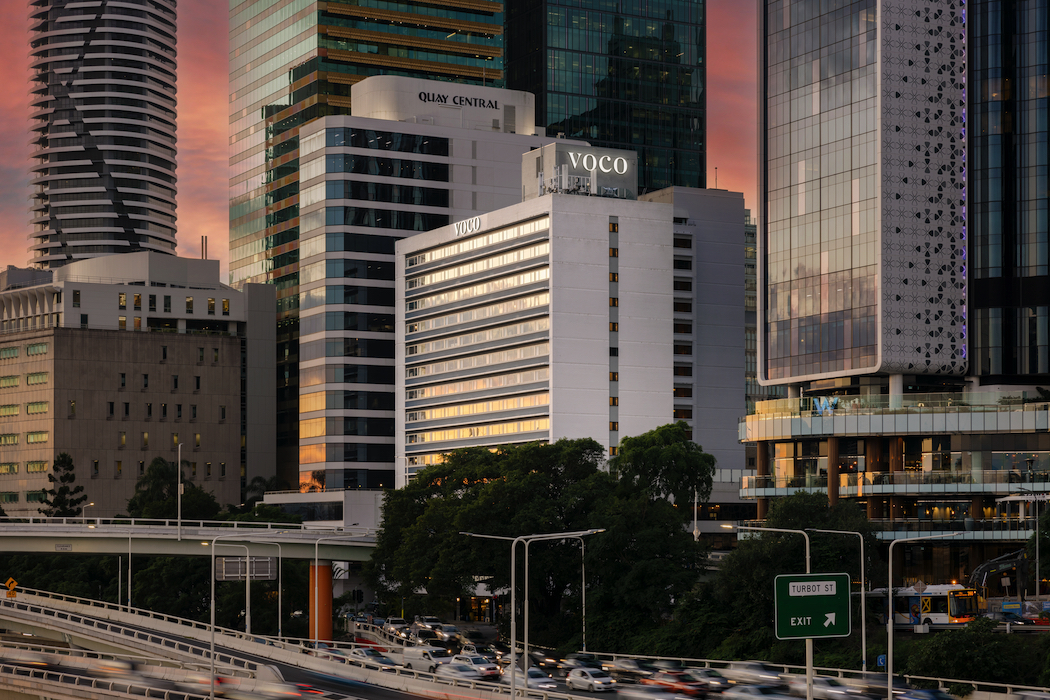 Around three-quarters of all Voco properties are conversions of existing buildings rather than new builds and Voco Brisbane is one such conversion. It's great to see a building re-purposed rather than knocked down. Having said that, the 1971 façade (as viewed from the pool terrace at least) is showing its age.
The interior is a different story, presenting as modern and vibrant with a playful ambience. Instead of the black and grey palettes found in many hotels, there are dark blue hues and bright pops of yellow, Voco's signature colour. There are fun decorative pieces and cool furnishings too, including an eye-catching capsule chair in our suite on the 8th floor. The hotel's riverside location is referenced in a striking mural above the bedhead.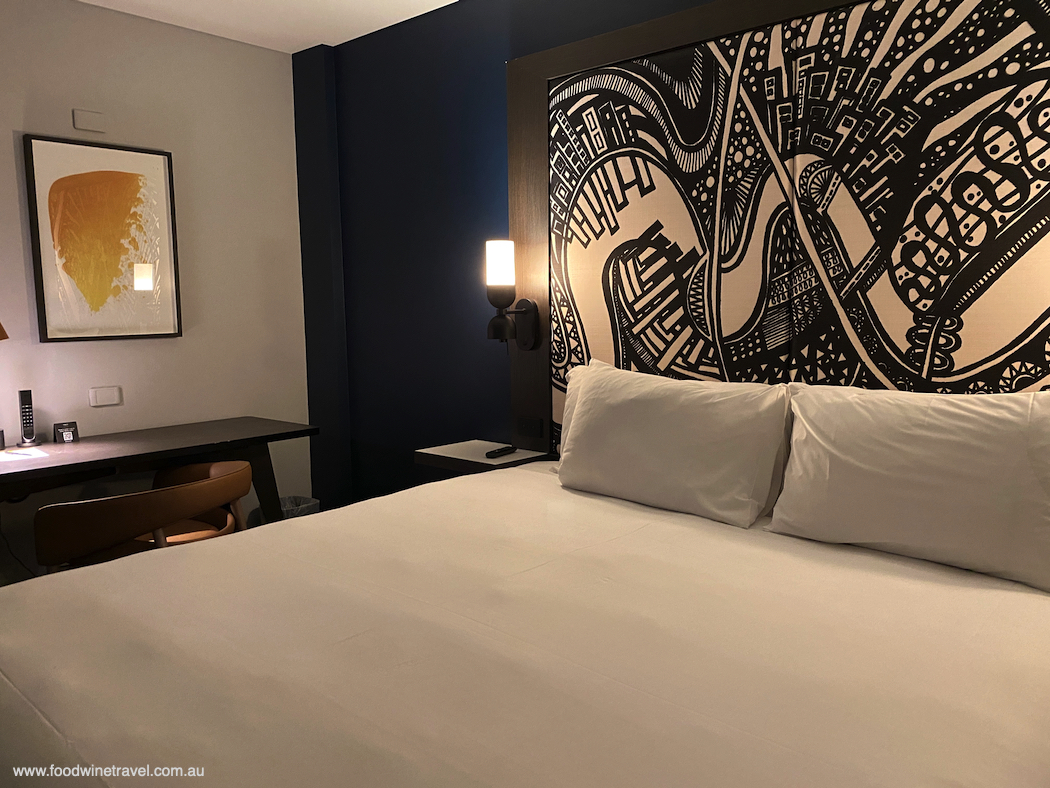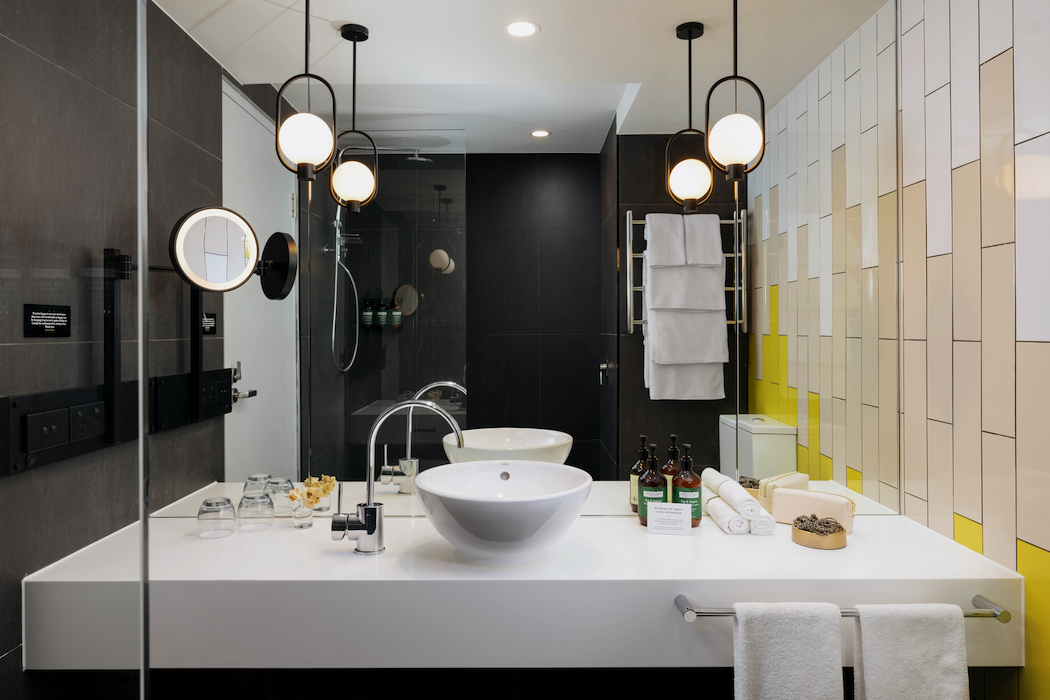 We found the bed to be super-comfortable with plush bedding that afforded the most wonderful sleep. You wouldn't know it unless you were told, but the bedding is made of 100 per cent recycled plastic, part of Voco's commitment to sustainability. The bed linen was produced in line with the Better Cotton initiative, the world's largest cotton sustainability program.
The bathroom amenities are plant-based Antipodes products in refillable bottles, and the shower heads are aerated to reduce water consumption. Our shower was classic 70's over the tub, not a problem for us but as some guests might have difficulty, it should probably be mentioned at the time of booking.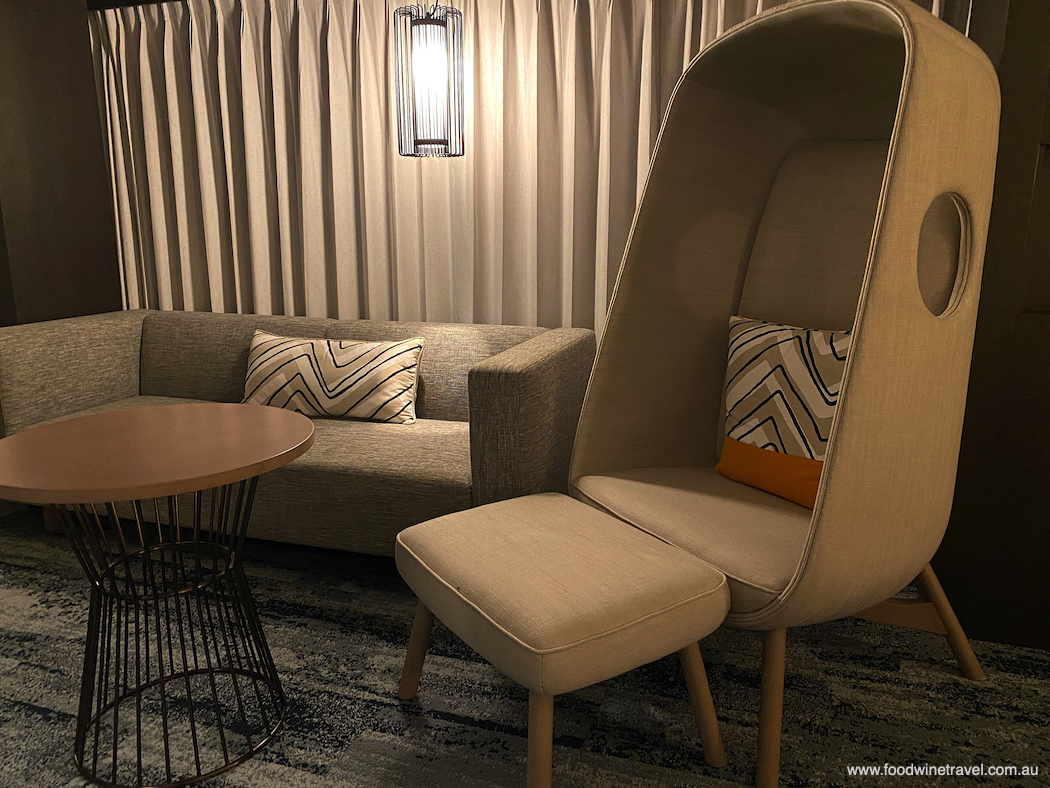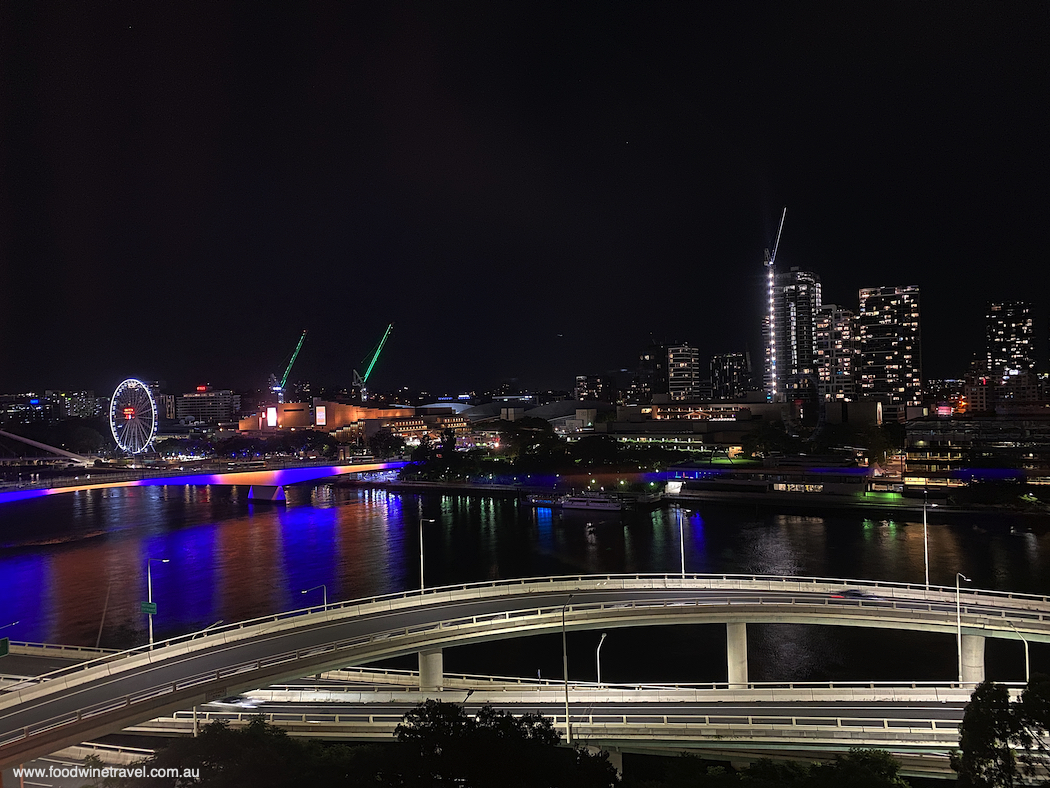 Some of the thoughtful touches we appreciated included the make-up mirror in the bathroom (necessary for short-sighted folk like me), blockout curtains, and excellent reading lights on both sides of the bed. Our suite, one of nearly 200 guest rooms, had sweeping views of the Brisbane River.
Breakfast is taken in Zuma restaurant on level two of the hotel, which is bright and light with views over the river and South Bank. Zuma doesn't do lunch or dinner but there are oodles of dining options close by. Kraft & Co, on the ground floor, operates as a café during the day, transforming into an intimate bar with a great vibe at night. It offers local craft beers, wines and cocktails. It was here that we were served by the musical-loving Charles who single-handedly made everyone in the bar feel welcome.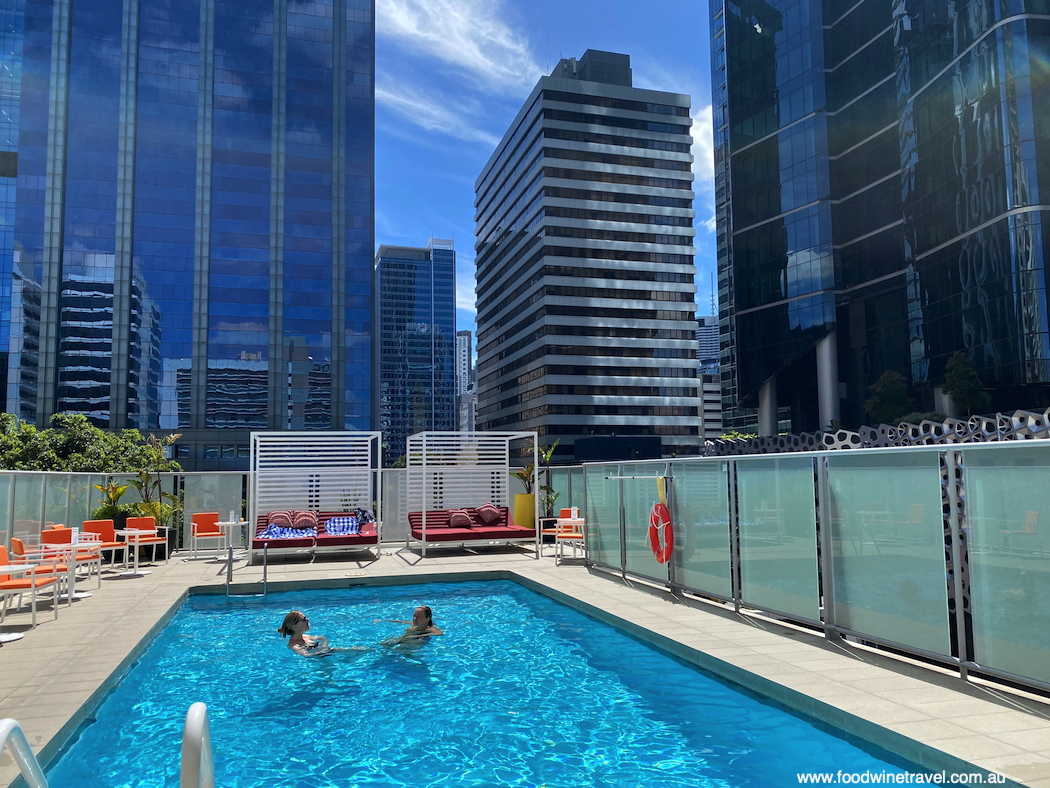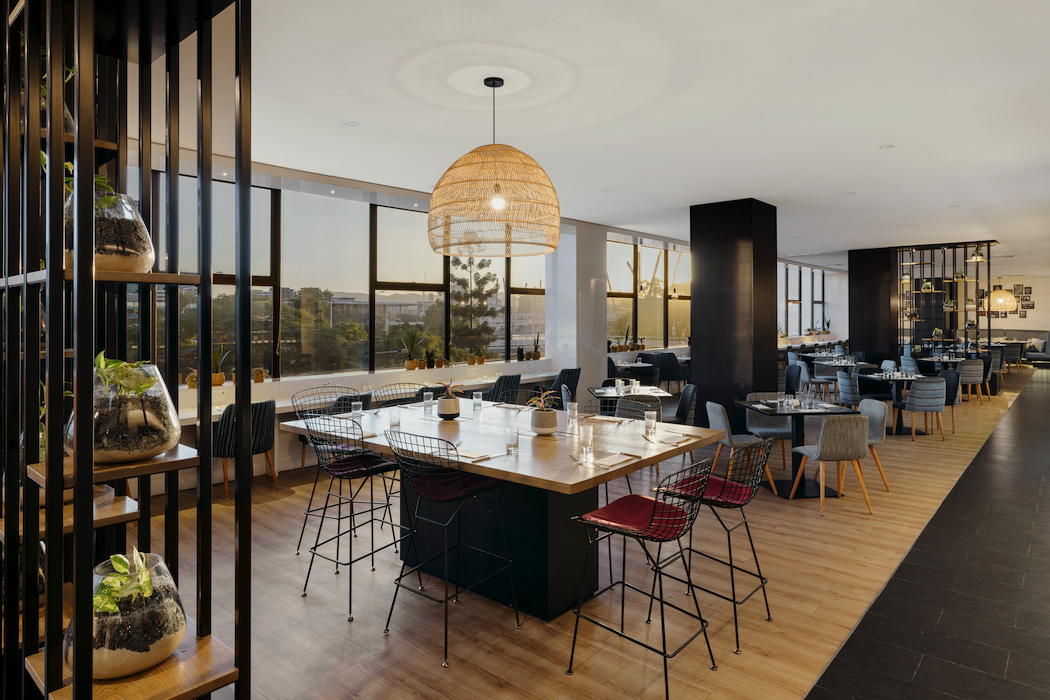 As well as the roof-top pool, the hotel has a 24-hour fitness centre and guests have free use of handcrafted bamboo bikes from Wyld Bikes — a further expression of Voco's "tread lightly" approach. Checkout is a civilized 11am.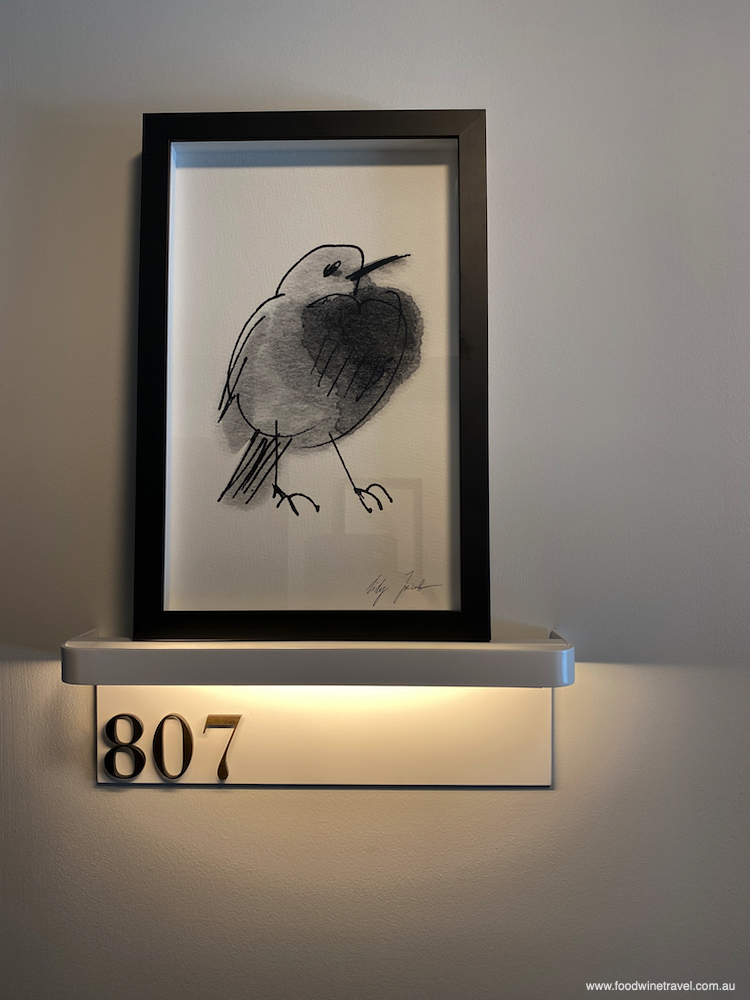 If you go:
Voco Brisbane City Centre
85-87 North Quay
Brisbane Qld 4000
Australia
Tel: +61 (0)7 3237 2300
www.vocohotels.com
With thanks to Brisbane City Centre who hosted us for one night. We stayed in Room 807. Photos are our own where indicated. Others were supplied by the hotel and used with permission.
If you enjoyed this story, you might also enjoy our post on the Voco Gold Coast.