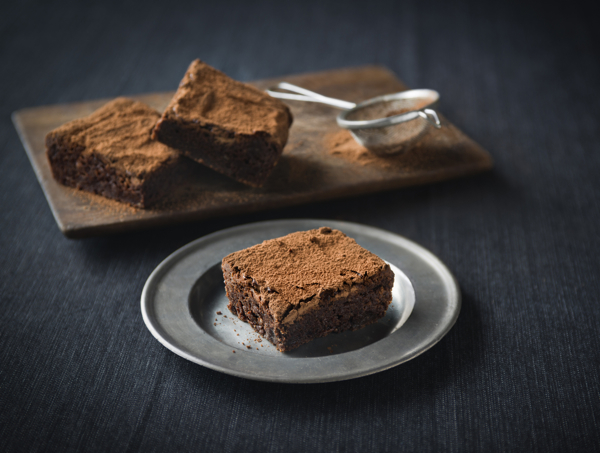 As you might have gathered from some of my previous posts, I'm a great fan of Haigh's Chocolates. This proud South Australian company was founded in 1915 by A.E. Haigh and for a long time you had to go to Adelaide if you wanted your fix. These days it's a lot easier with the products available online and in stores in Adelaide, Melbourne and Sydney.
When Maurie was in South Australia recently, being whisked around in helicopters and picking strawberries at the delightful Beerenberg Family Farm, he was given a copy of Cooking with Haigh's. It's a delicious little booklet, all of about six pages, with a couple of truly divine recipes.
There's a Dark chocolate mud cake, a Chocolate, macadamia and salted caramel tart, and then there's this one to die for … Chocolate and hazelnut fudge brownies. It needs no more introduction – the recipe speaks for itself. Happy baking!
HAIGH'S CHOCOLATE AND HAZELNUT FUDGE BROWNIES
Serves 12
150g Haigh's Dark Chocolate Pastilles, chopped
200g unsalted butter, cubed
3 extra large eggs, beaten
2 cups (440g) brown sugar
1 cup (100g) hazelnut meal
1/3 cup (35g) cocoa, sifted
1 teaspoon baking powder
½ teaspoon salt
Preheat oven to 180 degrees C (160 deg C fan-forced). Lightly grease a 21cm square baking pan and line with baking paper.
Place the dark chocolate and butter together in a medium saucepan over a very low heat, stirring until melted and smooth. Remove from heat and allow to cool for 10 minutes.
Place the eggs and sugar together in the bowl of an electric mixer and beat for 5 minutes or until light and fluffy. Slowly add the cooled chocolate mixture, beating until combined. Add the hazelnut meal, ¼ cup cocoa, baking powder and salt, folding gently until combined.
Pour mixture into the prepared baking pan and bake in preheated oven for 50 minutes. Remove from oven and allow to cool completely in tin. Cut into 12 pieces. Serve brownies dusted with remaining cocoa.
Recipe and image reproduced with the permission of Haigh's Chocolates.
Related Posts: Picking Strawberries at Beerenberg Family Farm; In My Kitchen.