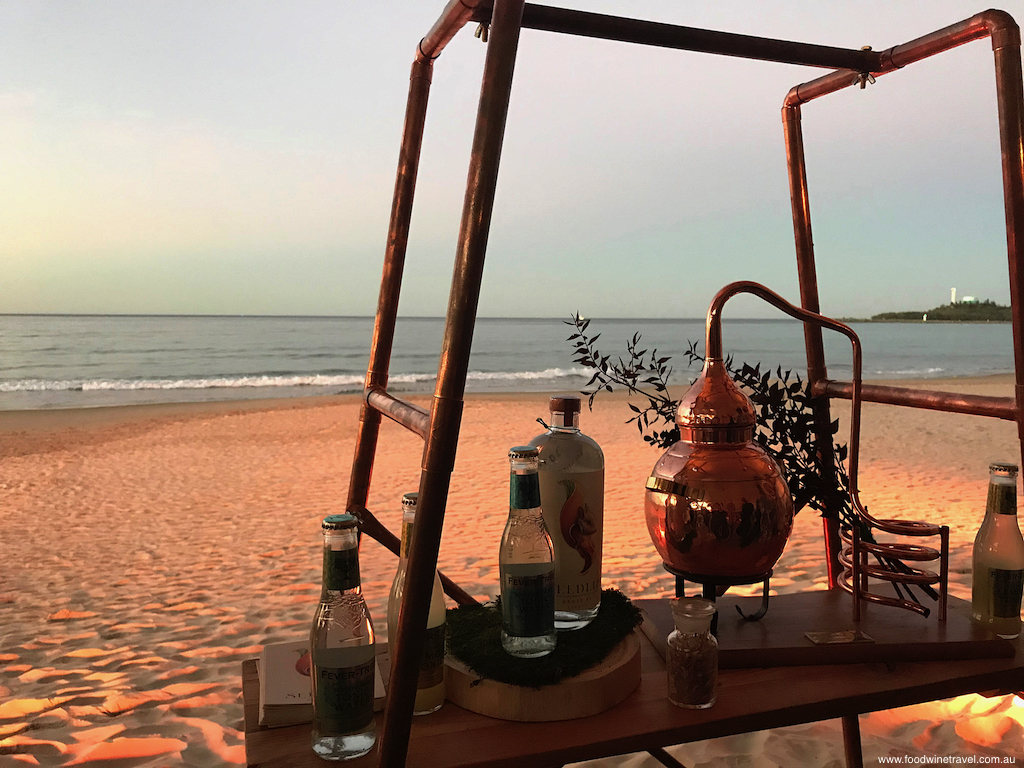 When a young apprentice chef flies all the way from Canberra to the Sunshine Coast to spend his hard-earned dollars attending a $350 dinner headlined by Japanese chef Zaiyu Hasegawa, it's clear that Hasegawa has made his mark on the world. Hasegawa is the driving force behind Tokyo restaurant, Jimbocho Den, his playful approach to Japanese fine dining earning the restaurant two Michelin stars and a spot in the World's 50 Best Restaurants list.
Hasegawa was one of a number of high-profile chefs headlining the inaugural Sunshine Coast food festival, The Curated Plate, at the weekend. The young Canberra apprentice was not the only one to idolise Hasegawa. Even highly skilled chefs like Chase Kojima, the immensely talented chef behind Sokyo in Sydney and Kiyomi at the Gold Coast, are in awe of him.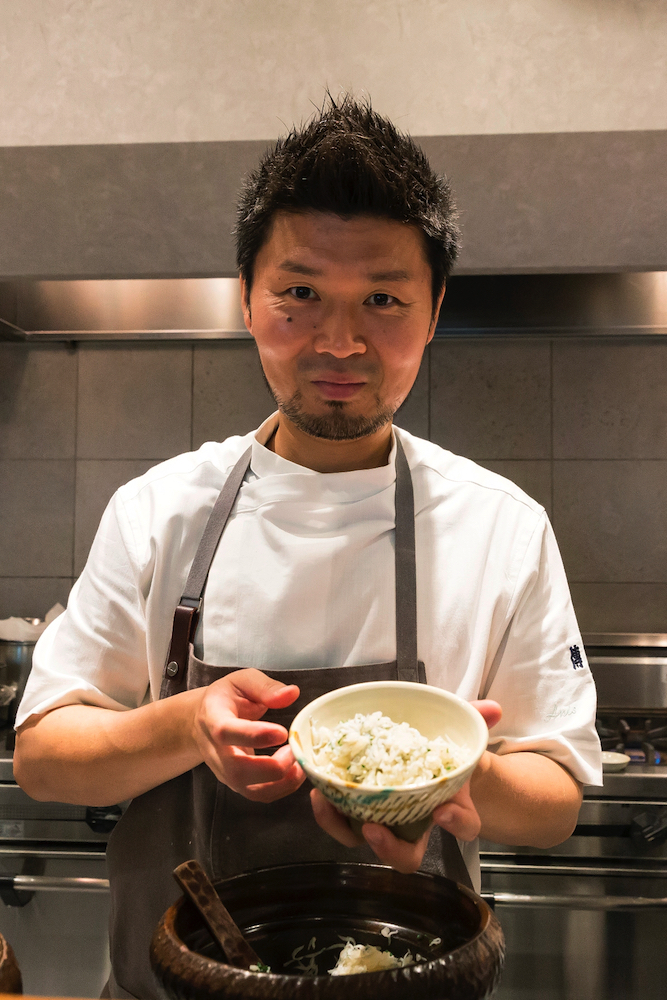 "He's my idol. I'm so nervous cooking with him today," Kojima admitted to the crowd at the Wild Forage dinner on Mooloolaba Beach. Hasegawa and Kojima teamed with Yarra Valley chef Matt Stone in devising the menu for the dinner. "I was teaching him (Hasegawa) how to do sushi and he was teaching me how to do Vegemite cookies," said Kojima. "It's super delicious and fun. He's an amazing chef."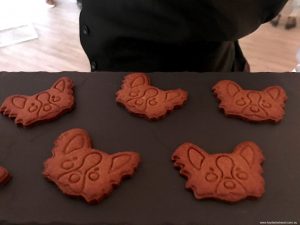 The koala-shaped cookies passed around with pre-dinner cocktails were unexpected, and a forerunner of surprises to come. Hasegawa said through a translator that they were created by one of the most important members of the Den team, who was unable to come to Australia because he didn't have a valid passport. "It's a gift he told us to bring over to you. It's made with his favourite thing in the world which is cheese as well as Vegemite."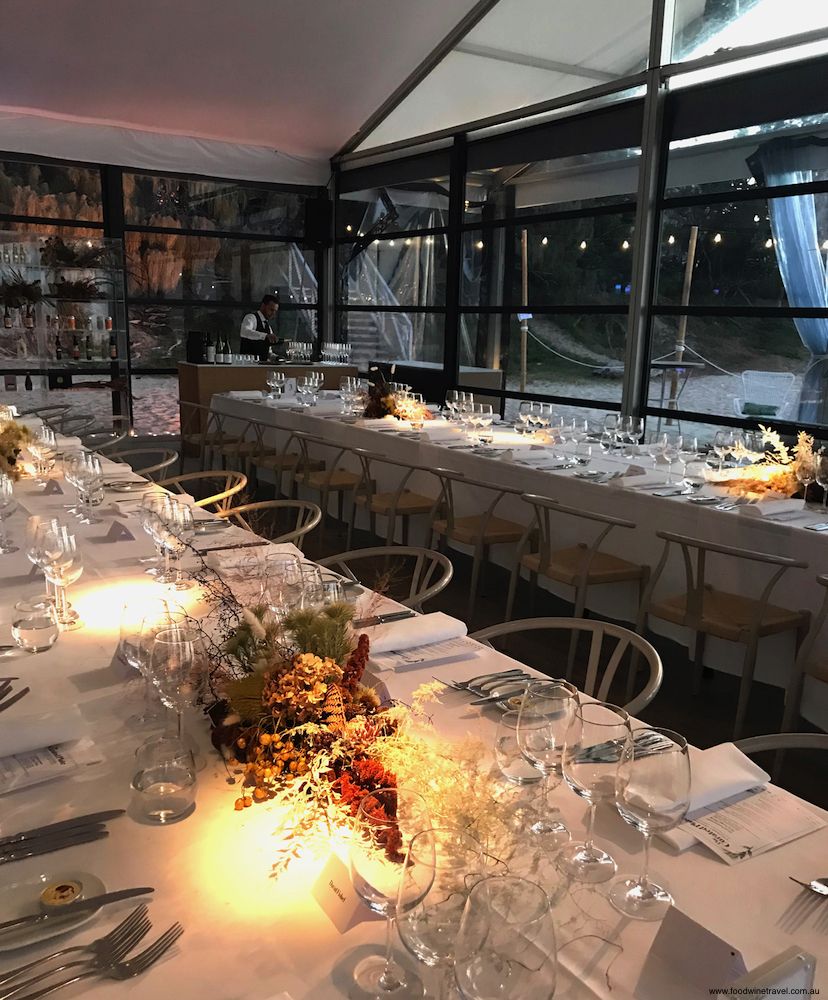 The dinner was held in a pavilion set up on the beach, complete with timber floor, tropical-themed lounge chairs, and beautiful long tables decorated with wild flowers. As dusk cast a glow over the beach, there were canapés highlighting the festival theme of local, sustainable and foraged flavours.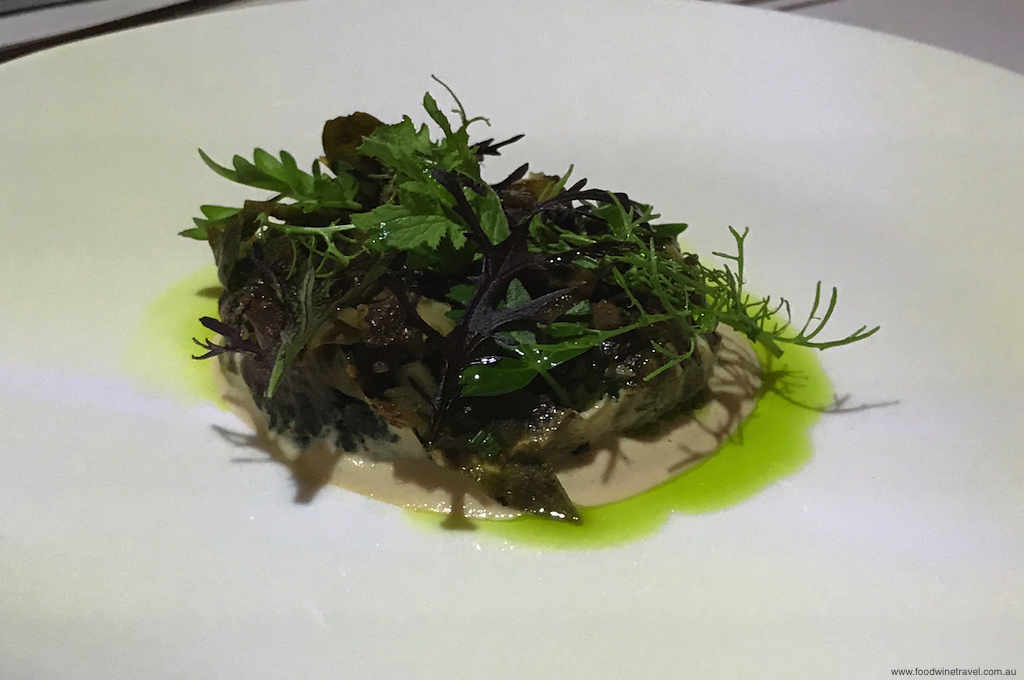 Matt Stone did little savoury pastries filled with bunya cream blended with crème fraiche and finished with green tree ants and trout roe. Native to south-east Queensland, bunya nuts taste a bit like chestnuts and were a highly nutritious food source for Aboriginal people. Green tree ants, also highly nutritious, have a lemon/citrus flavour. The roe comes from river trout, a conscious choice for Stone who prefers not to use seafood because his restaurant at Oakridge Wines in the Yarra Valley is more than 50 kilometres from the sea.
"Food is really important to give a sense of place, particularly being out of a city," said Stone. "It doesn't make sense to me to be eating seafood while you're looking out over the mountains when the closest bit of coast to us is 54 kilometres away."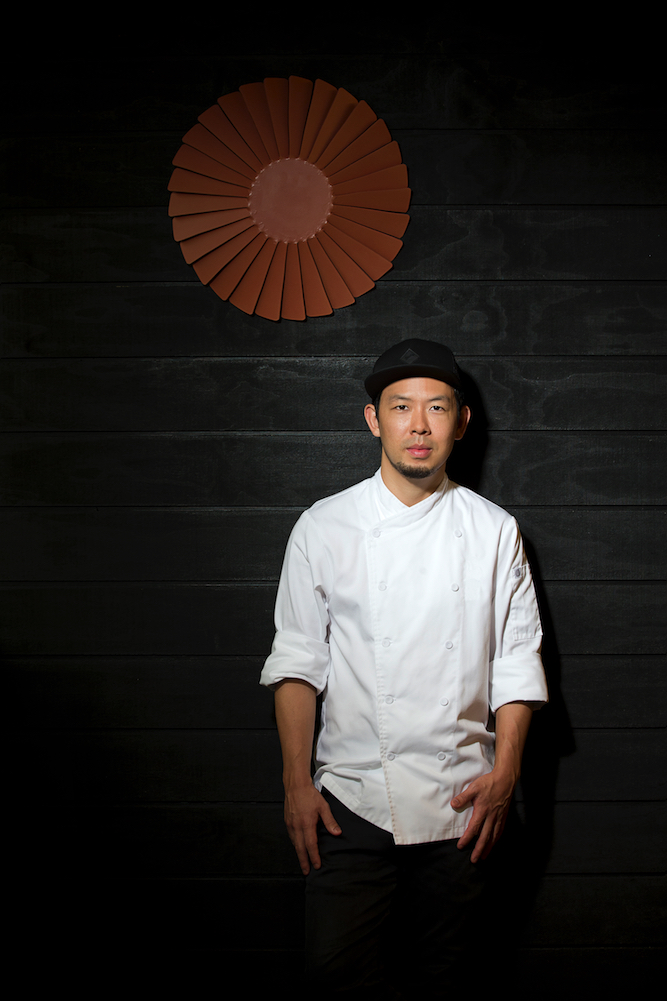 We enjoyed these little morsels but loved Chase Kojima's omakase sushi even more. The sushi rice was topped with ocean trout, native plants, kombu (edible kelp) and local shiso (otherwise known as perilla, part of the mint family). It was a flavour bomb, with a delightful sweet/salt hit that had us going back for more.
Probably my favourite dish of the evening was the first course after being seated: kangaroo loin which had been diced and lightly seared with macadamia "kimchi", a blend of locally sourced chilli, garlic and saltbush. "We don't use any imported ingredients, any imported seasonings or sauces," said Stone, who is passionate about using kangaroo. "I really think kangaroo is the most sustainable meat in Australia. Kangaroo is a light-footed animal. It's also wild, so it's not taking up any land (like farmed animals)."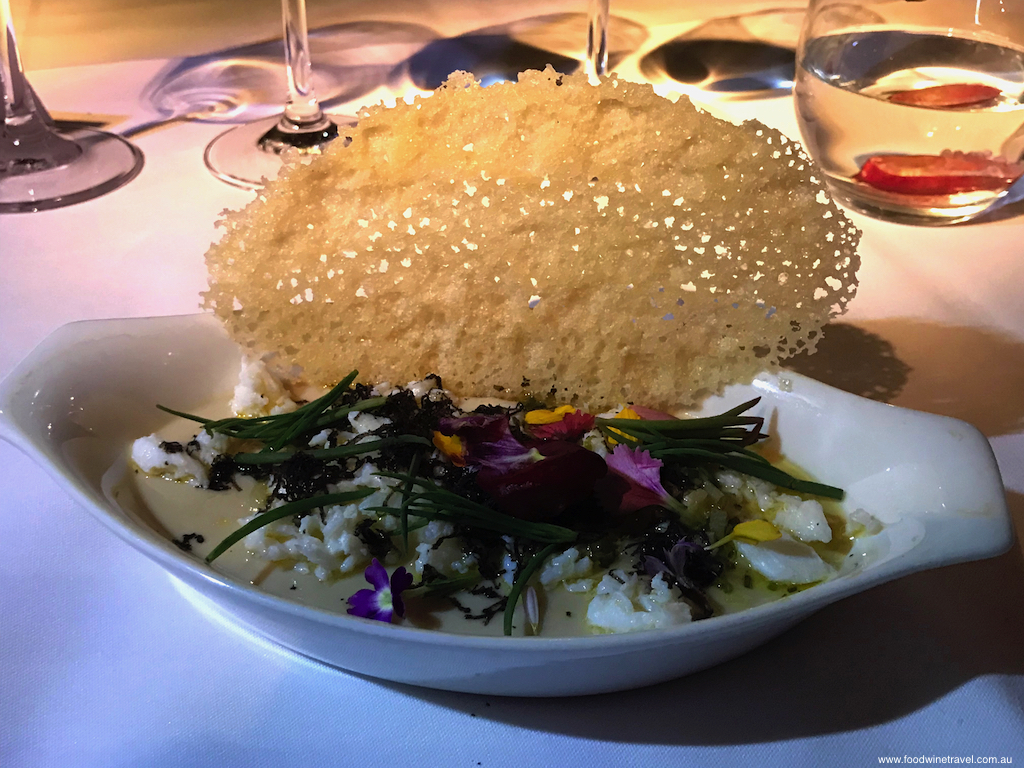 We're particularly partial to Spanner crab, one of the Sunshine Coast's most exquisite products, and Chase Kojima enhanced its delicate flavour by presenting it in chawanmushi, a traditional Japanese appetiser made from steamed savoury egg custard. The silky-smooth custard also contained fresh yuzu and black truffle, and was garnished with pretty flowers and a Parmesan crisp. Surprisingly, the truffles came from Montville in the Sunshine Coast Hinterland. Who knew there were truffles growing at Montville?
The biggest surprise of the evening was Hasegawa's main course. It was described on the menu as "Den's signature Dentucky Fried Chicken" and it arrived at the table in individual boxes featuring the chef's smiling face! Inside, resting on hay, were two fried chicken wings, one stuffed with local mushrooms, the other stuffed with Mooloolaba prawns.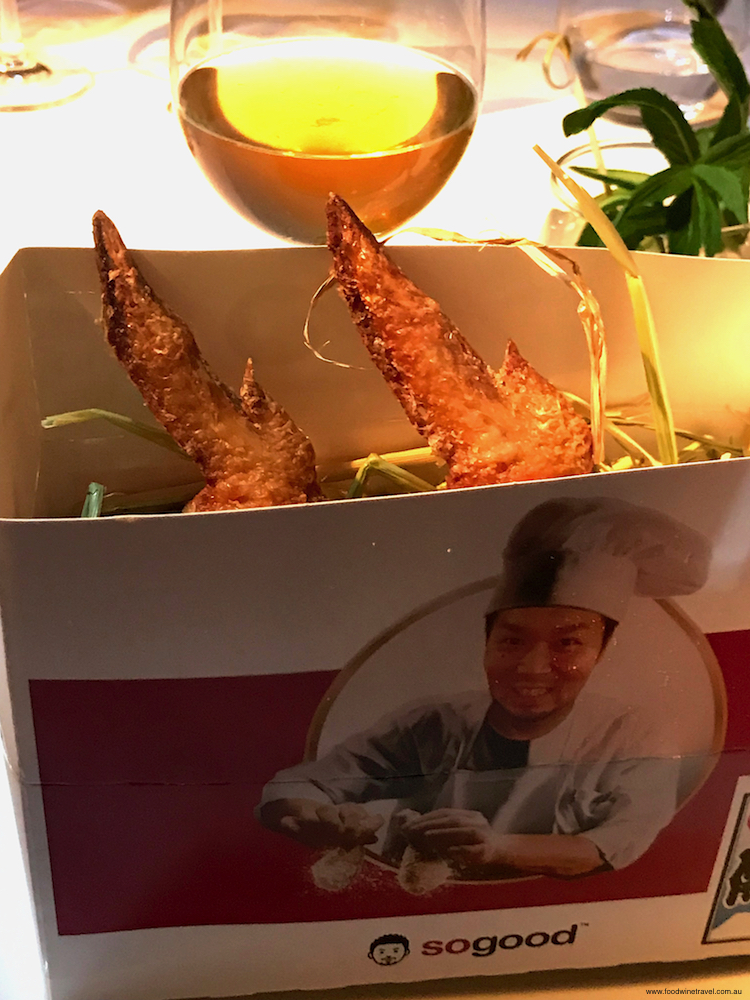 Hasegawa's translator said "you have such nice beaches he wanted to put sand in the box" but he thought better of it so used hay instead! He (Hasegawa) had read a lot about Mooloolaba prawns and wanted to go as local as possible. Crisp, golden and utterly delicious, they were paired with Ha Ha Maleny Lager from Sunshine Coast brewery, Brouhaha, and with G & T's (Archie Rose Gin mixed with Fever-Tree lemon tonic). The tonic's citrus tang complemented the chicken nicely.
Fever-Tree makes quality tonics in a business that was set up to offer a quality alternative to the artificially flavoured, sweetened soft drinks normally mixed with gin. Its Mediterranean tonic, which draws on lemon thyme and rosemary from the south of France and Spain, was mixed with Adelaide Hills Green Ant Gin in a zesty, refreshing cocktail served with Chase Kojima's dried fish sorbet.
This pre-dessert palate cleanser, made with smoked and dried fish shaved into icecream, didn't really do it for me. Kojimo described it as his equivalent of bacon icecream but the idea of bacon icecream doesn't grab me either. Much more successful (IMHO) were Matt Stone's Saltbush caramels made with saltbush sourced locally from Nick Blake, of Wild Forage Australia.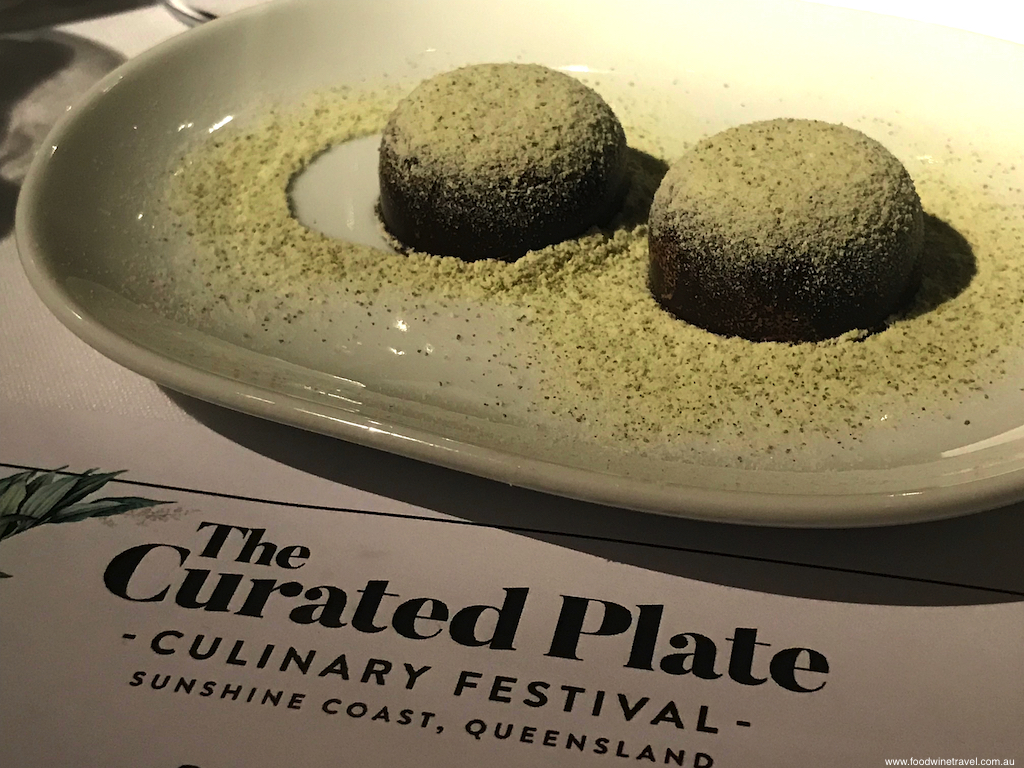 Drinks-wise, there was a steady stream of alcoholic and non-alcoholic cocktails flowing all night, along with beer from Brouhaha and Your Mates Brewing Co., Sunshine Coast Cider, Champagne Perrier-Jouët and St Hugo Wines (2018 Eden Valley Riesling and 2018 Eden Valley Chardonnay). I'd forgotten just how good the St Hugo Chardonnay is – an absolute stunner.
Seedlip Drinks were used in an array of impressive non-alcoholic cocktails. Redolent of a gin with botanicals but distilled in a centuries-old method so that they are non-alcoholic, Seedlip Drinks are designed to solve the dilemma of "what to drink when you're not drinking".
Hasegawa is a delightful chap (actions speak louder than words – he gave me a big bear hug as we posed for photos). During the course of the evening, he referred to the Japanese spirit of omotenashi. This refers to the way in which Japanese hosts pay attention to detail and anticipate their guests' needs. "He thinks he is cooking for you personally," said his translator. Indeed.
Christine and Maurie dined as guests of The Curated Plate.