It took three weeks just to assemble the chandelier in the Grand Dining Room of Oceania Cruises' new-look Insignia. Made from handblown teardrops of Italian glass, the chandelier is one of the features of the totally rejuvenated ship which, with just 342 suites and staterooms, is small as far as modern cruise ships go. Following last year's refurbishment, Insignia retains the intimacy and comfort that people love, but is more elegant than before.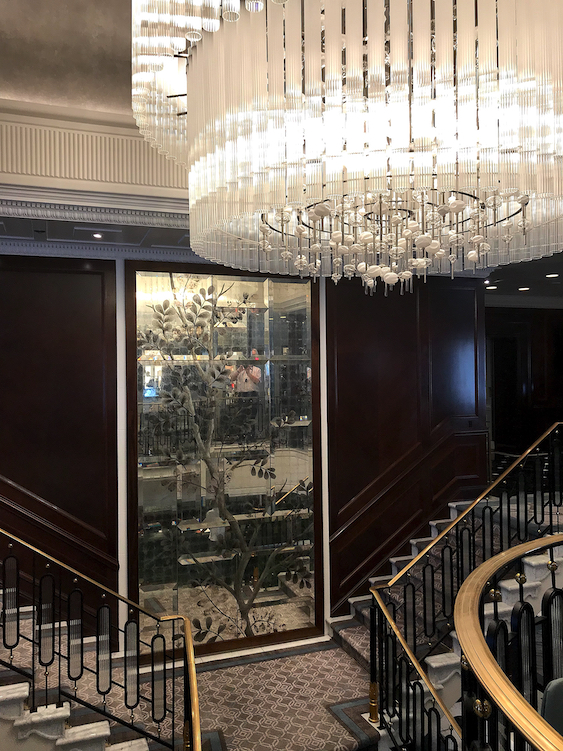 The Grand Staircase sparkles with Lalique crystal accents, while a dramatic glass wall with a tree-inspired theme rises up behind it, and another spectacular chandelier hangs overhead. A colour palette of crisp linen, soft blue, cream and charcoal has added a lightness and brightness to the ship, along with stunning new décor in the restaurants, lounges and bars inspired by Oceania's 450 ports of call around the world.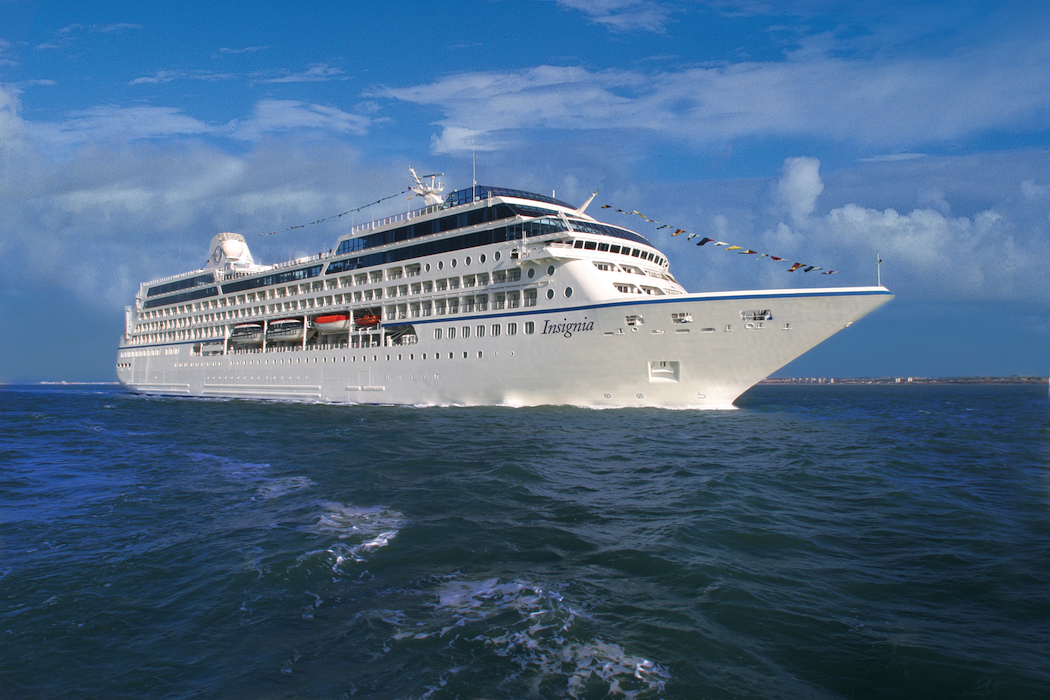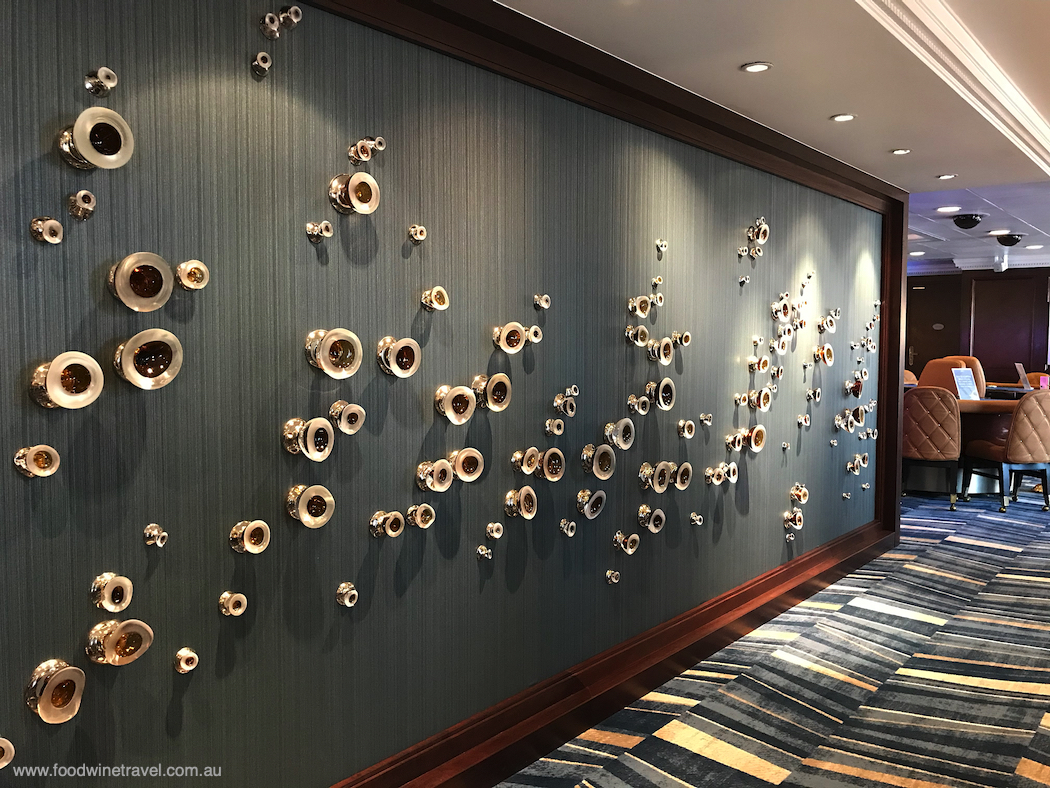 One of the lounges, Martinis, shimmers with its wall of hand-blown glass barnacles and sea life, each unique piece created in the California studio of artist Michael Skura. All suites and staterooms have been completely redecorated, with the addition of voluminous wardrobes and thoughtfully placed USB ports. Owner's, Vista and Penthouse suites have taken on a particularly grand lustre, with Carrara marble, European granite and silky onyx in the bathrooms.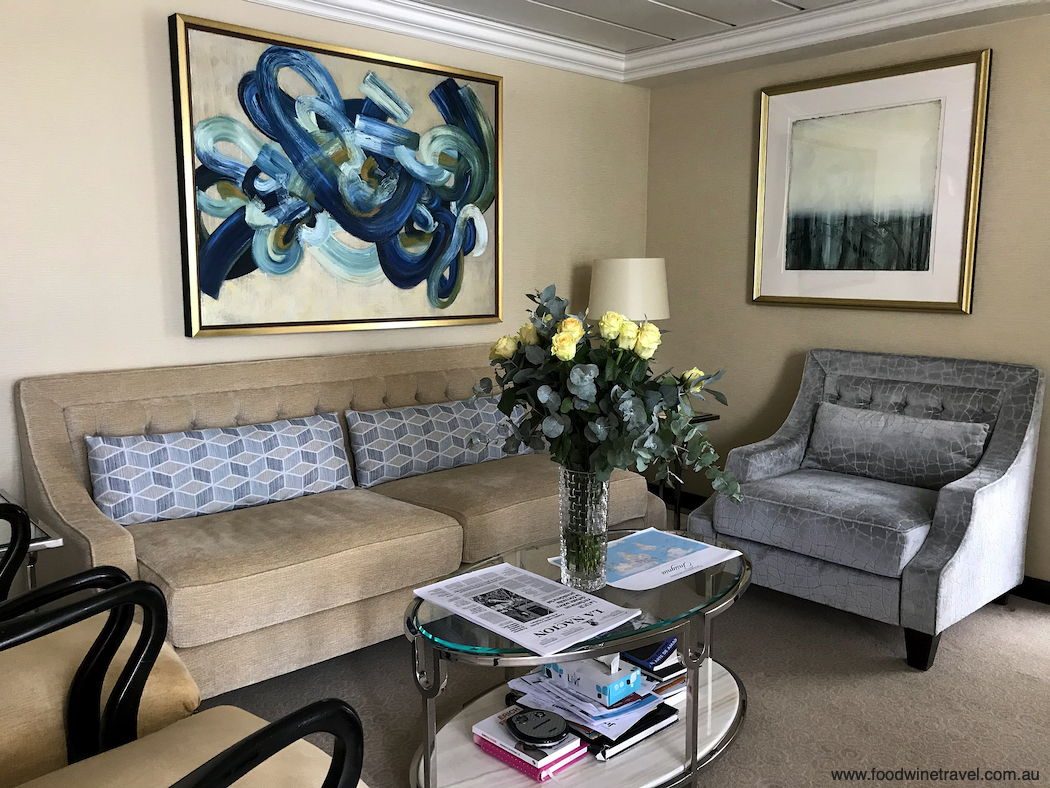 It's all part of a USD$100 million investment called OceaniaNEXT, an ambitious initiative encompassing the most comprehensive suite of product and guest service enhancements that Oceania Cruises has ever undertaken. Insignia was the first of Oceania's four 684-guest R-class vessels to be overhauled, and we got a taste of its transformation during a gala luncheon on board the ship in Brisbane.
The exquisite menu, served in the Grand Dining Room, included Maine lobster with caviar; Provolone-stuffed pasta 'purses' with butternut squash cream; roasted beef tenderloin with black truffle and foie gras demi-glace, and Papuan chocolate 'volcano' with caramel lava. This stunning dessert has been on Oceania's menu for 15 years and guests won't allow it to be taken off.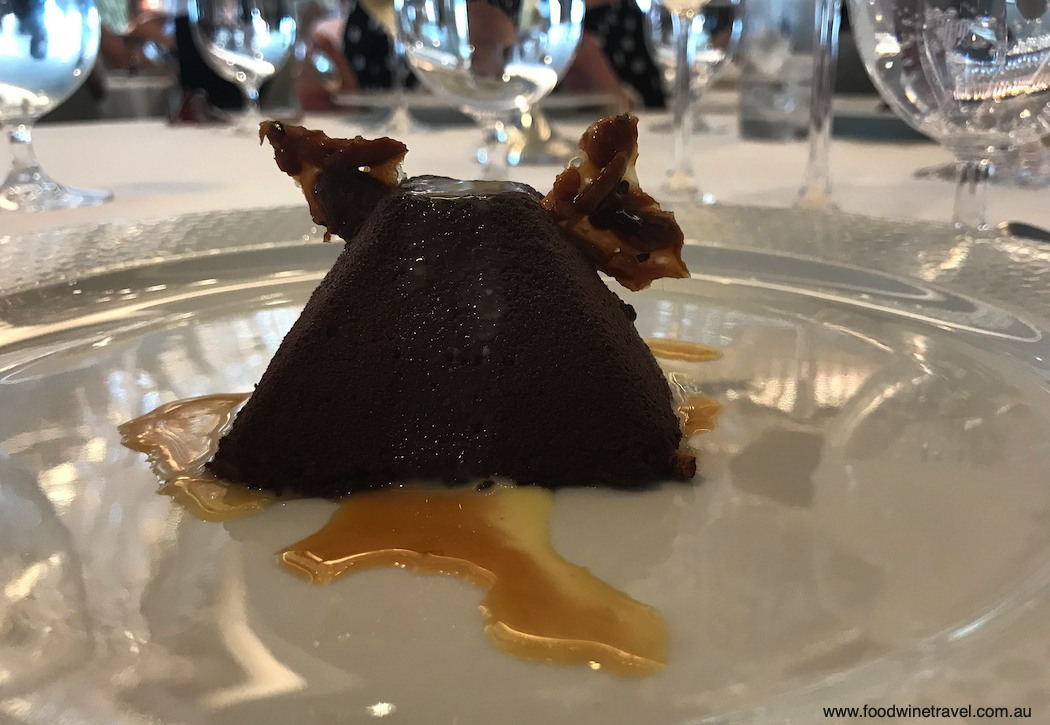 French-born chef, Jacques Pépin, is Executive Culinary Director for the cruise line, which has a strong culinary focus. (It has trademarked the slogan "The Finest Cuisine At Sea".) Insignia has a variety of distinctive open-seating restaurants, such as the Italian restaurant, Toscana; the Polo Grill steakhouse; Waves Grill and the Terrace Café; available to all guests at no additional charge. Toscana serves Grove 45, an extra virgin olive oil made especially for the cruise line, and some of its most cherished recipes come from the mothers and grandmothers of their Italian staff.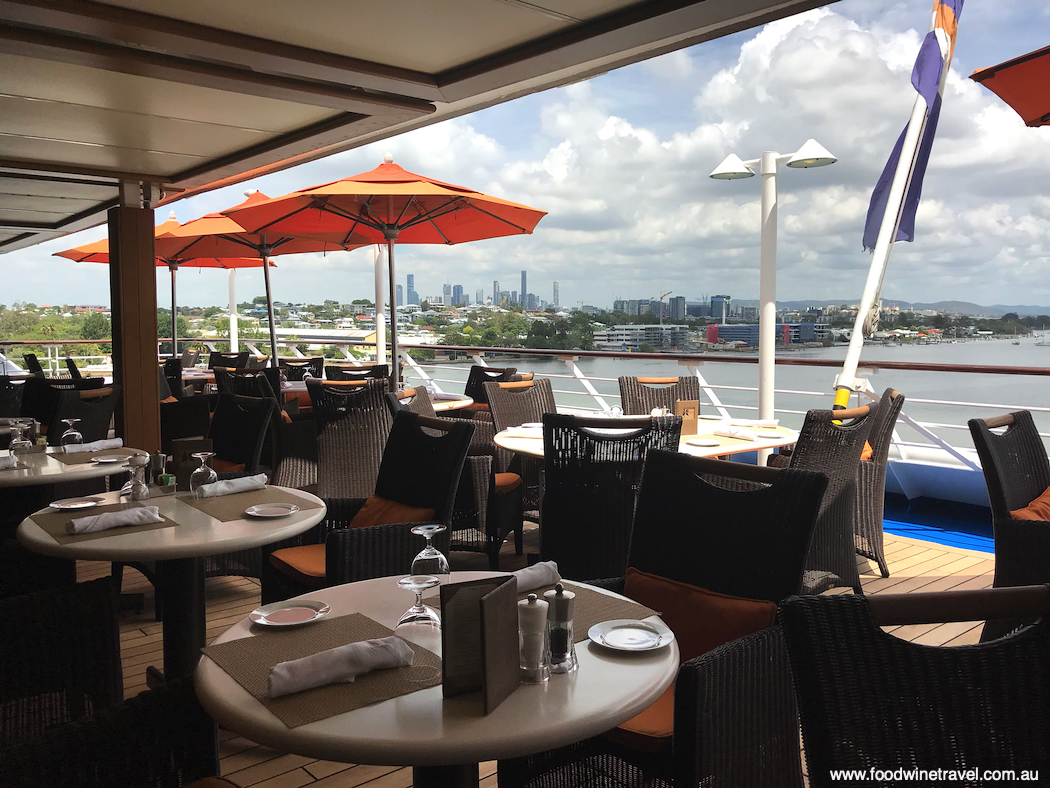 Although the Grand Dining Room is incredibly elegant with tables set with Riedel crystal and Versace china, the ambience is elegant casual – no jacket or tie are required. The restaurant has a special vegan and vegetarian menu. Barista-made Illy coffee is available throughout the day at no charge.
Among Oceania's many enrichment programs are some excellent epicurean programs that include immersive culinary discovery tours. Its bigger ships, Riviera and Marina (which carry up to 1,250 guests), have hands-on master chef-led cooking classes. In 2019, they unveiled the exclusive Dom Perignon Experience at La Reserve, a six-course dinner paired with different vintages of Dom Perignon Champagne. The experience is limited to 24 guests at a time.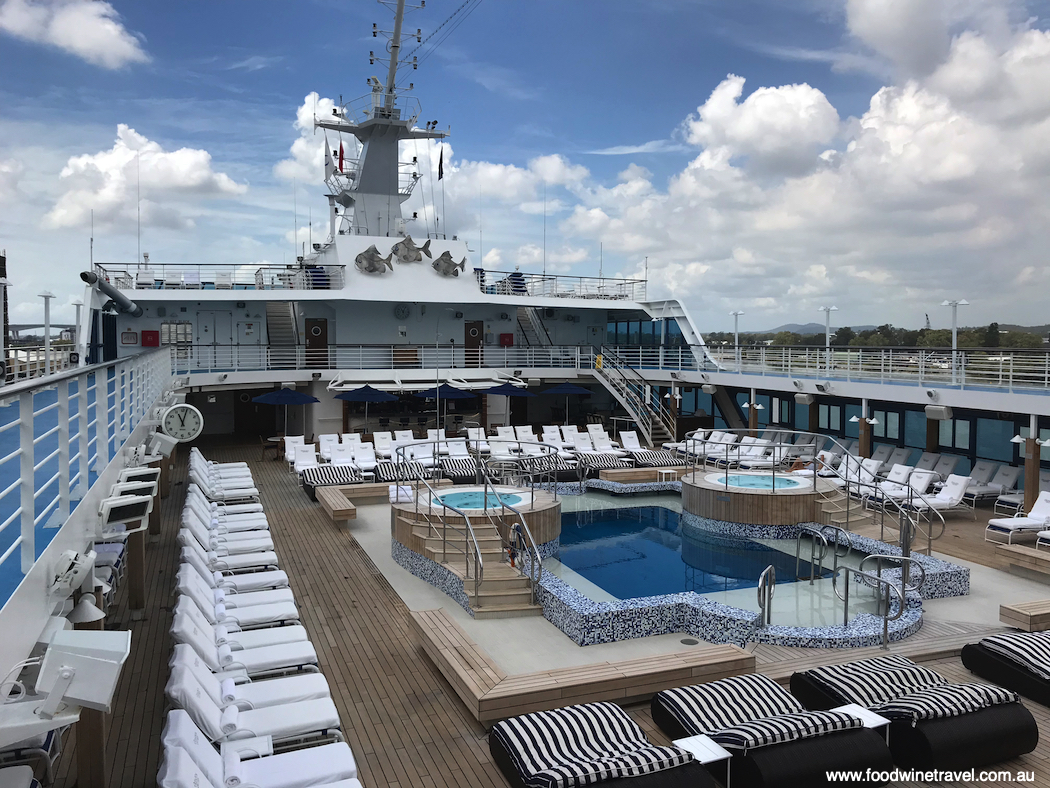 The refurbishment of Insignia and the other three ships in Oceania Cruises' R-class fleet (Regatta, Sirena and Nautica) is just the beginning in a series of fleet-wide enhancements. The ambitious OceaniaNEXT initiative will also see Riviera and Marina transform its Owner's suites with furnishings by luxe label, Ralph Lauren Home.
In January 2019, the cruise line also announced an order for two new Allura-class ships, each accommodating around 1,200 guests. These are expected to be delivered in 2022 and 2025.
With its culinary offerings, elegant accommodation on intimate vessels, personalised service, immersive destinations across the globe, and access to boutique ports not afforded to larger ships, Oceania is definitely a cruise line to put on your radar.
More information: Oceania Cruises on 1300 355 200 (AU), 0800 625 691 (NZ), www.oceaniacruises.com or contact your travel agent.
To find out about Oceania Cruises' 2021 Europe & North America Collection of voyages, click here.
For information about the epic 2021 Around the World In 180 Days voyage on Insignia, click here.
Christine and Maurie had lunch on board Insignia as guests of Oceania Cruises.