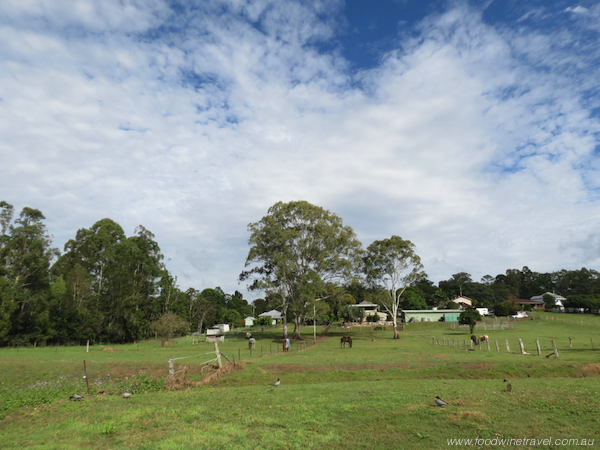 Since we moved to Queensland last year, we've made a special effort to get to know our new home. One of the things I love about our little corner of the world is that the Moreton Bay Regional Council is always offering things to do, from sport and recreation activities to cultural and educational experiences. Bored is not in my vocabulary, but there's certainly no chance of being bored here.
We're history nerds and we're always conscious of trying to fit a lot more walking into our daily schedules. So when the council advertised a guided walk on the Dayboro Heritage Trail as part of its "Explore Moreton Bay by Walking in May" program, we were quick to sign up. As with many of the activities on offer, the walk was free. We are indebted to Carmel Bond, the president of the Dayboro District Historical Society, who delivered a really professional tour.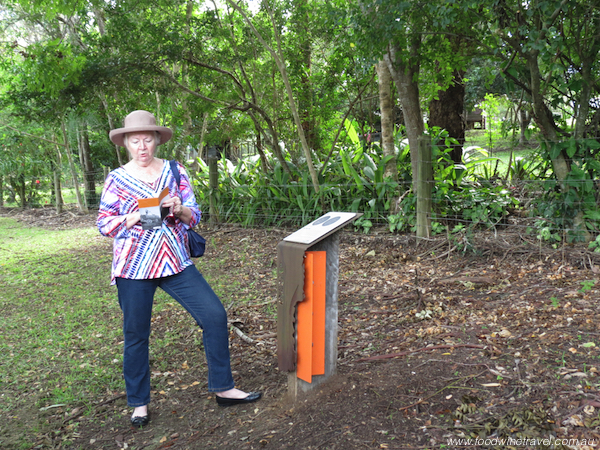 It sounds like Carmel has the backing of a great team – remarkably, with just eight volunteers, the society manages to keep the Tourist Information Centre open seven days a week. Nevertheless she was incredibly generous with her time and knowledge about Dayboro, a little town at the foot of the D'Aguilar Ranges, on the outskirts of Brisbane. At the end of the tour, the ladies from the Historical Society put on a wonderful morning tea, but that's a story for another post.

The 1½ hour walk began at the Tourist Information Centre, one of the oldest surviving buildings in Dayboro. It was built in 1900 as a worker's cottage for the sawmill that operated nearby. The trail follows historic markers with steel panels in the shape of Portion 1, Parish of Samsonvale, the swathe of land leased in 1867 by the entrepreneurial William Henry Day, after whom the town is named. It is on Portion 1 that most of Dayboro township stands today.

The steel panels are on timber posts made from recycled railway sleepers, highlighting the significance of the railway and timber milling to Dayboro's history. The walk took in the old Butter Factory, which still had 90 suppliers when it closed in 1965. Sadly, like dairy regions everywhere, barely a handful of milk producers survive.

Other buildings we passed included the town's oldest building, built in 1897 and now housing Holistic Mamma (pictured in the gallery above); Riek Brothers' store, built about 1900; Robert Vellnagel's House and Store, formerly a store and boarding house and now a medical centre; and the still-operating Crown Hotel, with two massive fig trees out the front that were planted in 1923 to provide shade for the horses (there were originally three trees).

Speaking of trees, Carmel had a lovely story about ex-World War 2 serviceman Jim Barnes who planted a poinciana tree in 1955. Jim died in 2003 but this beautiful tree (below) is a tribute to his memory. Carmel remembers him covering it every winter to protect it from frost.

I loved hearing the stories of enterprising pioneers like the folk who decided the town needed an ambulance service so in 1922 they opened a sub-centre of the QATB (Queensland Ambulance Transport Brigade) that was entirely dependent on voluntary contributions. When a new centre opened in 1988, it was totally free of debt, a great achievement for a small community.

On a beautiful, sunny day (what winter?), it was a joy to stroll in a bucolic landscape of cows grazing in pastures, home orchards and backyard chickens, and old Queenslander houses with rampant gardens.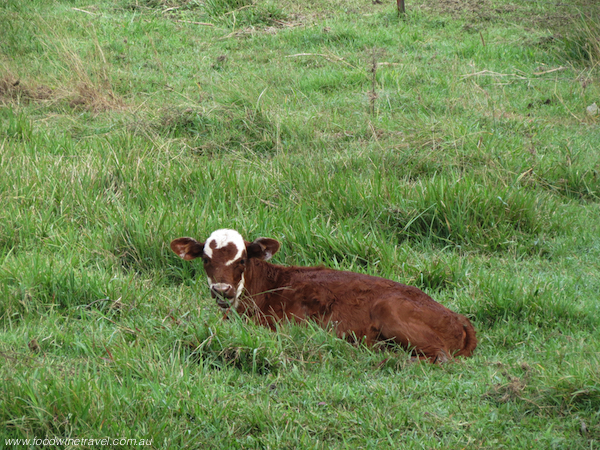 But Dayboro isn't all about nostalgia. It's quite a vibrant little town with an array of shops and cafés that you can easily spend a few hours poking around in. We had excellent coffee at Dayboro Tea House, stocked up on sausages from the award-winning Dayboro Butchery, loved the coffee shop / book shop combo at Rendezvous, checked out the very cool barber shop, and got lost in shops such as Our Kitchen Garden (below), Inspired by Time and A Little Bit Vintage.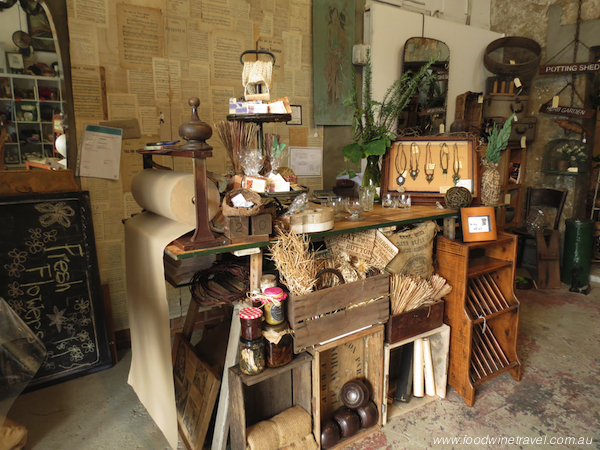 I take my hat off to small businesses like these that are a little quirky, a little different, and still continue to trade even when there are not many visitors. You can read about some of these places in separate posts. Go out and support them – and help keep the local economy ticking over.
Dayboro Day Festival, held each year at the end of May, is the day when this cool little town really rocks. If you missed this year's event, make sure you mark it on the calendar for next year.
A complete copy of the Dayboro Heritage Trail can be downloaded here.
More information: www.dayborodistrict.com.au
You might also like: Dayboro Day Festival, Dayboro Tea House, A Morning Tea To Beat All Morning Teas, Dayboro Butchery.