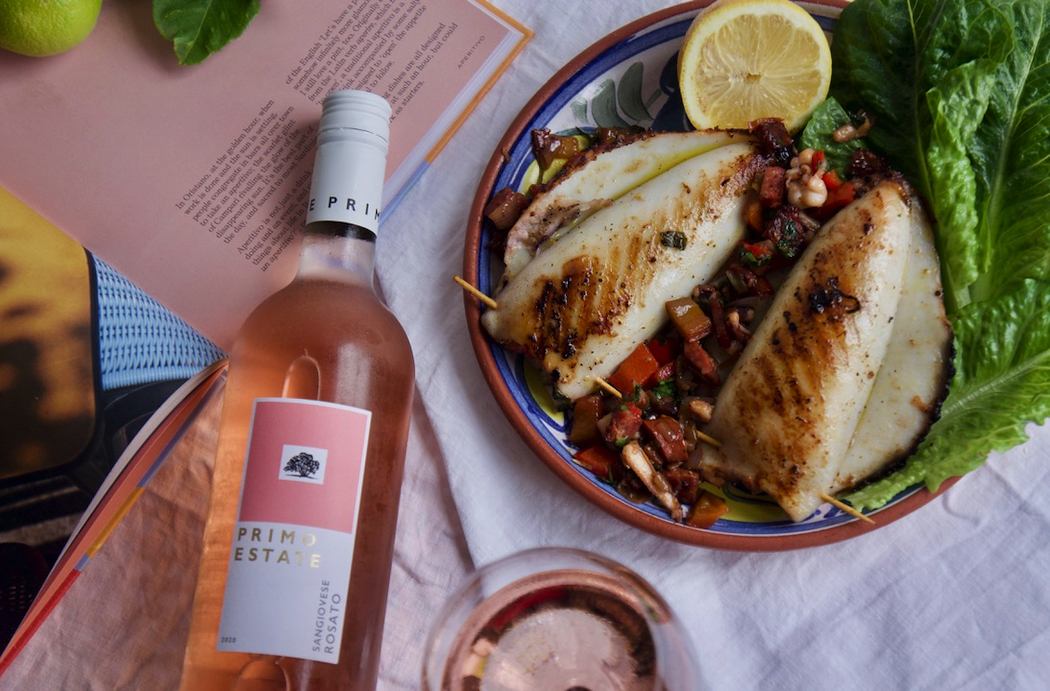 Primo Estate has released its first Rosé and what a beauty it is, with gorgeous floral aromas and delicate notes of strawberries and cream – summer in a glass! With an attractive pale salmon pink colour and refreshing dry finish, the Primo Estate 2020 Sangiovese Rosato ($25) is a beautiful addition to the portfolio of this premium South Australian winery. It goes beautifully with salads, seafood and white meat dishes, and we think it would make the perfect centrepiece for a long table lunch in the garden on a summer afternoon.
Primo Estate has perfected the art of la dolce vita in Australia. Winemaker Joe Grilli was one of the first Australian winemakers to start playing with Italian varieties, and the company has truly perfected them, from the super-premium JOSEPH Nebbiolo to its Sicilian-inspired Nero d'Avola, award-winning Prosecco, and Sangiovese blends.
Earlier this year, Primo Estate Prosecco was named 'Prosecco of the year' in Tyson Stelzer's Australian Sparkling Report, the first South Australian wine to do so and giving King Valley producers a run for their money.
Grilli has never been afraid to experiment, drawing on winemaking methods such as Amarone and Ripasso that were little known in Australia at the time. Fast forward to 2020 and the next generation is beginning to make its mark, with sons Daniel and Matteo and daughter Elena all involved in the business.
They've introduced fresh new packaging for new releases in the Primo Estate range, with the Sangiovese Rosato, La Biondina and others in the range given labels that are cleaner and just a touch more modern and stylish.
Excellent quality in the Primo Estate 2020 releases
As in much of Australia, the past summer in McLaren Vale was hot and dry, resulting in a short, condensed vintage with reduced yield. The upside was excellent fruit quality in the 2020 releases, especially so in the Primo Estate 2020 La Biondina ($22). This light, crisp, aromatic Colombard is Primo Estate's most popular wine.
With juicy flavours of passionfruit and citrus, the 'young blonde' can make friends with a wide variety of dishes, especially seafood and spicy flavours. Try pairing it with salt and pepper squid, kingfish crudo, oysters and prawns, or even a spicy curry.
Primo Estate 2019 Il Briccone ($28) is a more wintery drop, spicy and elegant with plum and pepper notes, and a burst of cherry from the Sangiovese. It's a Shiraz Sangiovese blend, the fruit coming from McLaren Vale's highest vineyard, Angel Gully, giving the depth and texture, and from Primo's McMurtrie Road vineyard, adding spicy notes.
Going up a notch, Primo Estate 2019 Zamberlan ($40) is an even richer wine with layers of flavour from the 'Ripasso' technique used. This northern Italian winemaking technique sees newly fermented young Sangiovese and Cabernet Sauvignon pumped over dried grape skins from Primo's flagship wine, JOSEPH Moda. The additional fermentation gives delicious flavours of dark chocolate and nutmeg, complemented by a burst of maraschino cherry from the Sangiovese. It's drinking beautifully now but the characters will develop further if it is cellared.
Also worthy of cellaring is Primo's super-premium 2018 JOSEPH Nebbiolo ($90), whose creation is a labour of love for Grilli. He planted a single hectare of dry-grown Nebbiolo in his Clarendon (McLaren Vale) vineyard in 1998 and the wines are becoming more intense each vintage as the vines age. Redolent of Turkish Delight and roses, it has delicate spice and violet notes and a seductive long, dry finish. Try it with dark Turkish Delight chocolate for an interesting flavour pairing.
You might also be interested in our post on the Joseph 2020 Cold Pressed Extra Virgin Olive Oil (which would go beautifully with the long table lunch!)